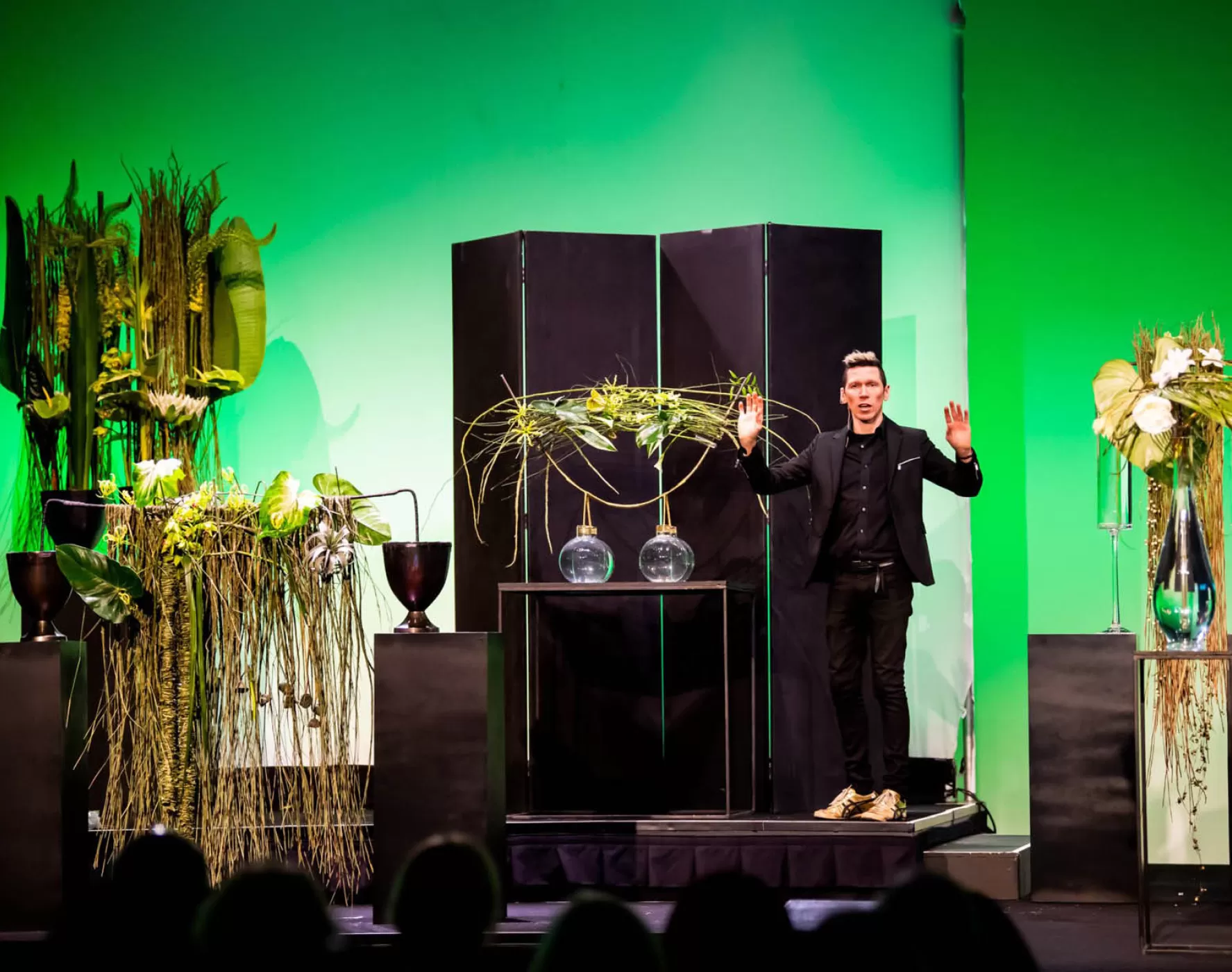 Botanica Ecologica by Bart Hassam
Unique designs with Japanese influences, the Fibonacci sequence and Art Nouveau.
Back to stories
B
art Hassam became world champion at the Interflora World Cup in 2019, one of the largest international competitions for florists. Last summer, he presented ten designs, including some amazing designs with Marginpar flowers, at the AIFD Symposium "ROOTS" in Las Vegas. This presentation was named "Botanica Ecologica", a name that reflects his unique style.
From Down Under to Japan

Bart grew up in subtropical Australia with his grandparents, where his grandmother introduced him to the world of flowers. He can no longer imagine a life without flowers. After studying Commercial Floristry, he assisted flower designer Yoko Takahashi in Japan. The influence from Japan is still clearly visible in his work. Mixed with the ever-warm Australia and natural materials, he creates a unique and innovative style with a stunning result.
Tatami and Fibonacci

One of the techniques that Bart often uses is the 'Tatami technique', which he learned during his time in Japan. The Tatami technique is the same braiding technique that is often used in Japan to make, yes, carpet. Another 'rule' that Bart likes to follow is the Fibonacci sequence, a mathematical series of numbers that seems to be related to the 'Golden Ratio'. He favours the triangle positioning of 3, 5, and 8 to achieve balance and tension. By experimenting with different lengths, materials, and hues, he creates captivating designs. We'll take you through five of his show designs.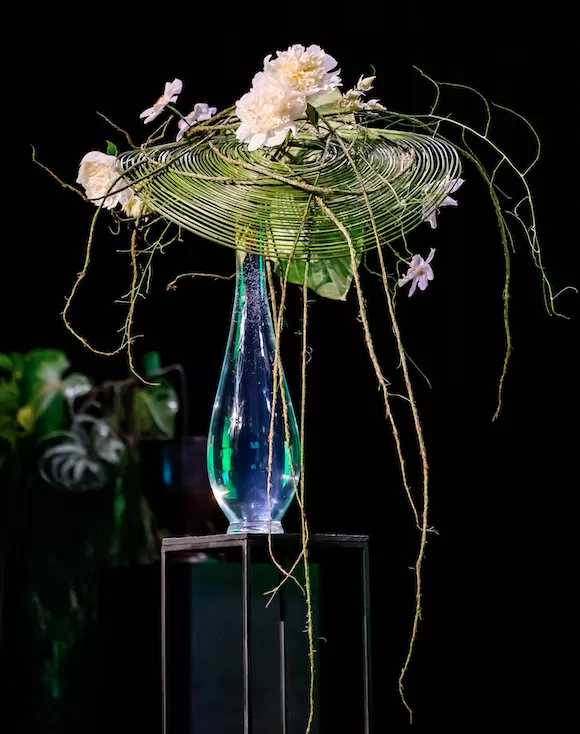 Japanese influences

Bart's first design clearly shows Japanese influences. He uses the Tatami technique with Igusa grass and mainly uses wire and a wire clamping technique to clamp the steel grass. We were proud to see that Bart chose the snow-white Clematis Amazing® Vienna to use in his, fairly monochrome, design. Bart: "I love using different variations and see it as a great celebration when different elements work together to form a whole."
"

I love using different variations and see it as a great celebration when different elements work together to form a whole.
Classicism with an Art Nouveau feeling

In the world of floral art, there is an intriguing balance between modern and traditional, between transparency and classicism. This is precisely what Bart has achieved with this striking, hanging creation. Flowers play the leading role, hence the choice for two simple vases instead of, for instance, a striking Rococo urn. For the long elements in the design, he makes use of Emu feathers, bound in their natural state. These feathers have a beautiful, natural appearance. All individual flowers, including the Gloriosa, are placed in such a way that the whole takes on a curved form, evoking a beautiful Art Nouveau feel. Bart notes that such a design would not be out of place in hotel lobbies, for example.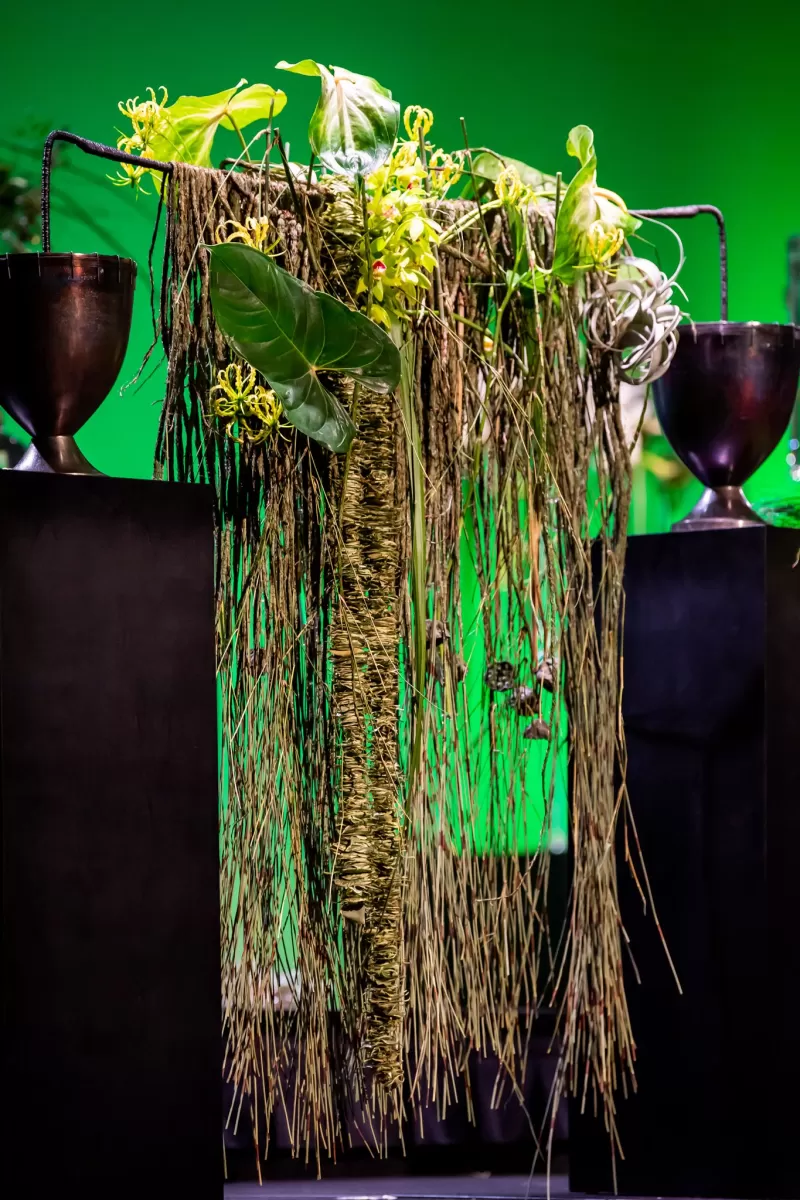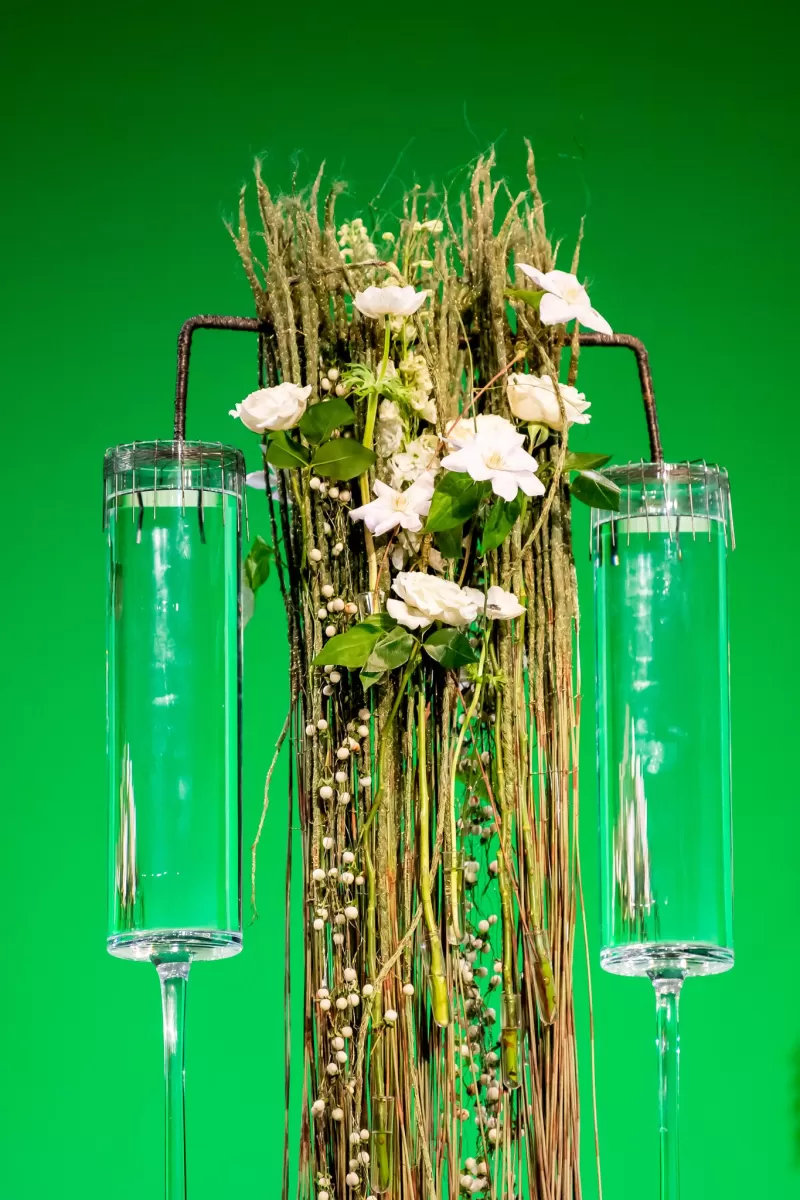 Organic and linear

Inspired by the previous design, but one of a kind. This particular design with yet another Art Nouveau feel is made of 'Dingo Fern", a material that is shorter and stouter than Emu feather. Although Bart is from tropical Australia and favours working with subtropical flowers and materials, for this creation he opted for a classic European atmosphere. The design is organic and linear, allowing all the forms and features of the flowers to be clearly visible. Bart has again employed the Clematis Amazing® Vienna in his design. To imbrue the design with a luxurious appeal Bart chose to incorporate a touch of gold.
Florist VS. Architect

As a child, Bart was always fascinated by how things fit together, and if he weren't a florist, he would probably have been an architect. He is fond of soft, curved lines, a hallmark of the Art Nouveau style, and endeavours to incorporate this into his designs wherever possible. Such is the case with this creation, where he uses four bottles and golden wire to create a U-shape. He only uses this wire in three places for an elegant connection. This unique design primarily features green materials such as bamboo leaves and ferns. With Gloriosa, Bart adds some weight to the outer edges.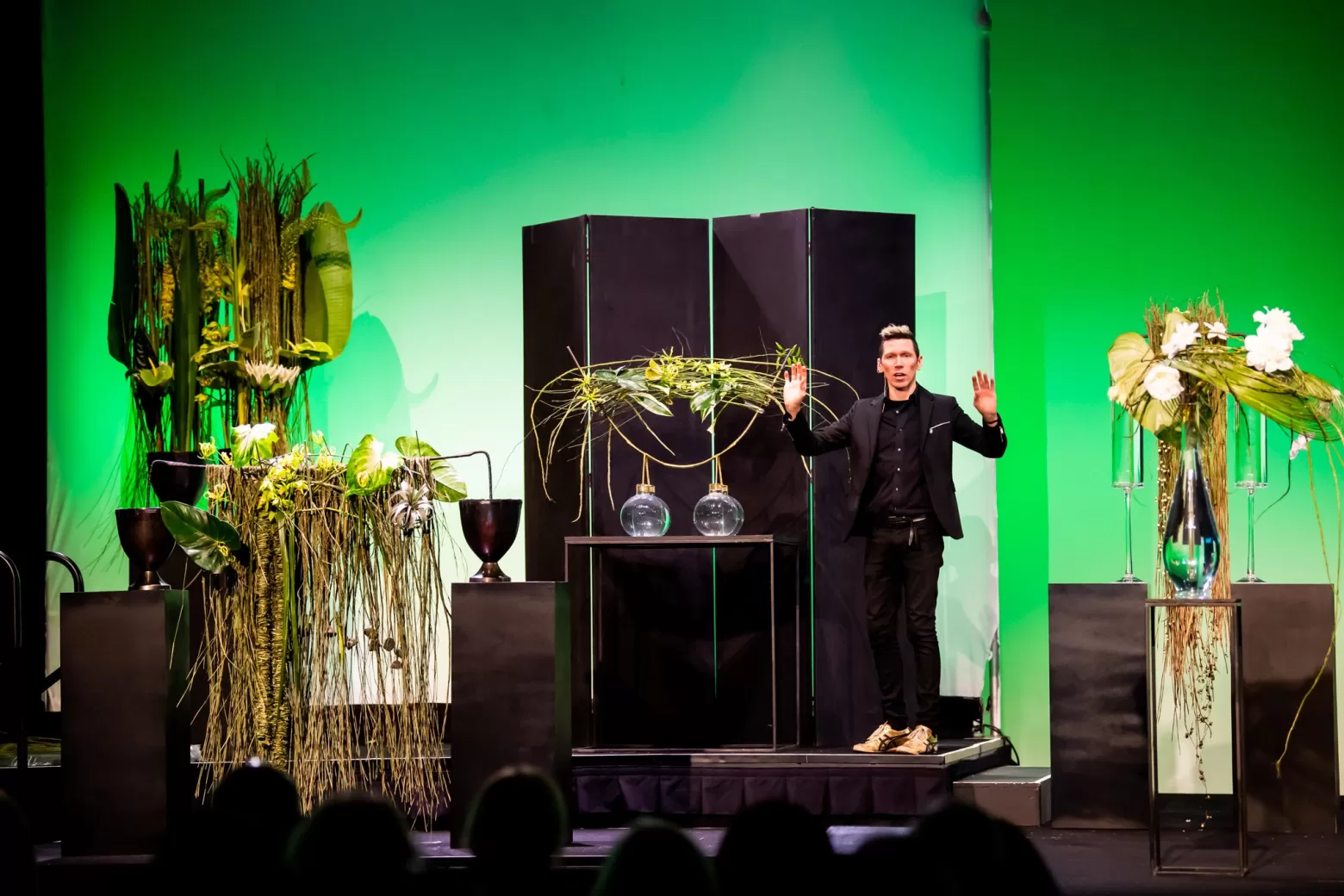 Fearlessly radiant

For his latest creation, Bart pushes the boundaries, venturing into perilous territory. The centrepiece of this grand design is a quartet of large vases and chicken wire. The design is influenced by Japanese aesthetics and Bart explains that he has always been advised to create 'graceful ballerinas' rather than 'sumo wrestlers'. He strives to make his compositions lighter, taller, and more delicate. The Agapanthus Gletsjer is the crowning glory of this massive creation.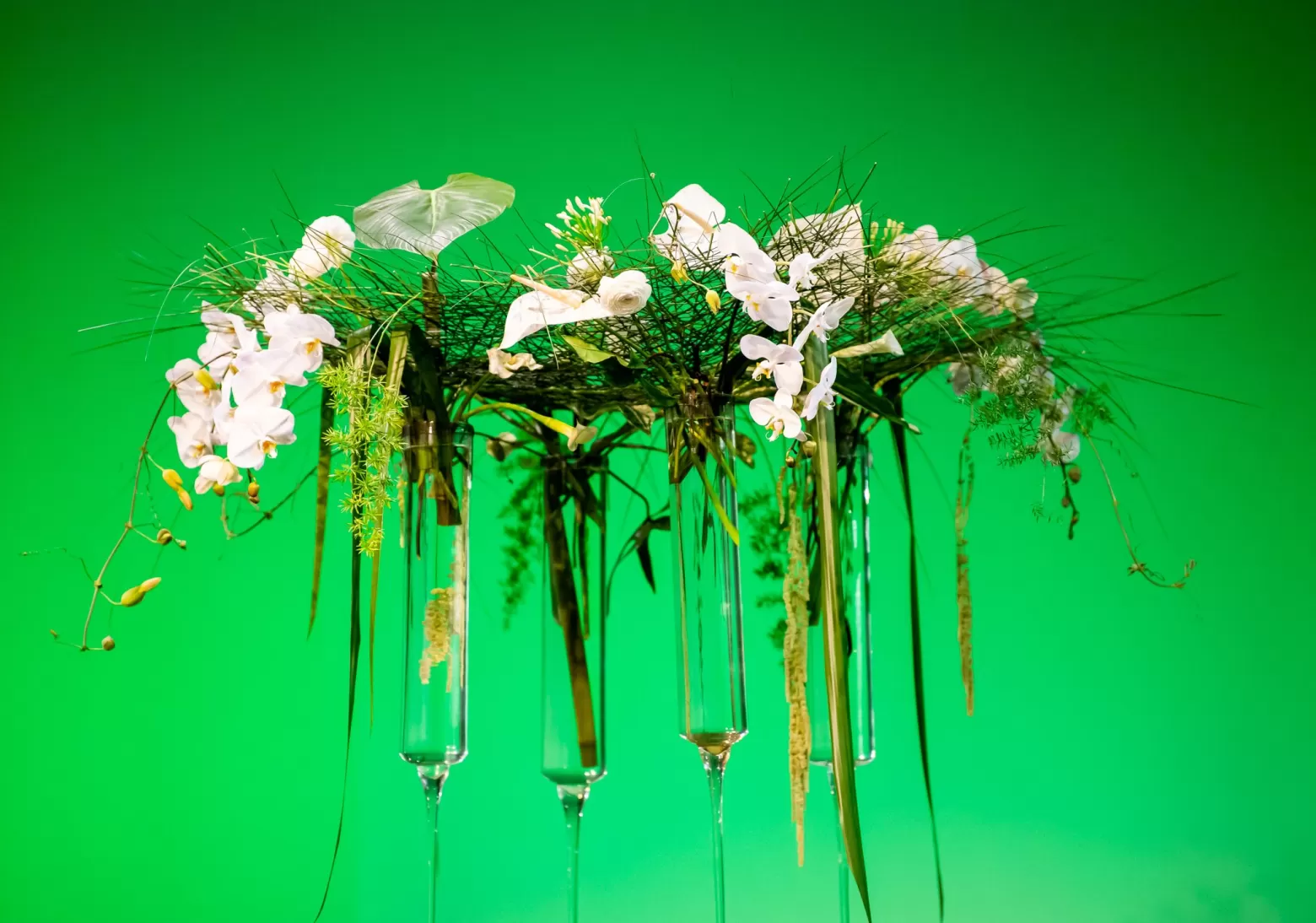 Showtime

Bart Hassam is clearly at home on stage. He shares his story and creations with flair and vigour. Florists and we are captivated by his words. If you ever get the chance to see Bart live on stage: do it!
More about Bart Hassam? Follow his Instagram here.