"
The difference between something good and something great is attention to detail"
If you have ever visited Marginpar, this sentence may seem familiar to you. This quote has been on the wall at our entrance for years, and with good reason. It is how we, as a company, like to work, but also how we like to see our flowers in design. Floral design requires creativity, a lot of trial and error, and definitely an eye for detail.
Small but mighty
One of the disciplines in which flower arrangements are thought out down to the very last detail is bridal florals. And however small, every flower plays a role in the mood you set. And so it is with our most refined product; Talinum 'Long John'. The branches of the Talinum are full of small seed pods in shades of red and orange, and are a special addition to any design. Talinum 'Long John' was chosen by the professional jury and the public as the winner of the Glass Tulip Award in 2021.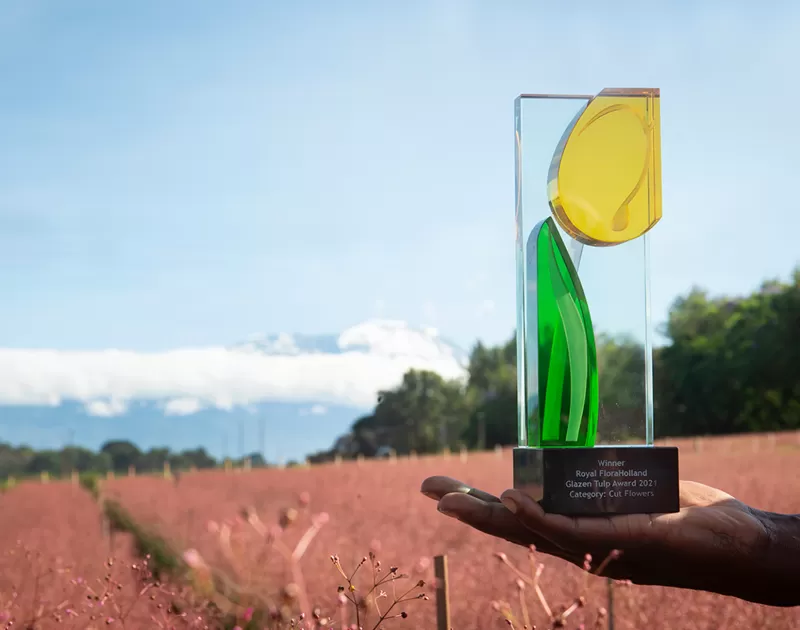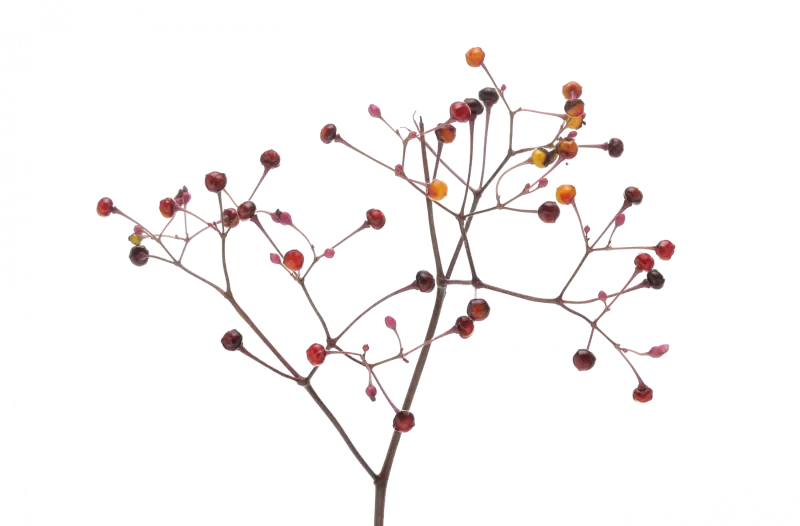 Keeping the attention
We have been seeing her popping up everywhere ever since. Designer Hanneke Frankema has been a fan since the very first minute, and used these cheerful little balls when working on the bridal special of De Pook Florist Magazine (DPK). Hanneke: "Details make you want to keep looking at a work, it stays interesting". So for the bridal special she made ten bridal arrangements with lots of details.
One of those works was this waterfall. Hanneke is a big fan of working with wire, and again, created fantastic shapes and movements in her flower arrangements. The tendrils flowing down and the different red flowers form the basis. The Talinum 'Long John' finishes it off by placing accents outside the beaten track.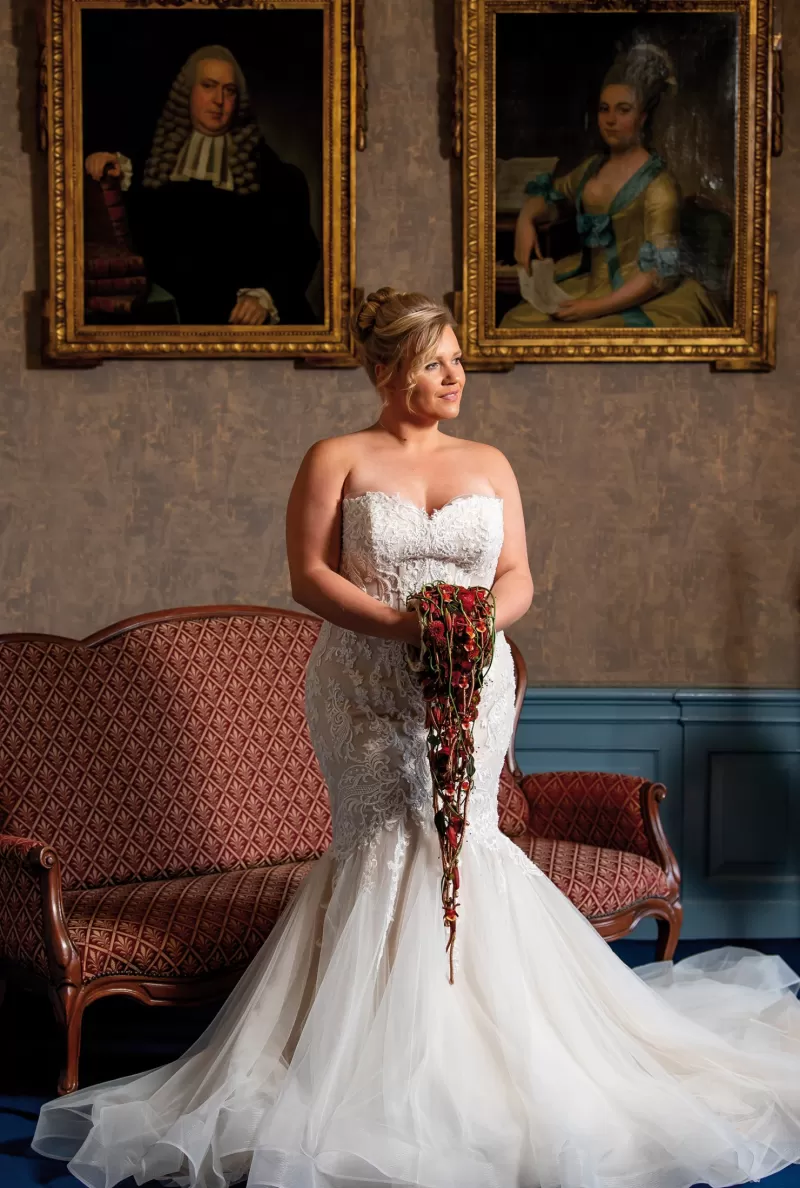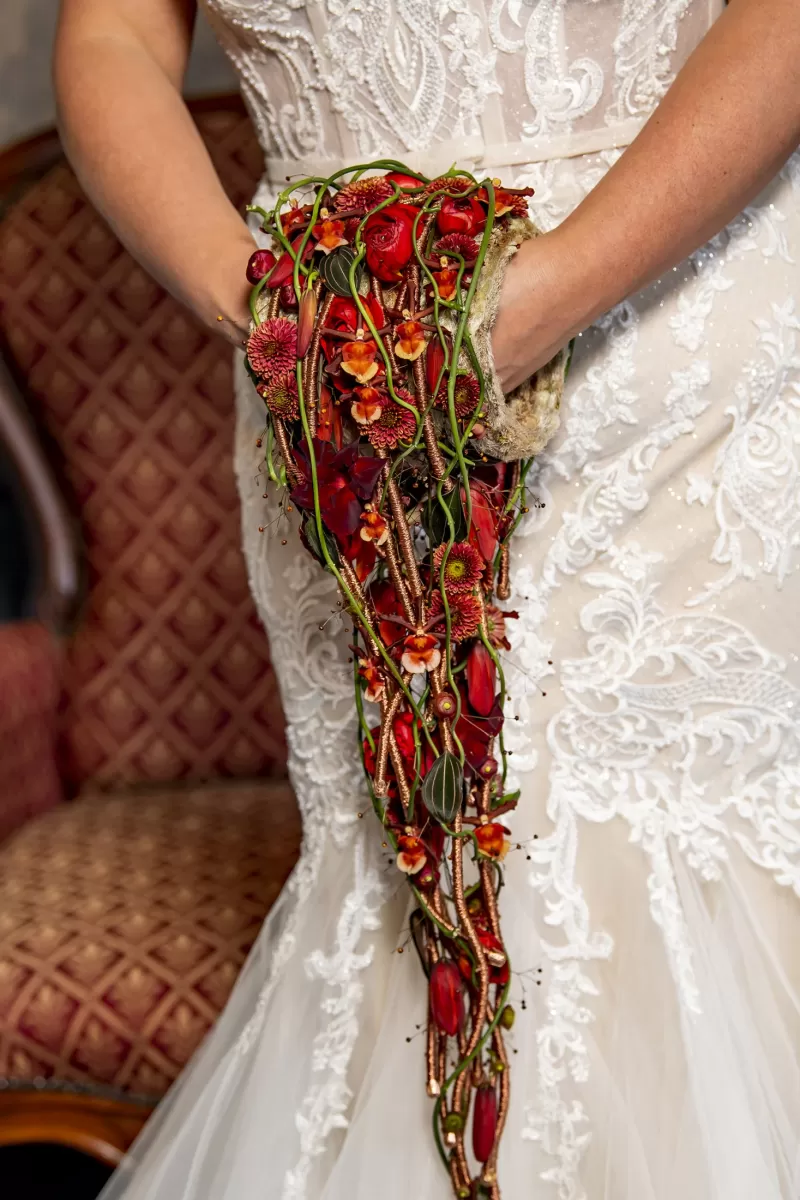 Photography: Nico Alsemgeest
Livewire
Claire and Wout-Jan run 'De Bruidsbloemist' together. They provide the decoration for the most dreamy weddings. And the Talinum 'Long John' fits in very nicely. They used it as an accent in the bridal bouquet, as a warm addition to the groom's corsage, and as a playful livewire in this beautiful table arrangement. A beautiful detail in very different designs!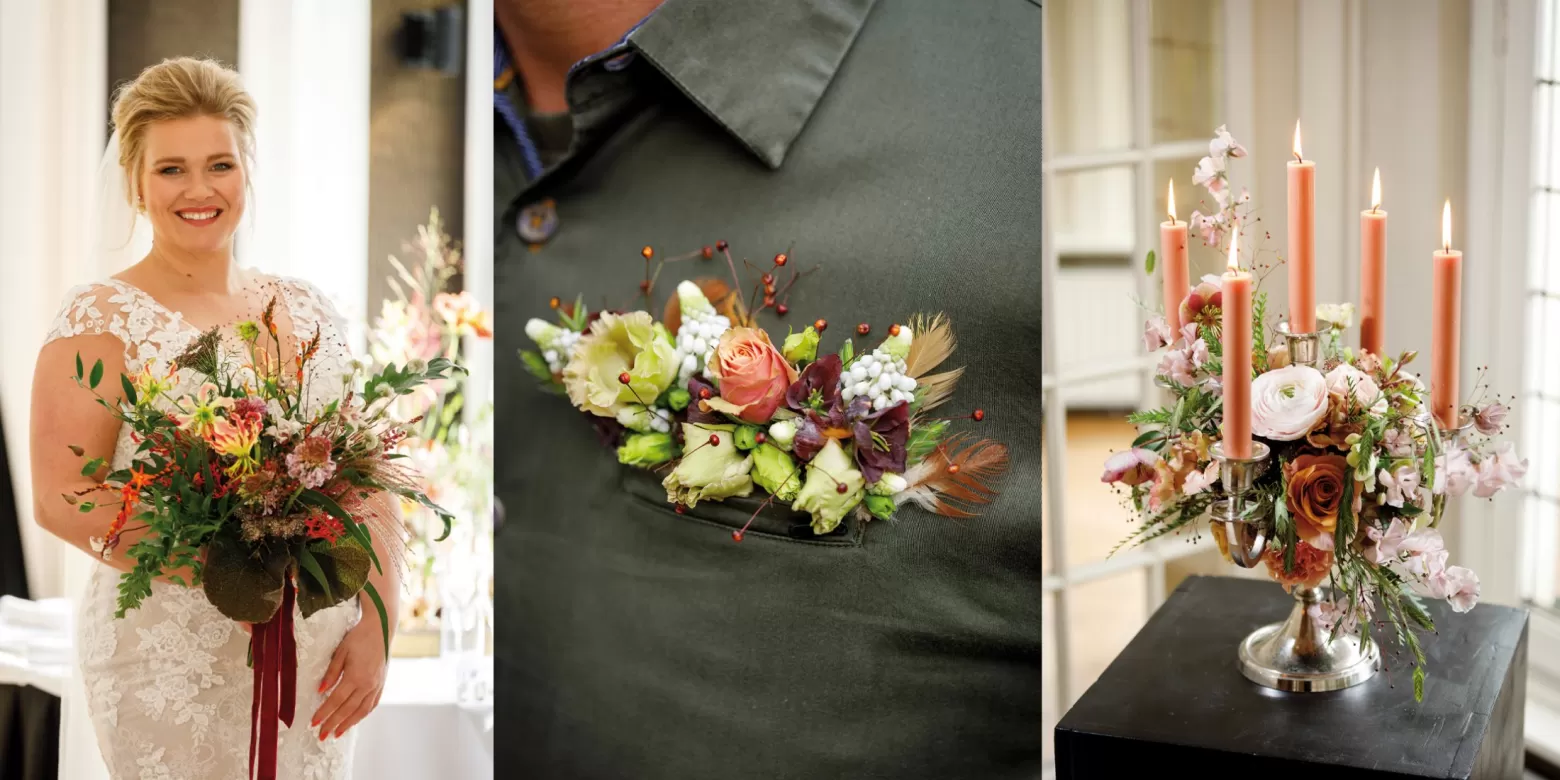 Photography: Robbert Modderkolk
Space & air
Here you see another very special work, by Conny van der Westerlaken, where the little Talinum 'Long John' plays a major role. A design in which the playful character of the seed pods is enhanced by the space they are given and the air they create. A peaceful whole, despite the fact that so much seems to be happening at the same time.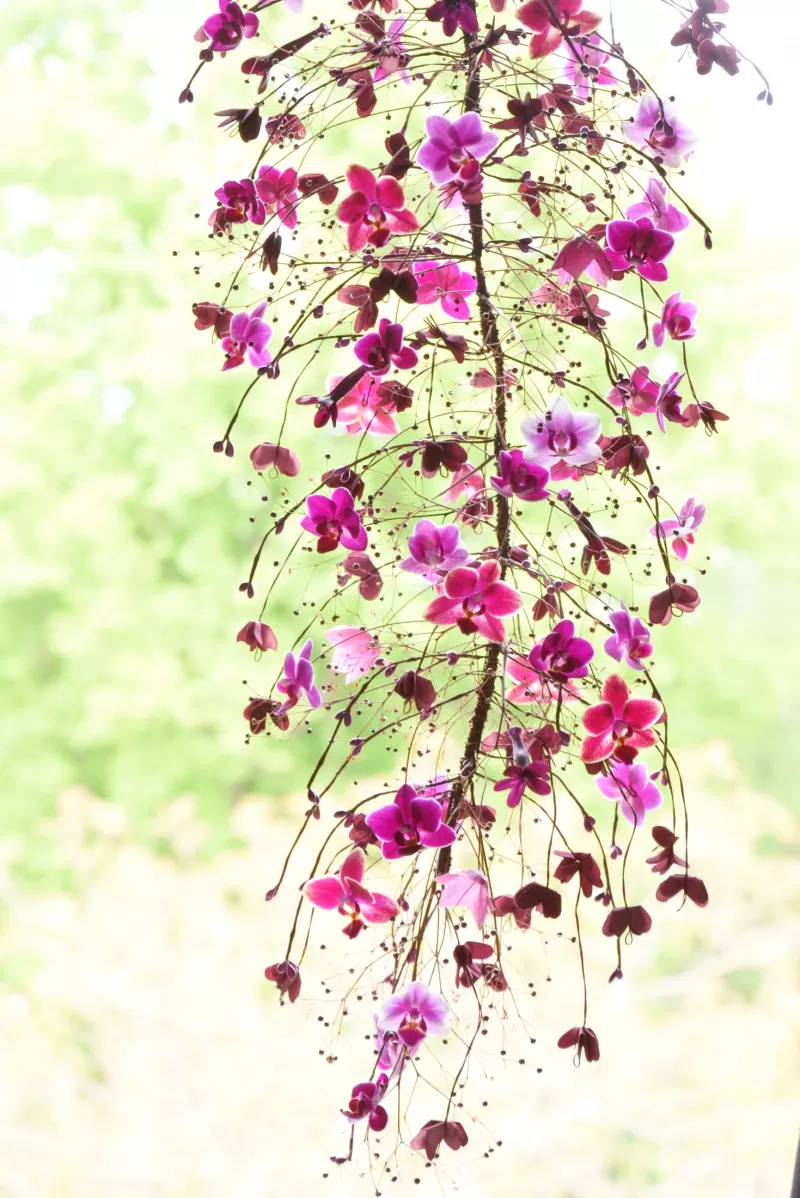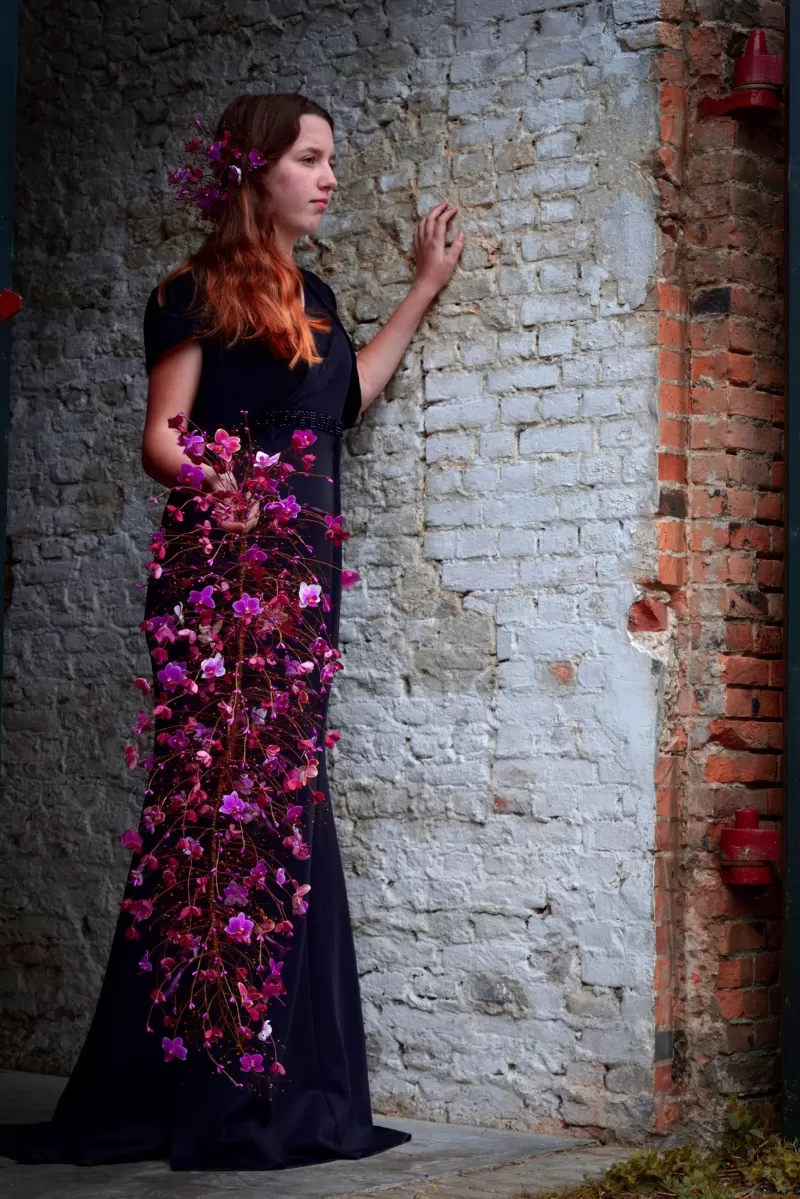 Diamond
Talinum is often used as a long branch (available in 60-80cm), with its colourful seed pods on their sticks, but these seed pods on their own are actually already enough. A technique often used by Hanneke Frankema is gluing flowers, or parts of flowers, on her iron base structures. She did the same with the Talinum seed pods on this tiara. When the light hits them they look just like little diamonds.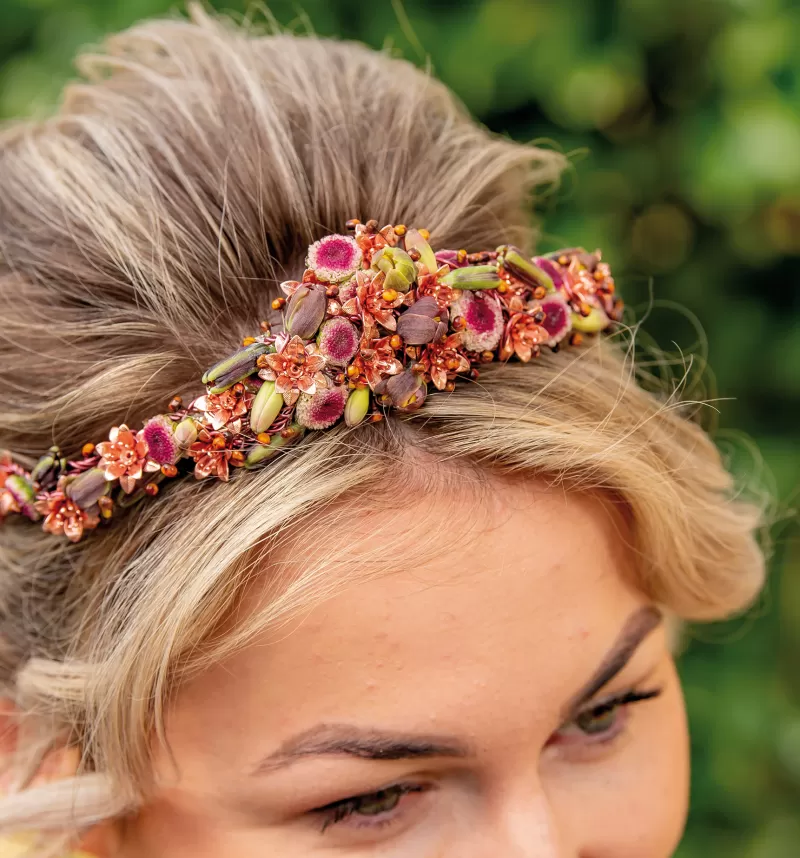 Photography: Nico Alsemgeest
Aura
This is reminiscent of a cloud, or even an aura, around the bridal bouquet. You create a larger whole, without it becoming massive; a subtle addition with a grand effect. At the same time, you soften the contours of the design, tempering the harsh contrast with the white dress. The full character of Astrantia is thus gradually phased out towards the outer edge.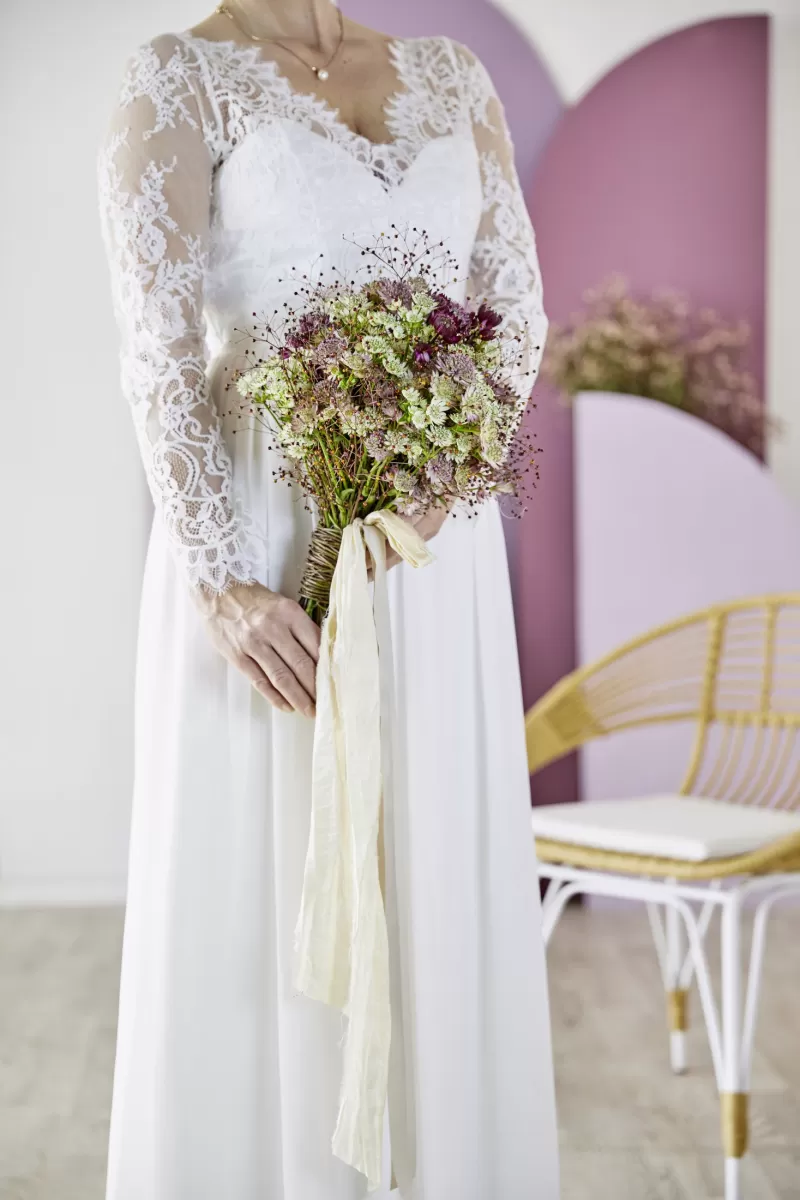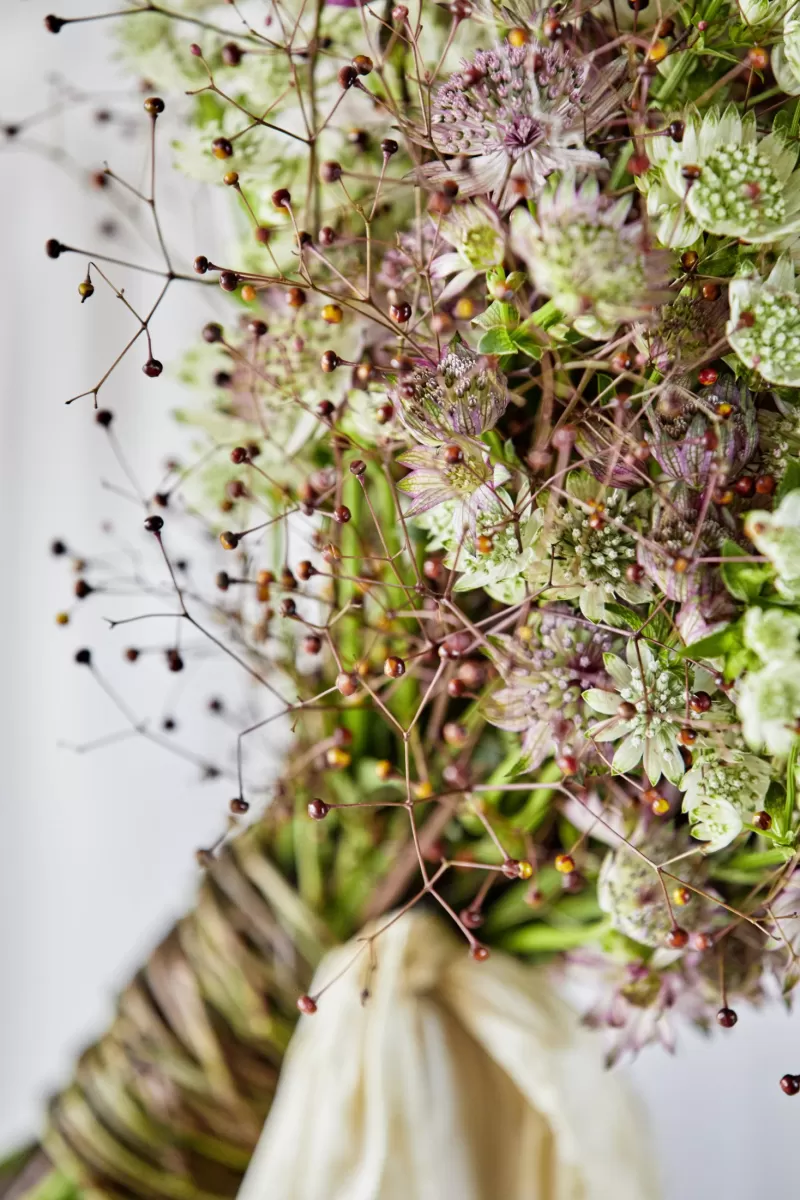 Design: BLOOM's
Focus and finesse
Large focus flowers form the basis of this bridal bouquet, but of course it is not complete without a lot of detail work. The House of Artz played with colour (natural as well as dyed), texture, and shape. The classic spherical shape is 'breached' by the protruding branches of Talinum and the Clematis fluff. This gives it air and volume, and makes it super playful.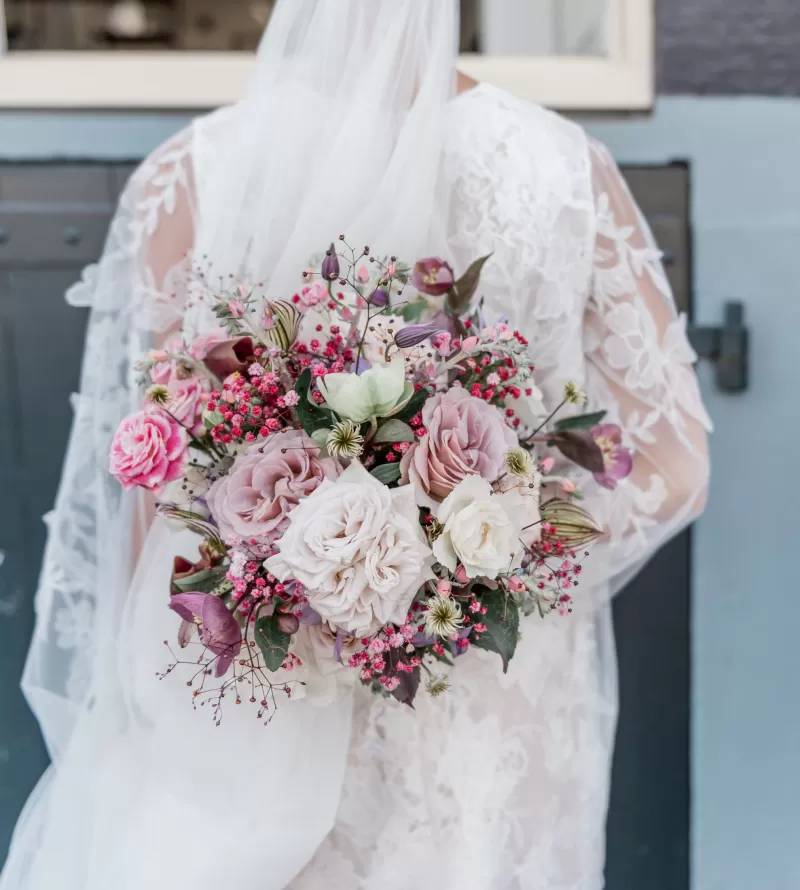 Flowers: The House of Artz, photography: Wit Photography, models: Janneke Scherpenhuyzen and Jordan Hodge, hair and makeup: Marion Bruidshaar, dress & apparel: Atelier Edwin Oudshoorn, groom & his men: Michael and Giso, accessories & lingerie: Anki My Vintage Boudoir, cakes & catering: Cake Queen, Graze for Days and Ninour, paper goods & calligraphy: Lin Mc Queen Kalligrafie, rentals: Représentable, venue: Private Mansions, Event planning & Design: Mrs. Lake Weddings
Mouldable
Talinum stems are long and sturdy, but they can also be bent, for example in combination with iron wire or around other stems. That is how Robert Bartolen created this graceful bridal work, which shapes beautifully along the contours of the dress. The combination of the orange Ornithogalum flowers in the design and the photographer's clever use of the 'golden hour' show off the warm colours of the Talinum seed pods beautifully.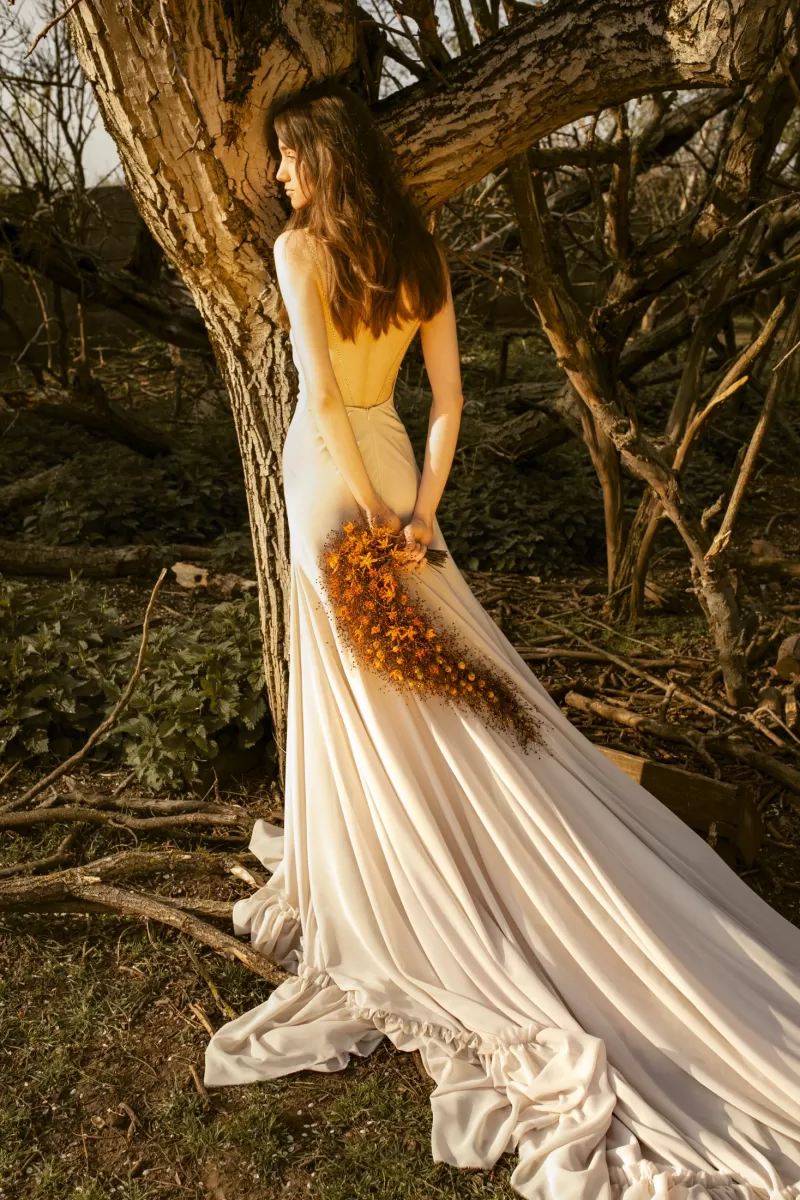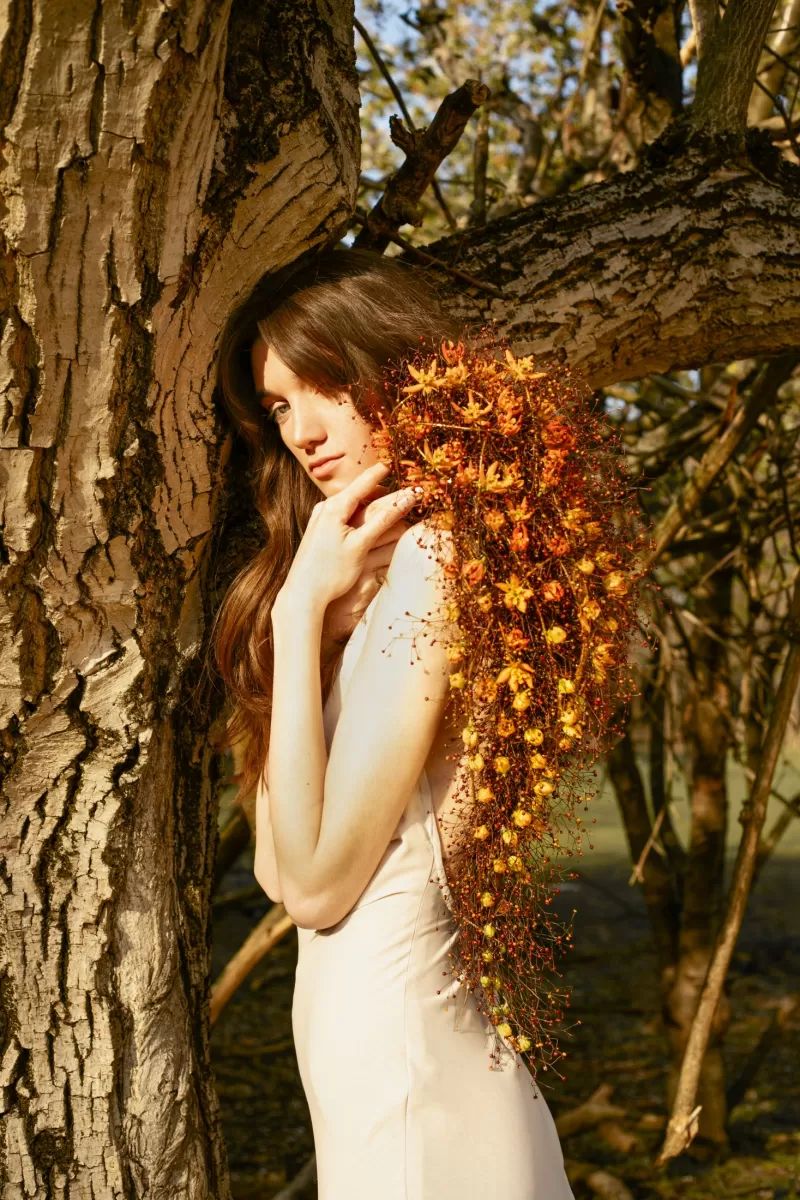 Photography: Natália Jablonková, Model: Natalia Trnkova
Nature wedding
Talinum is also a popular detail flower with students. It was used extensively during the 'Nature & Craft' theme days, for which BLOOM's invited 7 students from the Floristmeisterschule in Stuttgart-Hohenheim to their workshop. The assignment? To create varied arrangements based on traditional techniques that combine the beauty of nature with a diverse range of flowers and plants. And this resulted in beautiful works that would not be out of place at a nature wedding. While some used Talinum as an accent, others had it as the main feature in their designs. It is safe to say Talinum is a very diverse little flower!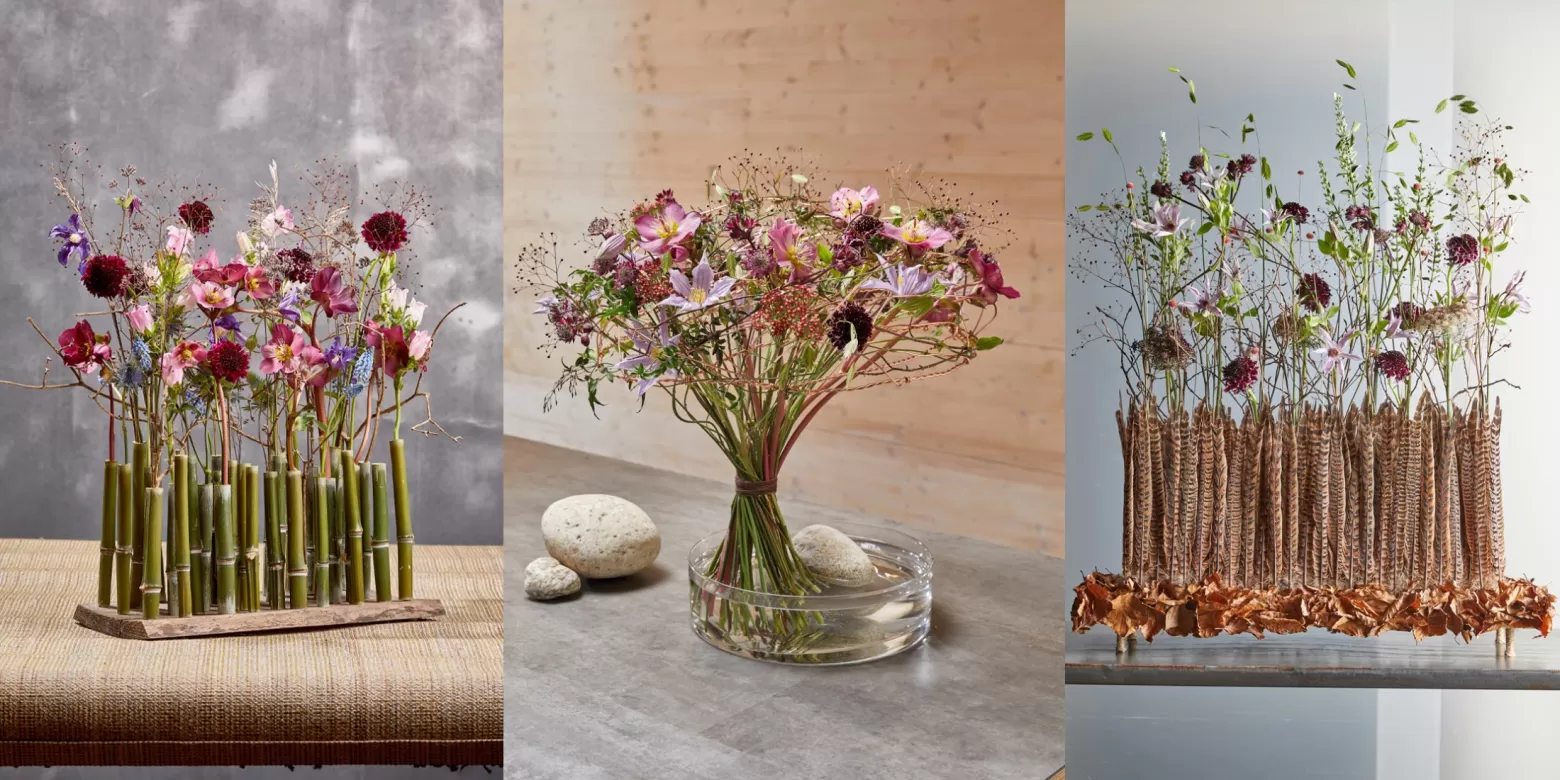 Design: Anna Günther, Svetlana Silbernagel, Hendrik Rethmeyer