A
n extraordinary combination of creativity and adventure. Floral designers Max van de Sluis, Per Benjamin, and Vincenzo Antonuccio organized an extraordinary experience. During these days, students had the opportunity to enter the enchanting world of floral art and feel the adrenaline of skiing on the magnificent slopes in the Italian town of Madonna di Campiglio. A unique trip for all participants. Time to take a closer look at this unforgettable experience.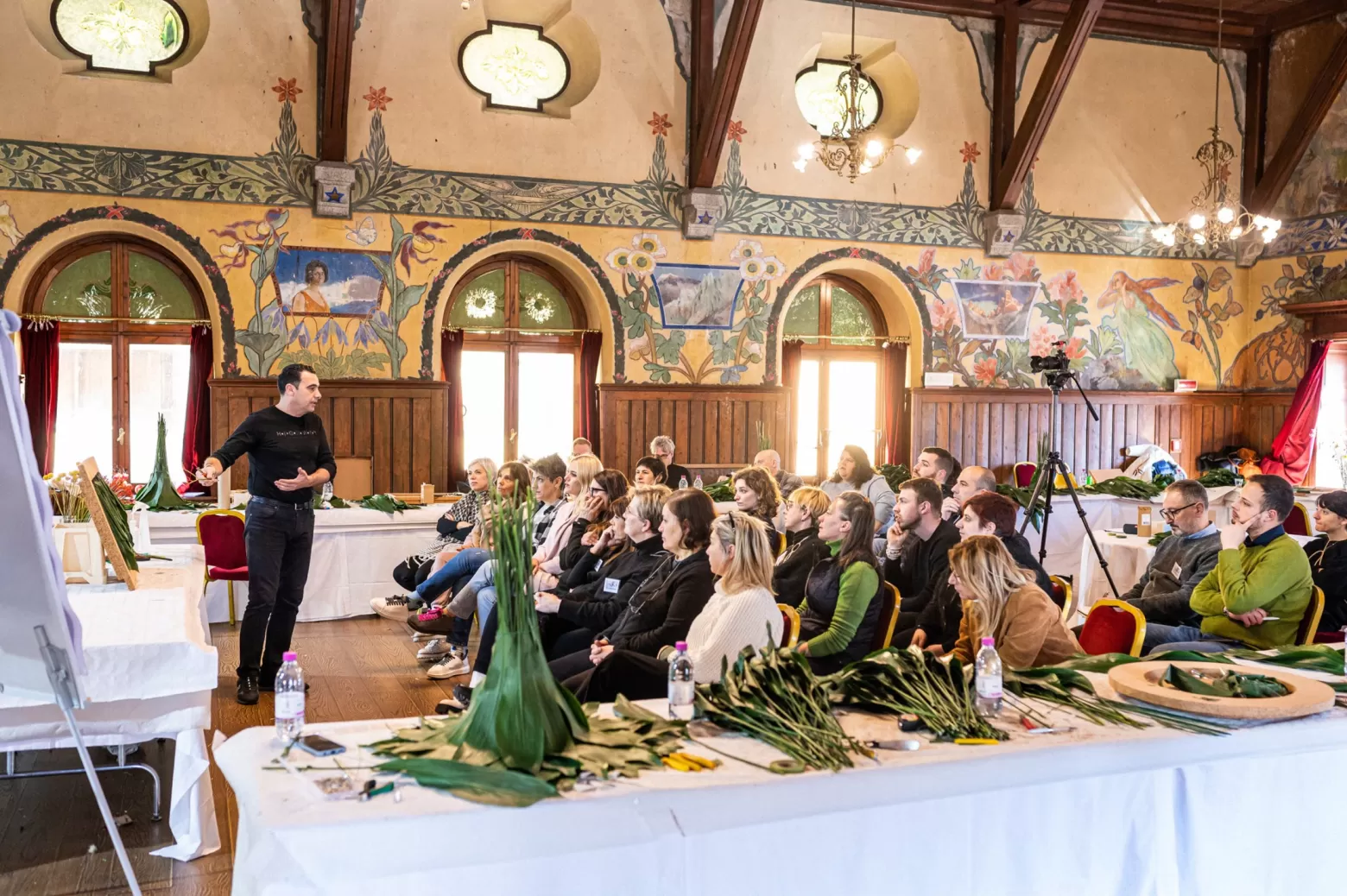 One lead instructor per day was assigned for demonstrations and explanations. Alongside the other two instructors, they were ready to assist and guide the students on their creative journey. There were three themes: grasses, branches, and leaves. Each theme covered the fundamental principles of colour use, proportions, design elements, and various techniques. Max, Per and Vincenzo provided an exceptional opportunity with this workshop to elevate the students' skills to a higher level.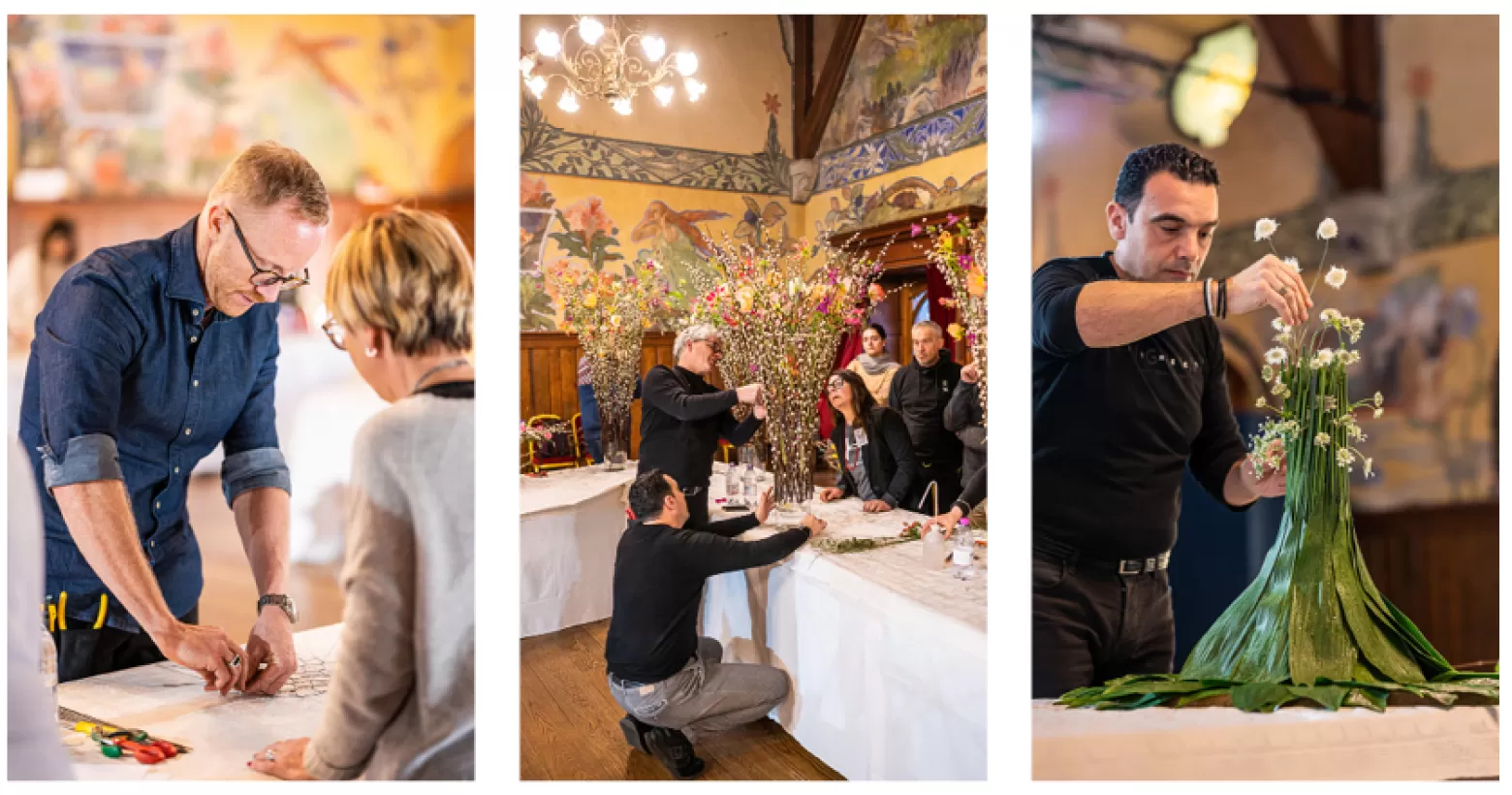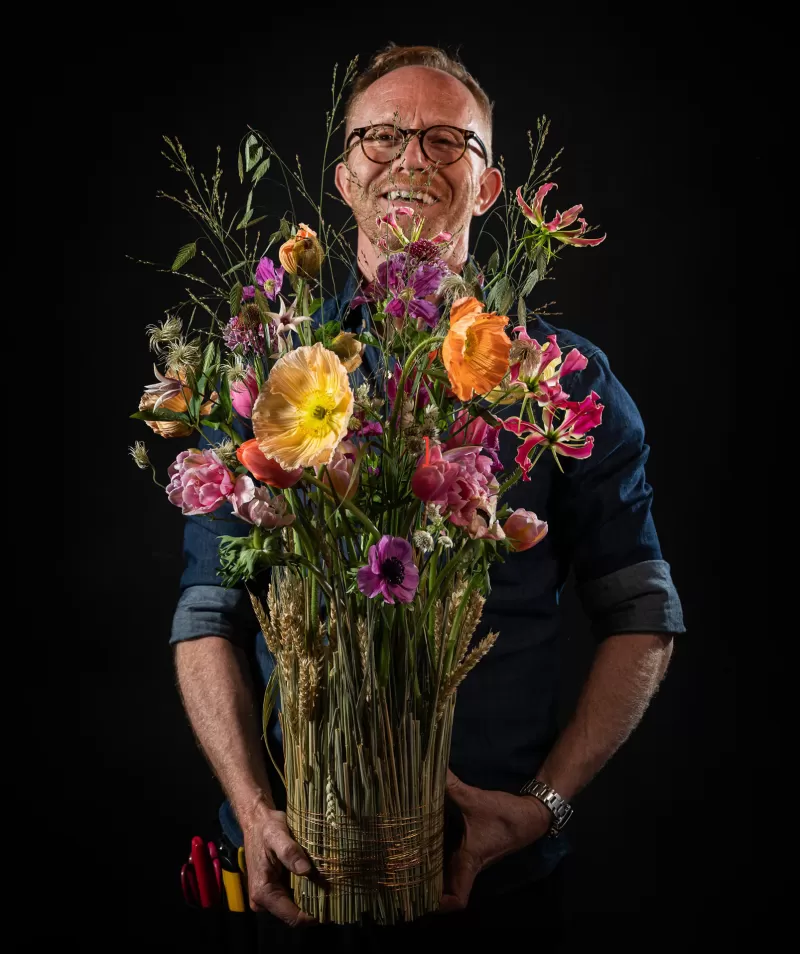 A poetic message

On the first day of this unique workshop, the students immersed themselves in the beautiful world of grass under the guidance of Per Benjamin. Per, born and raised in Sweden, is known for his unique style and artistic vision. With his creativity and craftmanship, Per has won international recognition several times over. His designs reflect harmony and stimulate your senses. Per explains that all three of his designs convey a poetic message, with last year's dried grasses serving as the backdrop for the fresh flowers of spring.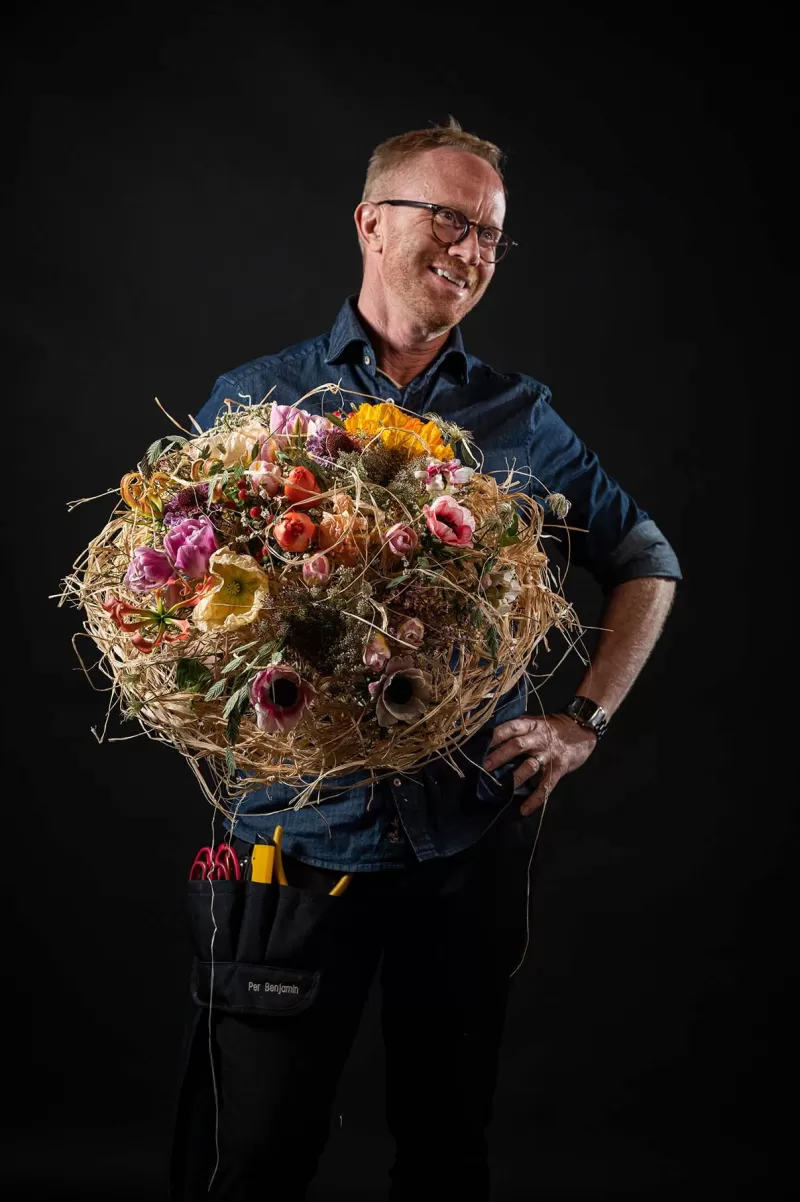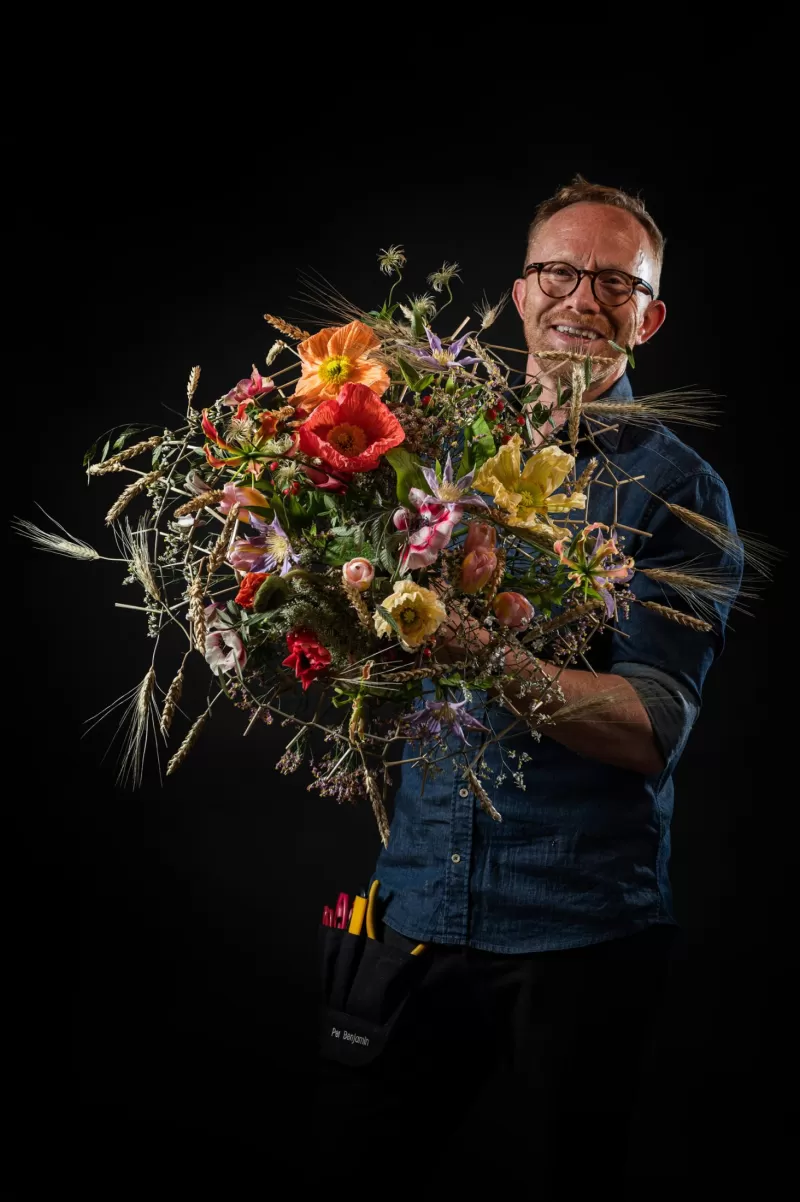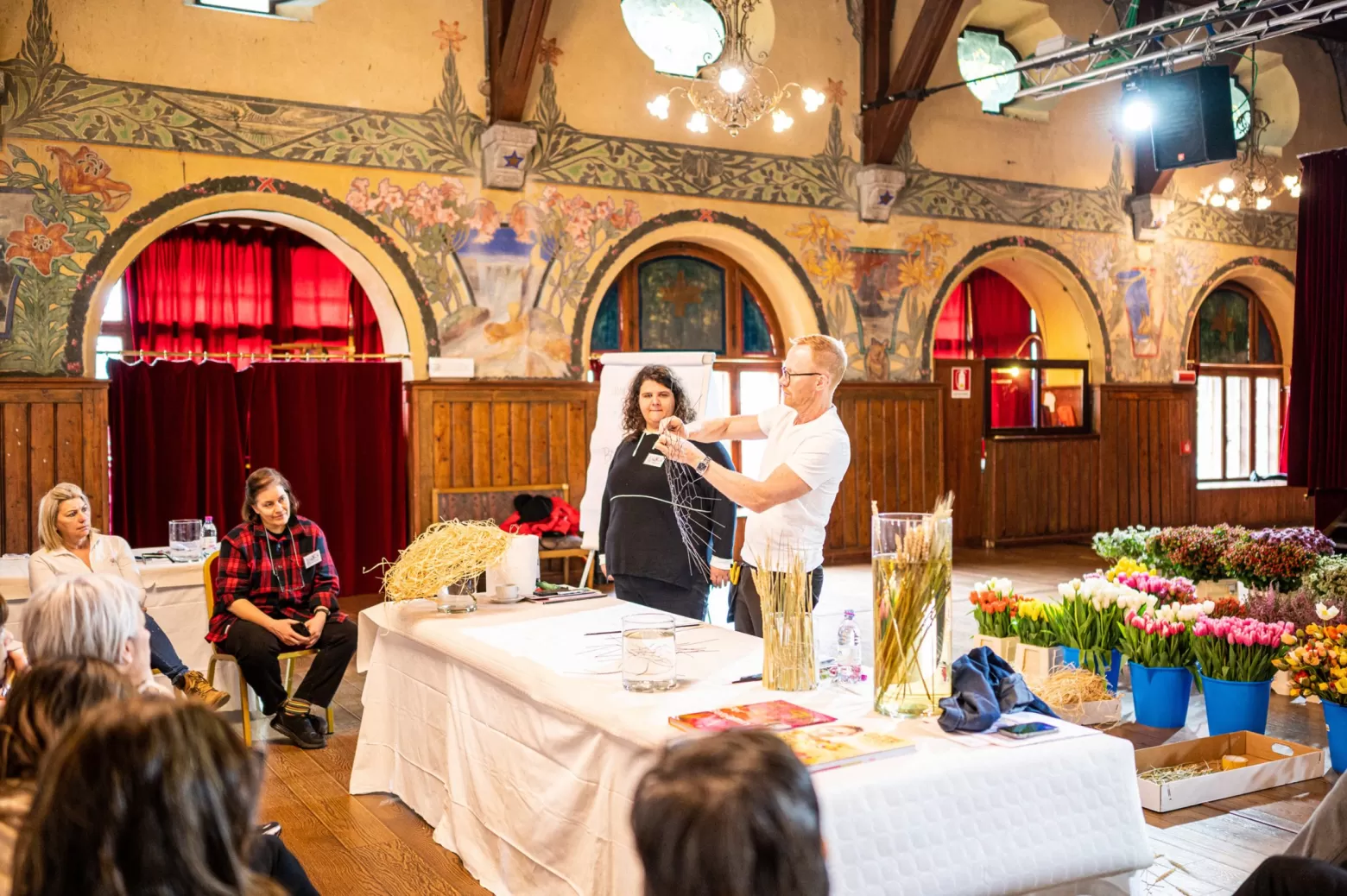 Demonstration by Per Benjamin followed by the students working on their own arrangements.
Criss-crossing

During the second day of the workshop, we delved into the creative world of Max van de Sluis. Max is known for his creative designs and ability to create beautifully unique arrangements. With his artistic vision and technical ability, he has received several awards and recognitions for his work. Max masterfully combines different elements such as colour, shape, texture, and composition. Also, during this day, where branches were the base product, his style was clearly evident. For this bouquet, a combination of graceful willow branches on a metal ring was used. The sprouting of the branches from inside to outside create an open and criss-cross structure that shows off the different flowers beautifully.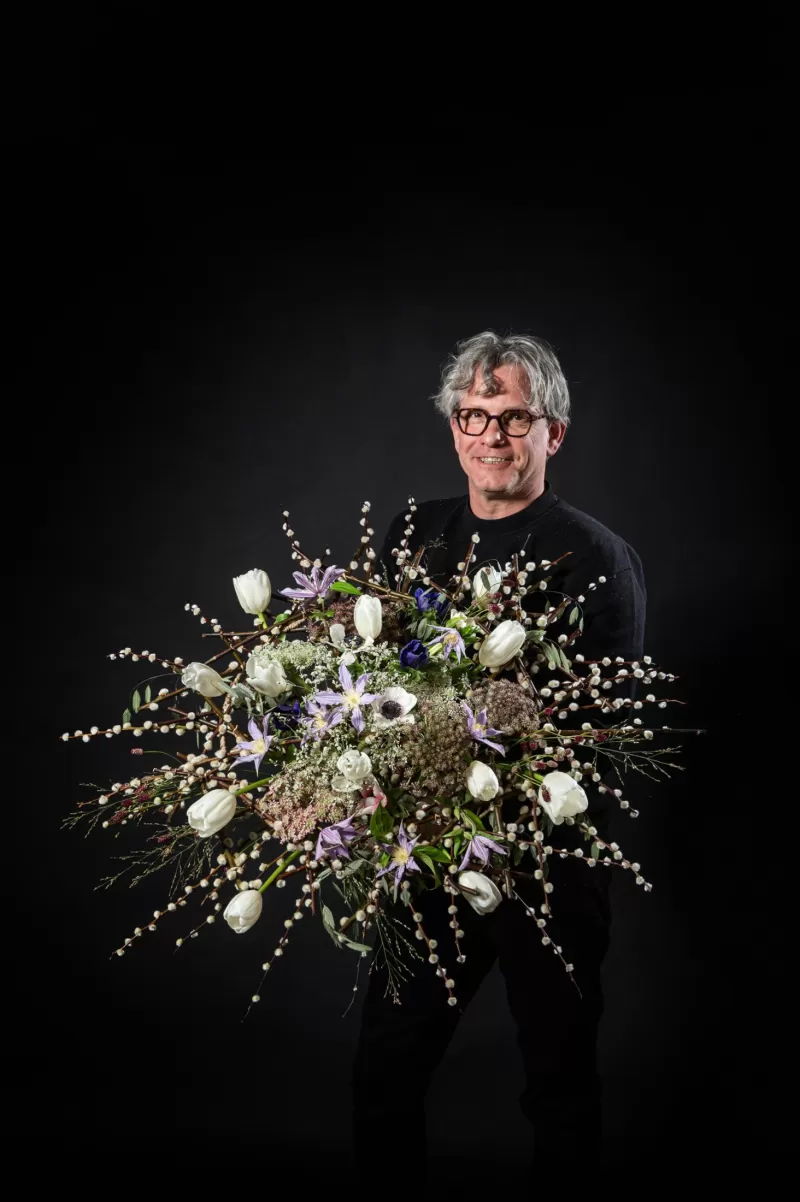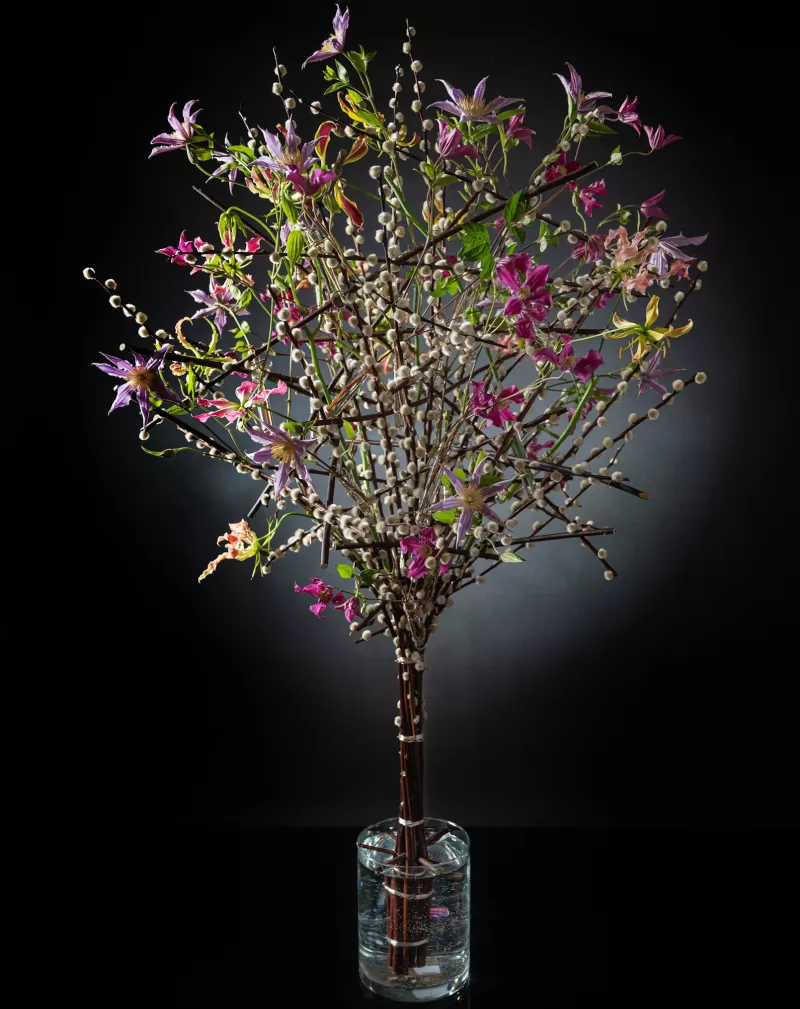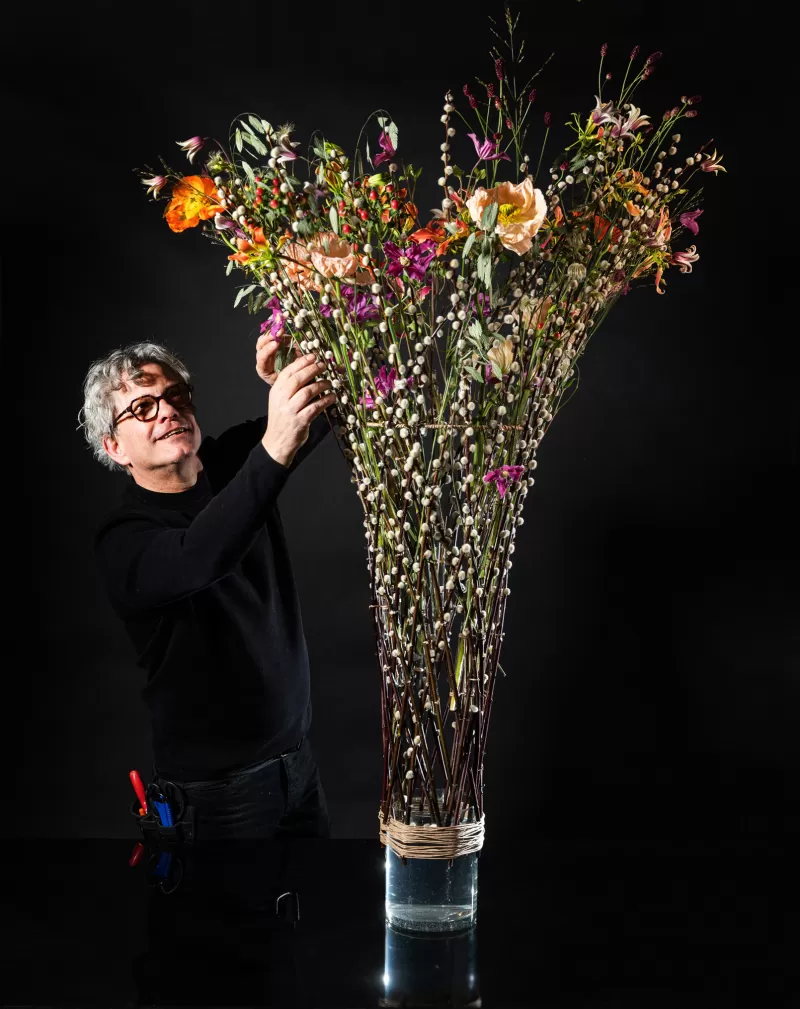 Demonstratie van Max van de Sluis waarna de studenten zelf aan de slag konden.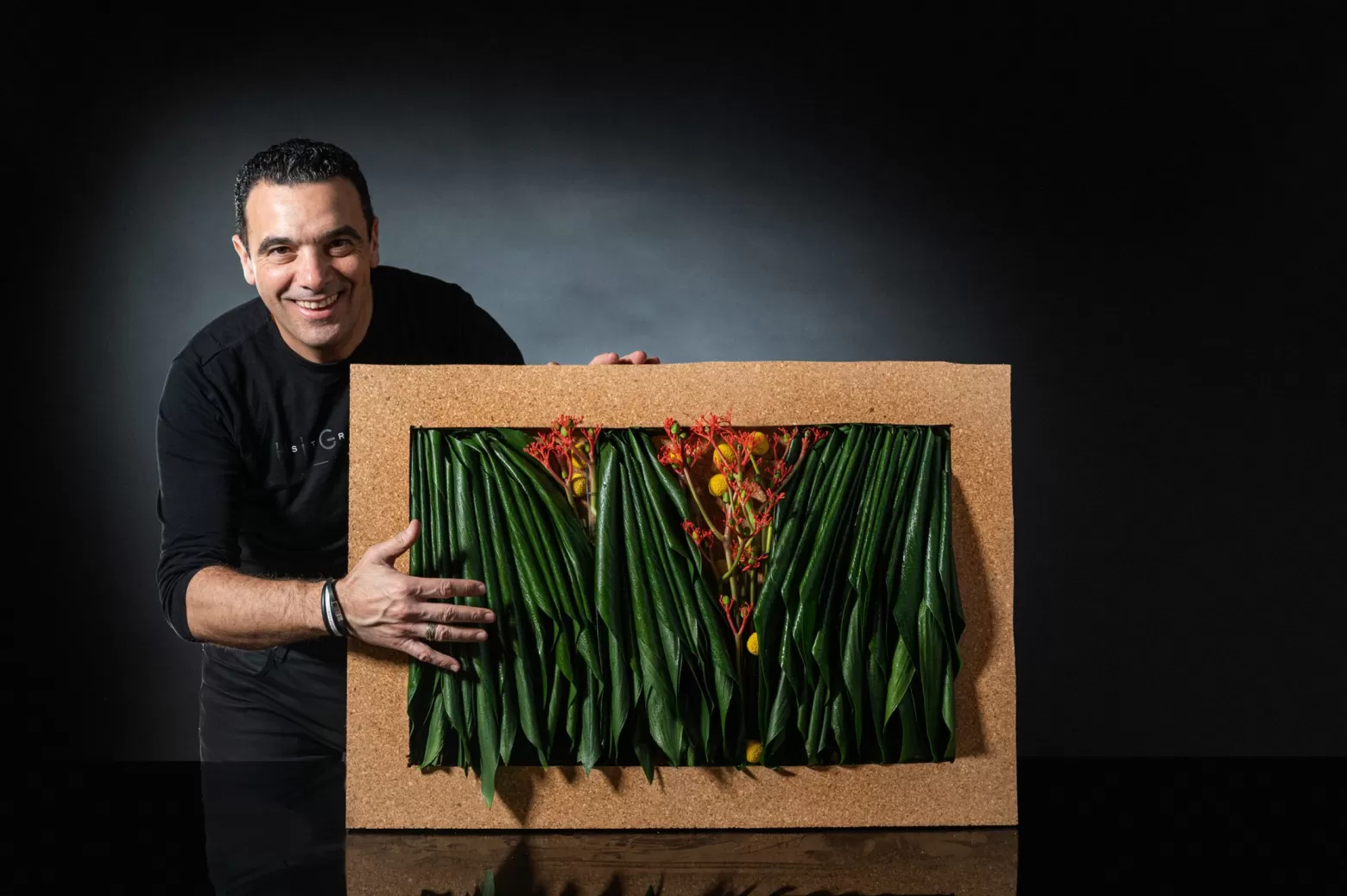 Contemporary and timeless

Vincenzo Antonuccio, born and raised in Italy, took the students through his love for the craft during the third and final day of the workshop. With his passion for creating beautiful and enchanting floral arrangements, he encouraged students to push their boundaries. Vincenzo is known for his unique vision and elegant, refined designs. He enjoys playing with colour, texture, and shape, and has an eye for detail. With his contemporary yet timeless style, Vincenzo has won several awards for his designs and represented Italy in the 2019 World Cup of Floral Design in Philadelphia. During the workshop, Vincenzo presented three inspiring designs that focused on leaves as the base product. Using the versatile Aspidistra leaves, he demonstrated how to create striking creations. Along with the addition of Craspedia Paintball™ Pop and Jatropha Firecracker, this resulted in a captivating and harmonious design. With its round shape and vibrant yellow colour, the Craspedia Paintball Pop™ adds a playful element. Together with the vivid contrast of the Jatropha Firecracker, the arrangement strikes a nice balance between shape, colour, and emotion. After this final demonstration, the students were given one last opportunity to express their creativity in their own unique way. This last day of the workshop marked the end of a learning journey in which the students were inspired to further develop their passion for the art of floral design!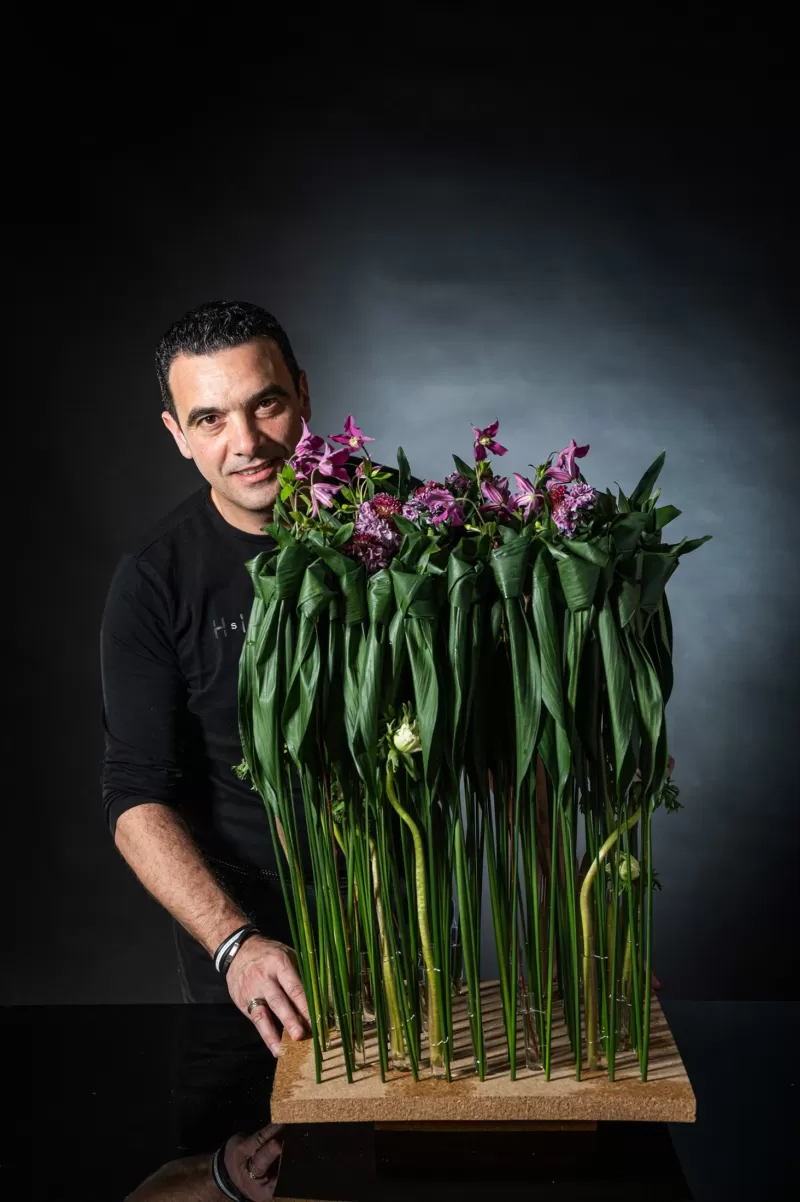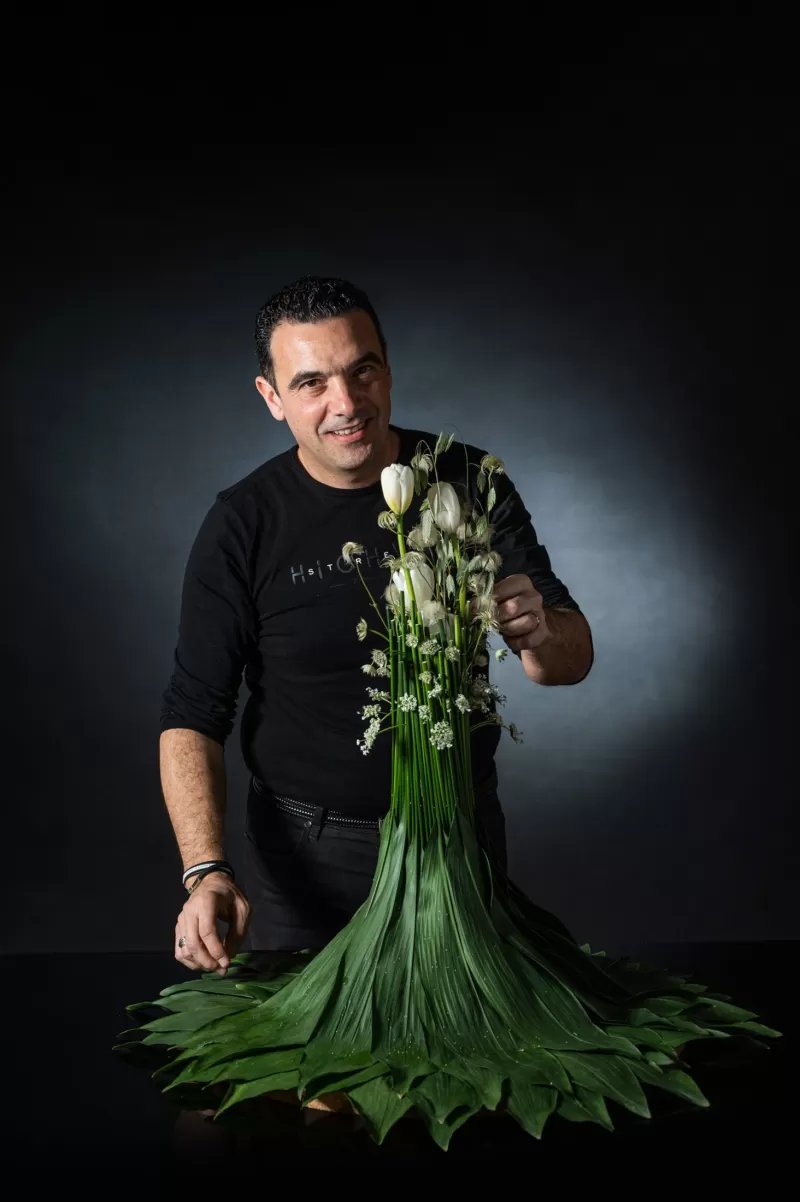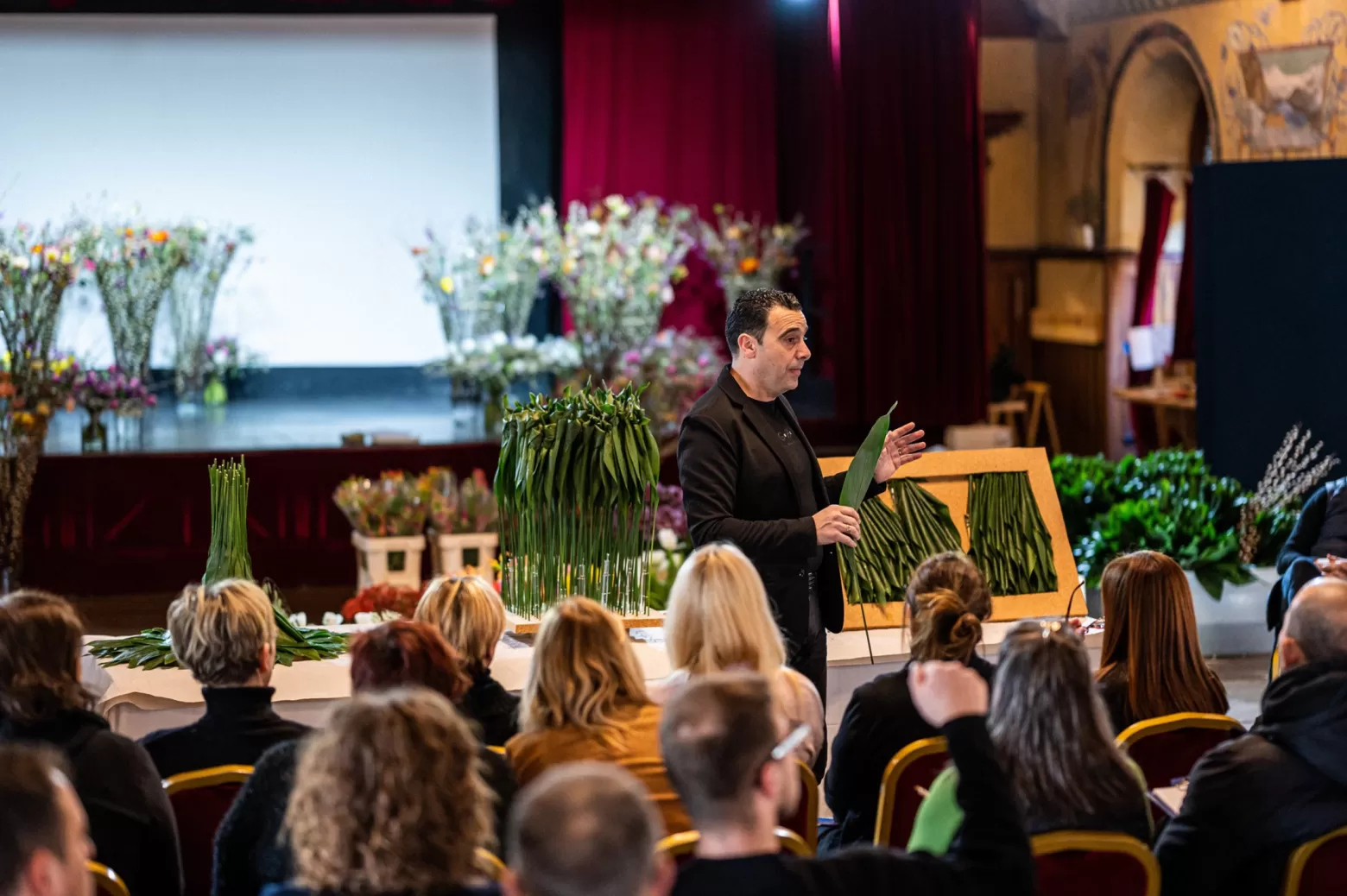 Demonstration by Vincenzo Antonuccio followed by the students working on their own arrangements.
After this three-day workshop packed with inspiration and creativity, it was time to get on the skis. With two more days ahead to explore the slopes of Madonna di Campiglio, this unique blend of floral art and adventure created an unforgettable experience for everyone. The perfect ending to a successful workshop!