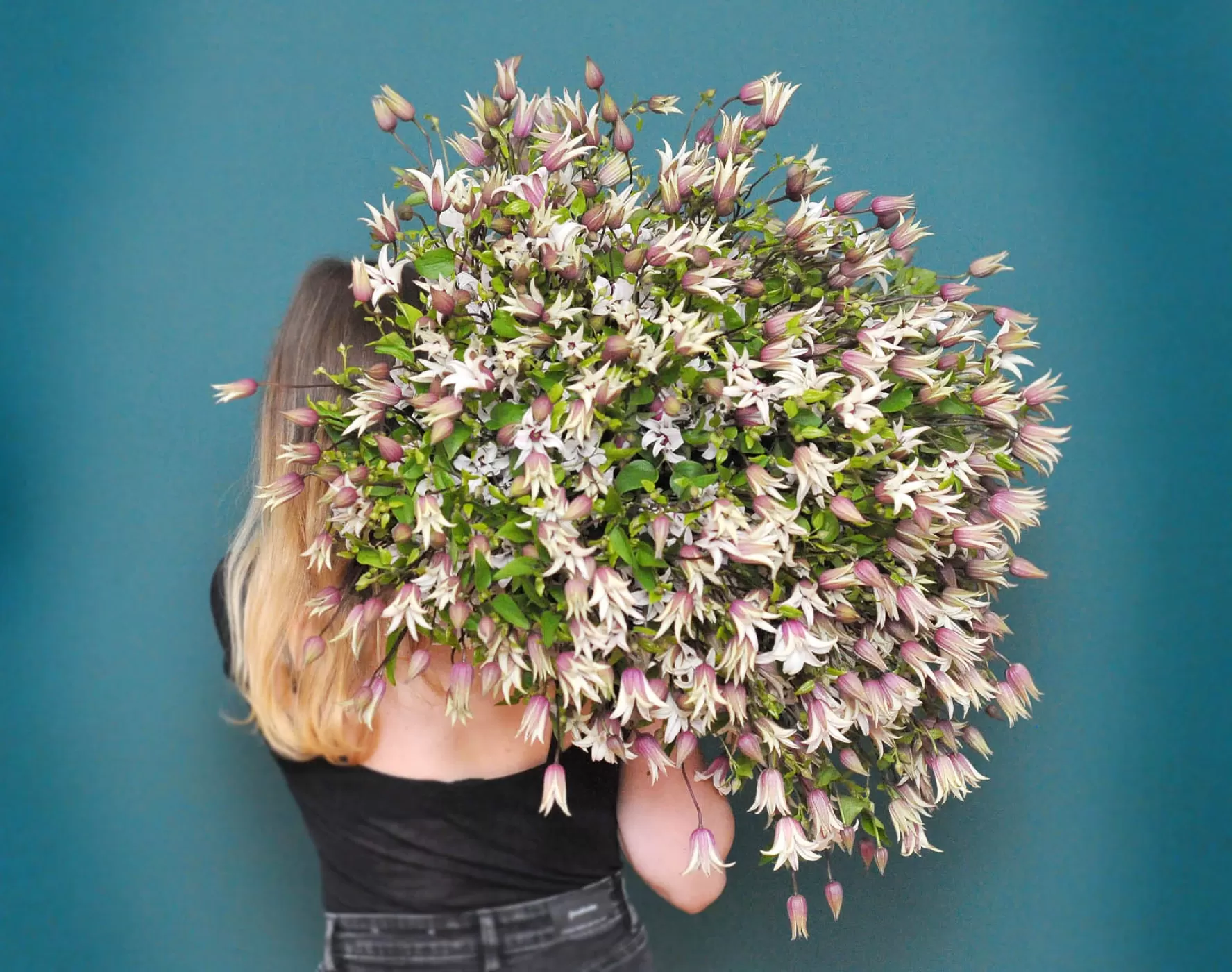 Tested: The first bicoloured Clematis!
What do the designers think of this newcomer?
Back to stories
F
ollowing the introduction of Vienna, the first white cut Clematis, we can already add a new extraordinary member to the Amazing® family: Sevilla. How proud we are! It is the first bicoloured variety and therefore instantly unique.
Clematis Amazing® Sevilla 
Each stem consists of four tulip-shaped flowers in duotones. Sevilla has a creamy white colour on the inside and a burgundy pink colour on the outside of its petals. These double shades are unique within the cut flower family.
Besides its exceptional shape and colour, its flowers feel different. Where the previous varieties felt like soft, delicate paper, Clematis Amazing® Sevilla feels more intense and solid.
The test panel
This special Clematis can rightly be called 'amazing'. Although we may be a little biased, this is why we had it extensively tested by a test panel of various international designers. What did they think? 
Read on quickly...
The reactions:
"An incredible flower. Personally, I love the soft gradation of the blossoms, from the sensational light tones in the heart, to the graceful, coppery-pink hue of the buds. What a beauty" - Joseph Massie, United Kingdom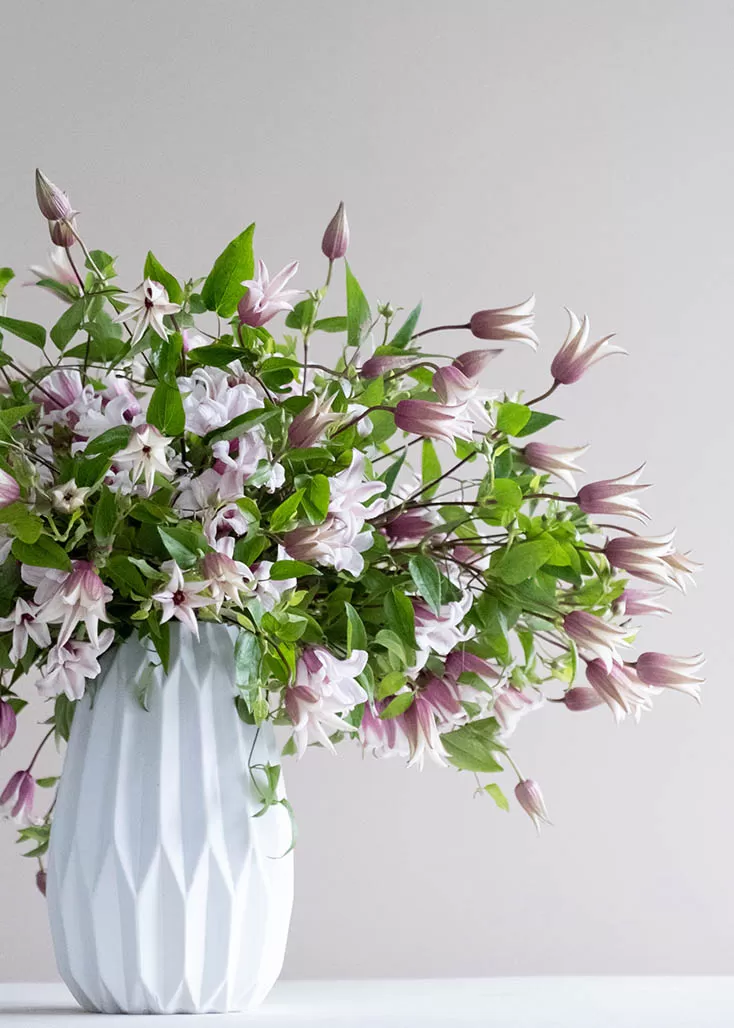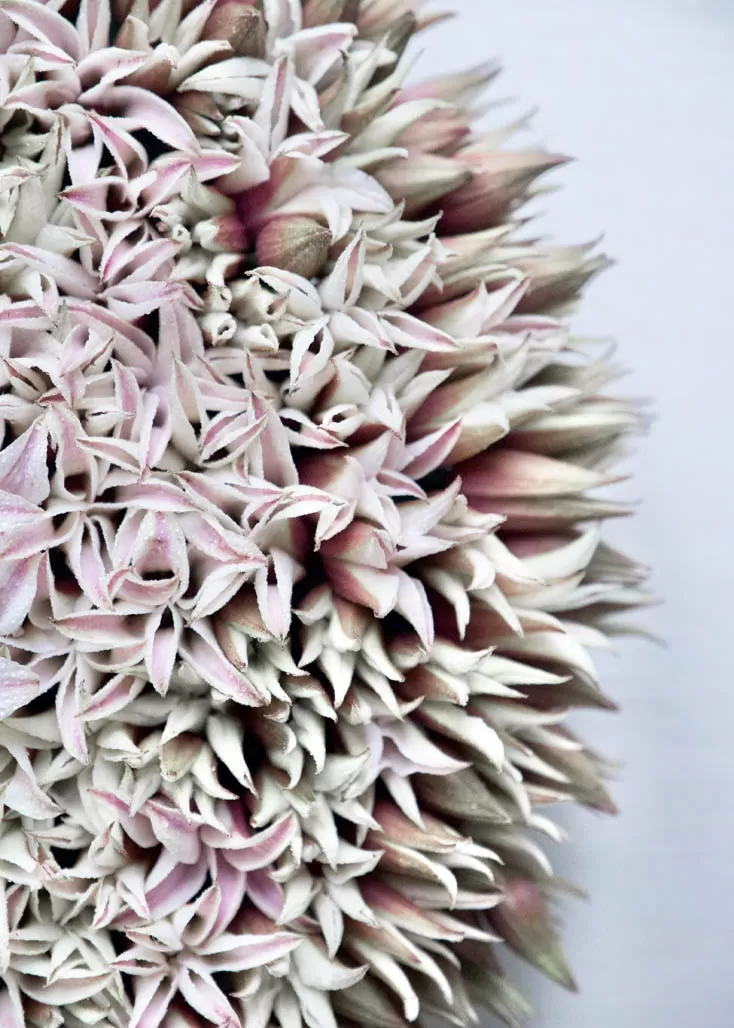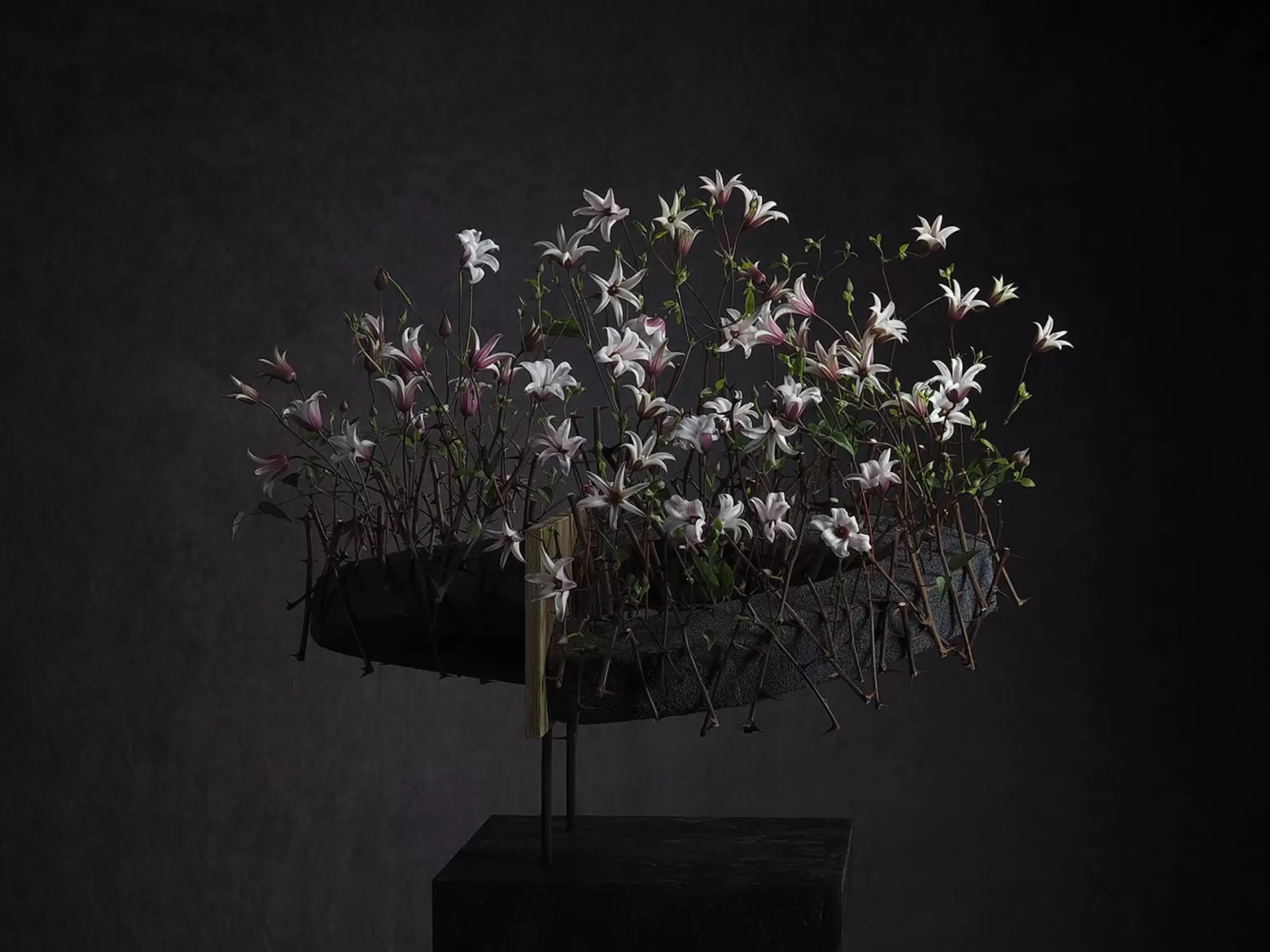 "The new variety is very beautiful. It was an honour for me to see and use her before she goes to the auctions. The shape, colour, and of course the whole flower is absolutely amazing and incredibly beautiful. When I saw it in real life, after it arrived at my place, I knew that 'Sevilla' would become my new favourite Clematis. I am completely in love with this variety." - Gábor Nagy, Hungary 
Photography: Bálint Rádi
"With this unique Clematis variety, it was love at first sight! Its delicate tulip shape makes it look like it is dancing and I love its creamy white interior. Sevilla is definitely a new favourite!" - Andrada Muller, Switzerland 
Photography: Christelle Naville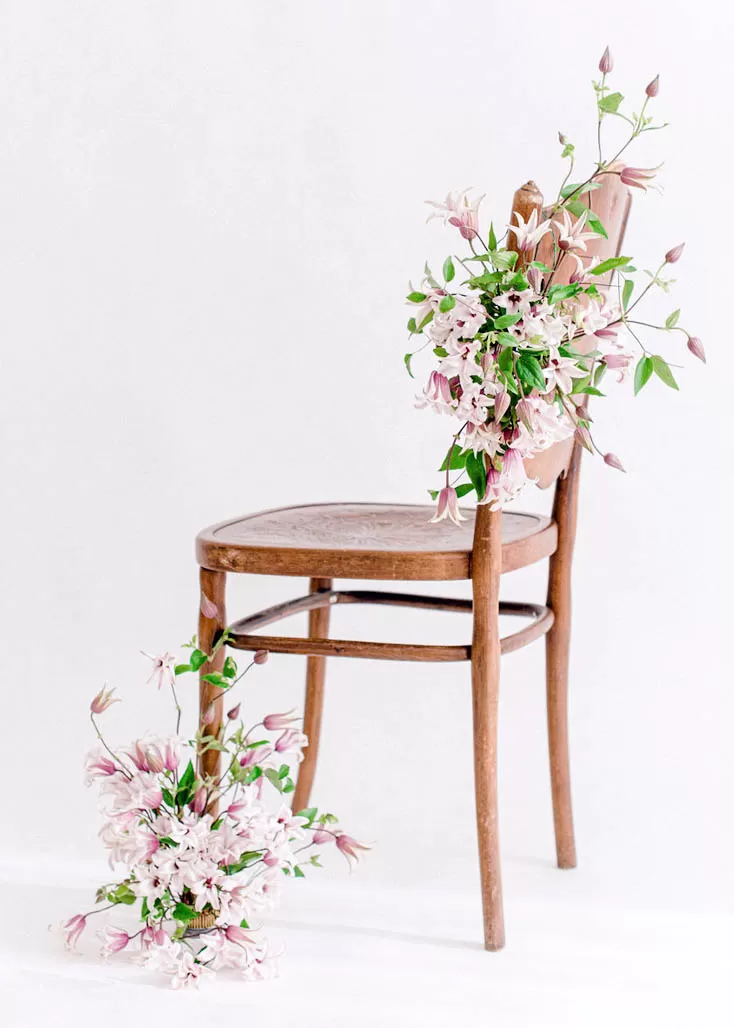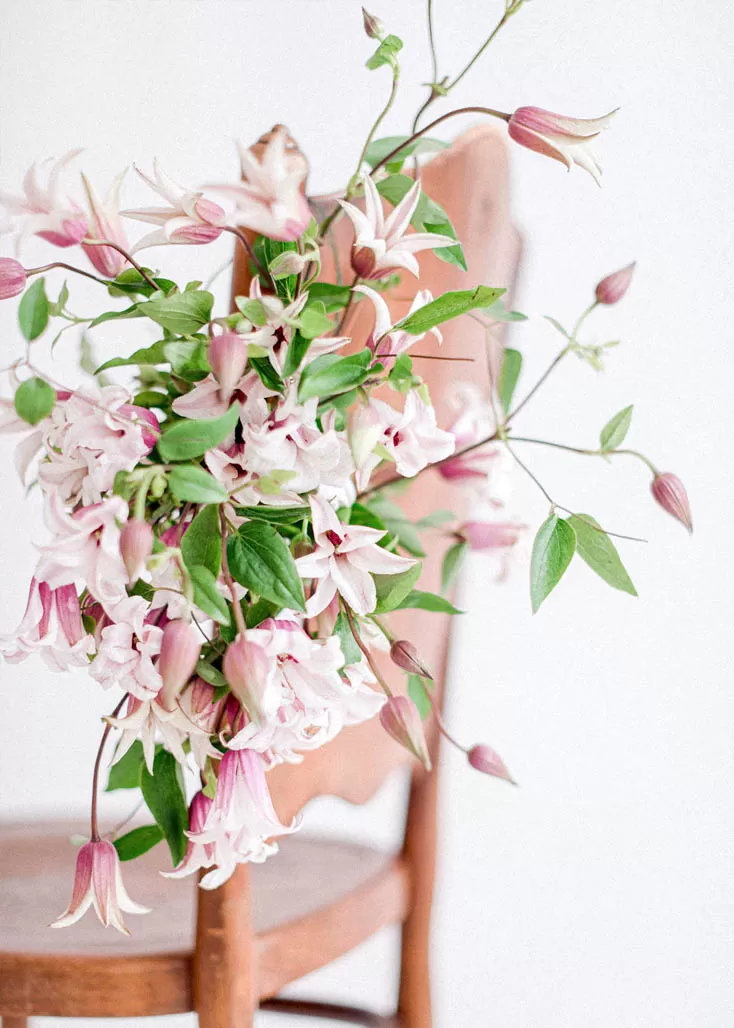 "Love at first sight! A wonderful addition to the Amazing® series. The colour of Sevilla combines very well with other colour combinations." - Hanneke Frankema, The Netherlands
In this design, in addition to Sevilla, Polianthes, Talinum and Scabiosa have been used. Hanneke has made several designs with the entire Clematis Amazing® series, see them here.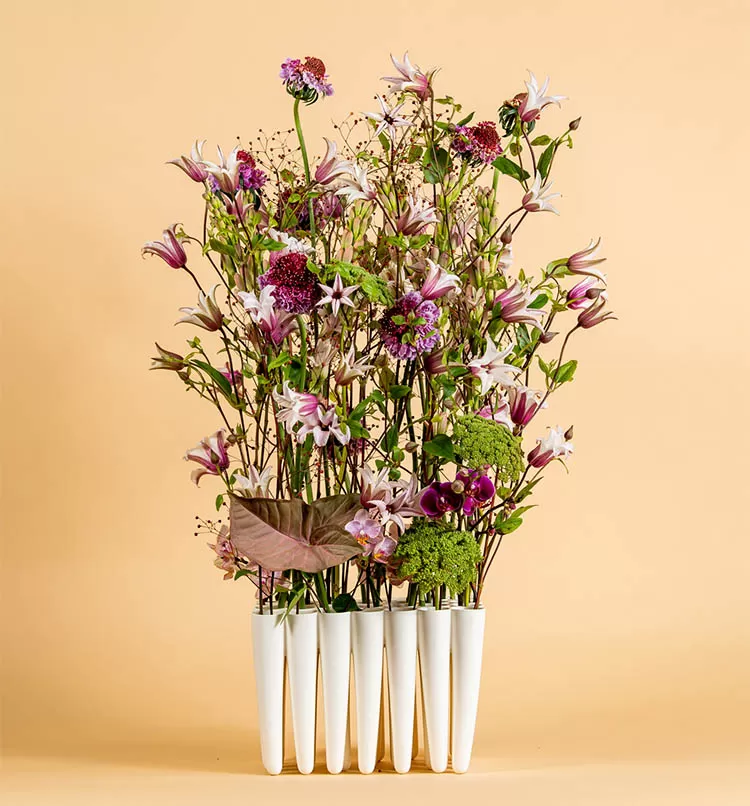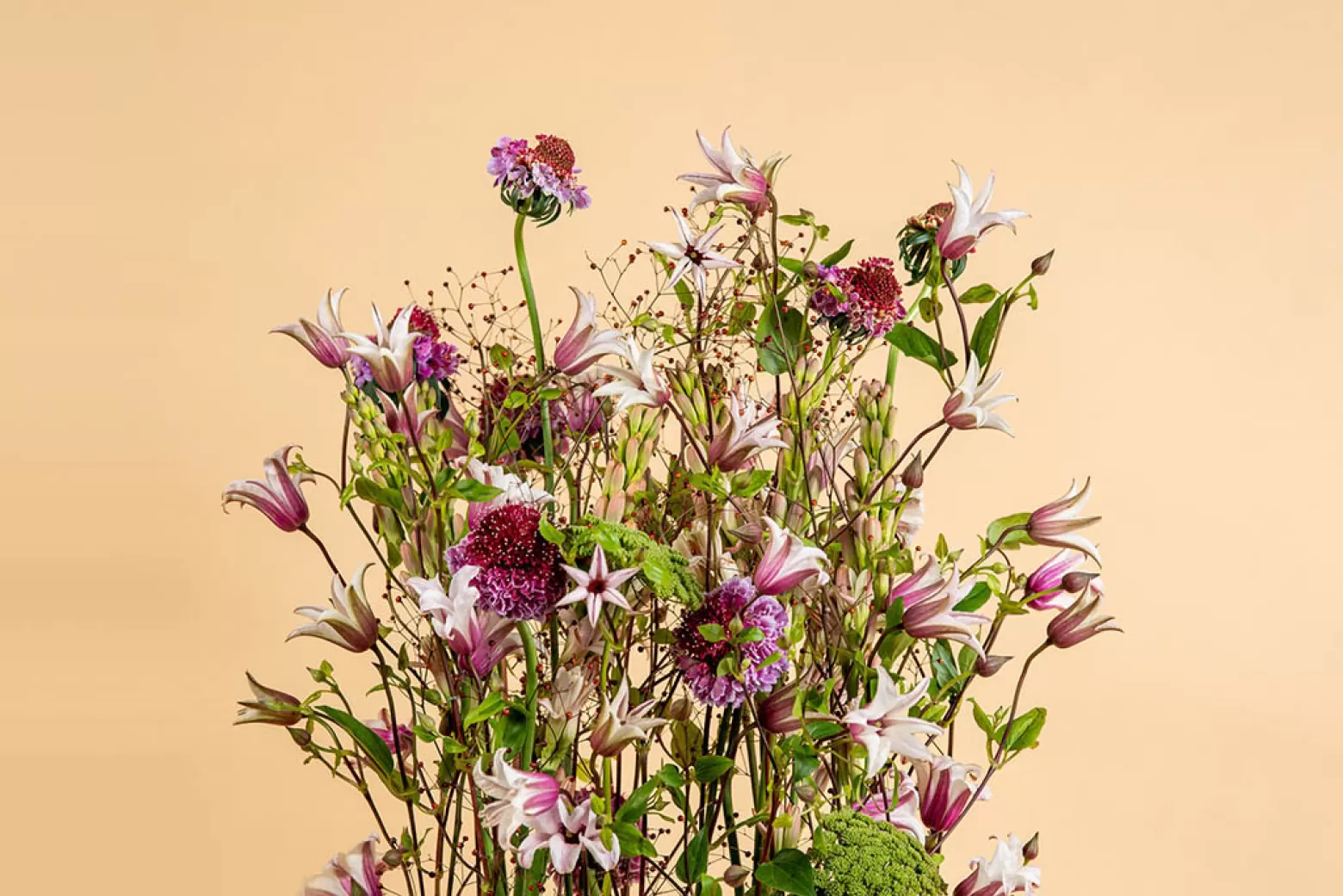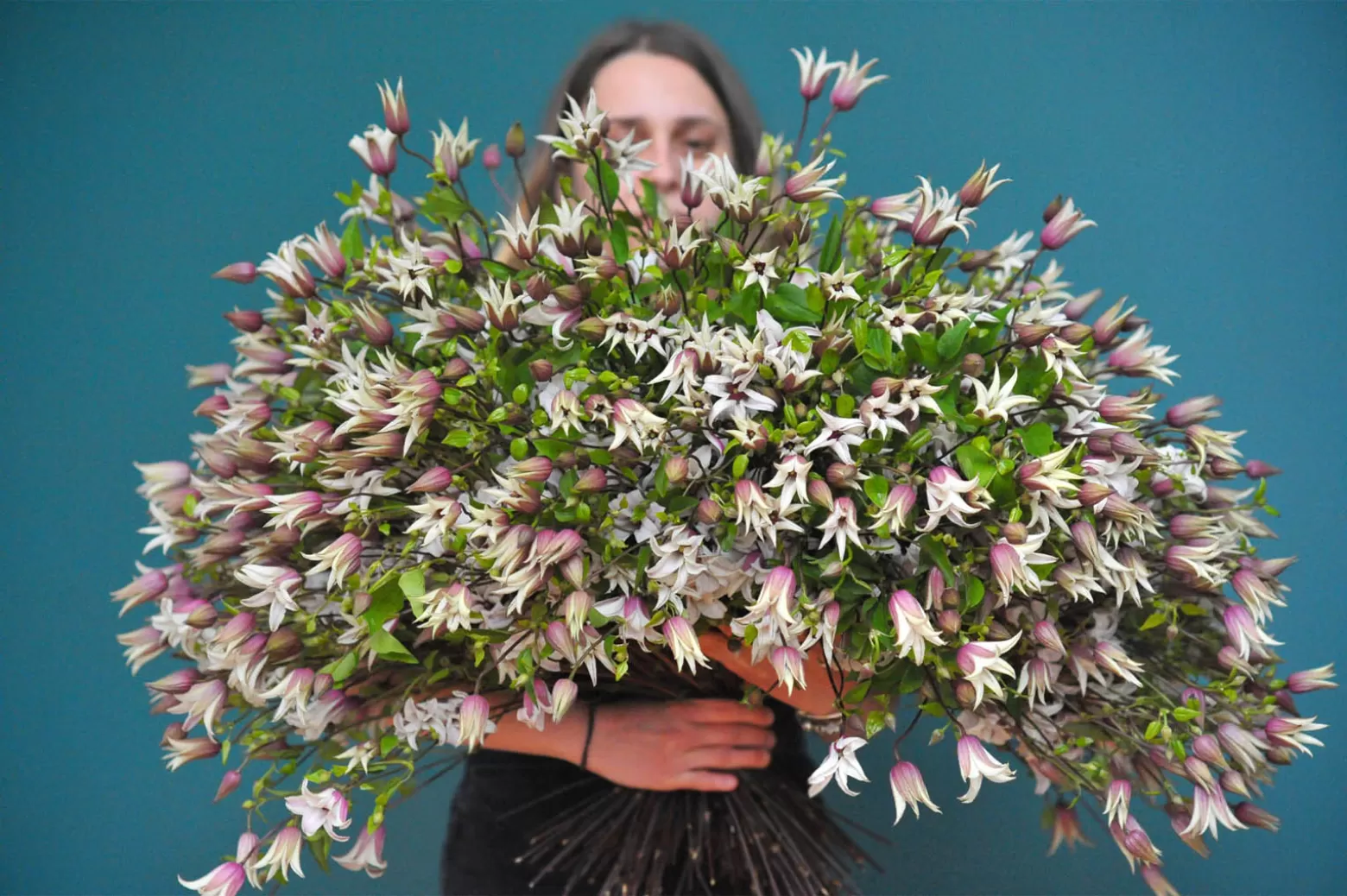 "Love it! Thank you for sharing this beautiful Clematis. She is very beautiful and stood for a very long time, weeks!" - Nicu Bocancea, Floraria Iris, Romania. 
Nicu used the Clematis Amazing® Sevilla for his Manifesto #50dezilepentru50deani. A floral project with which he brightens up the streets of Bucharest.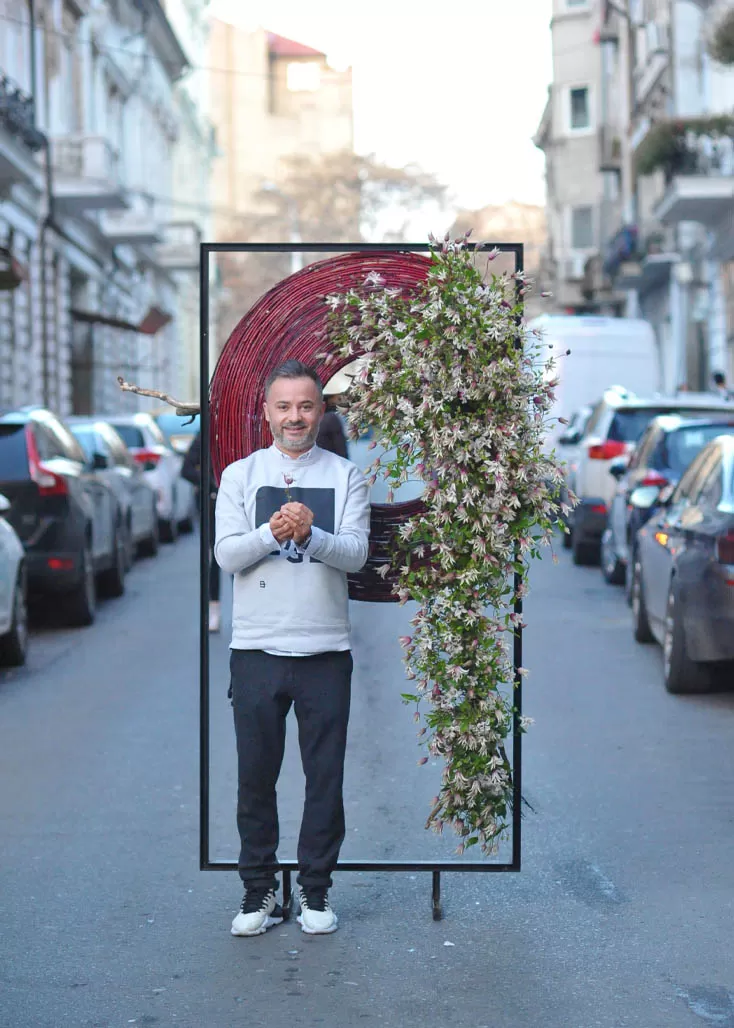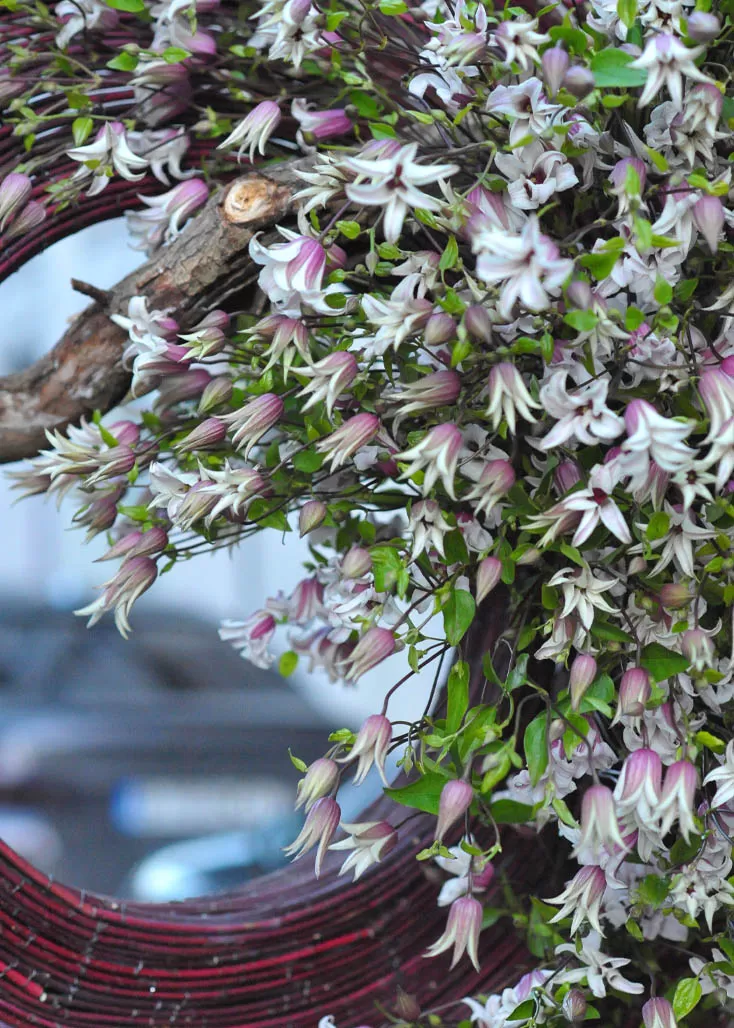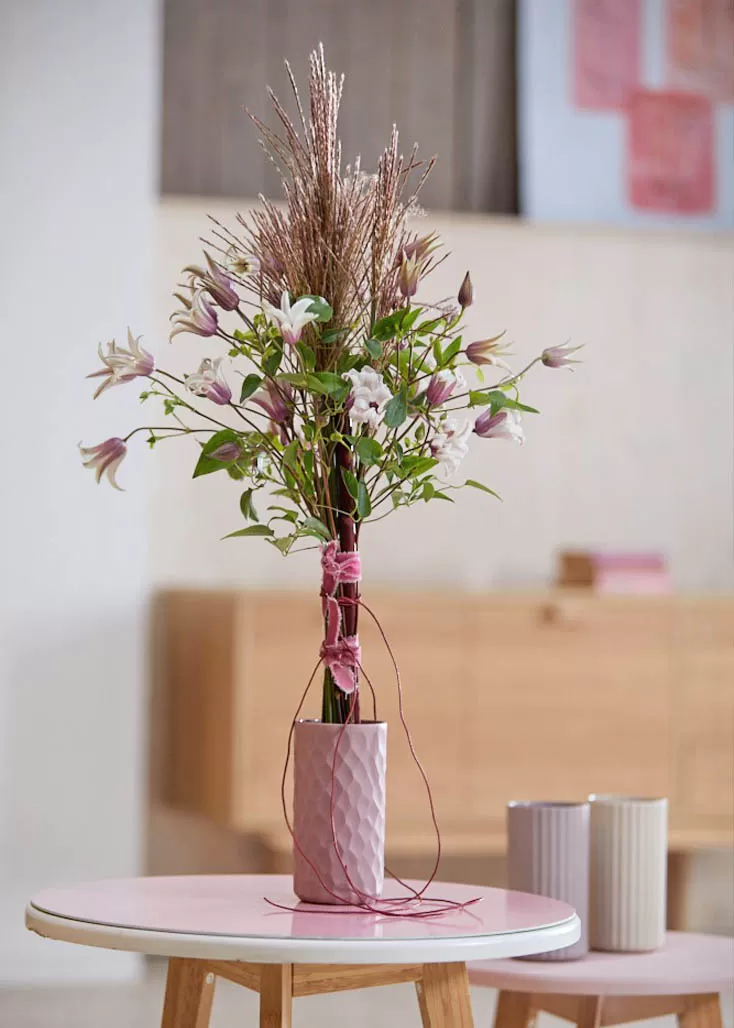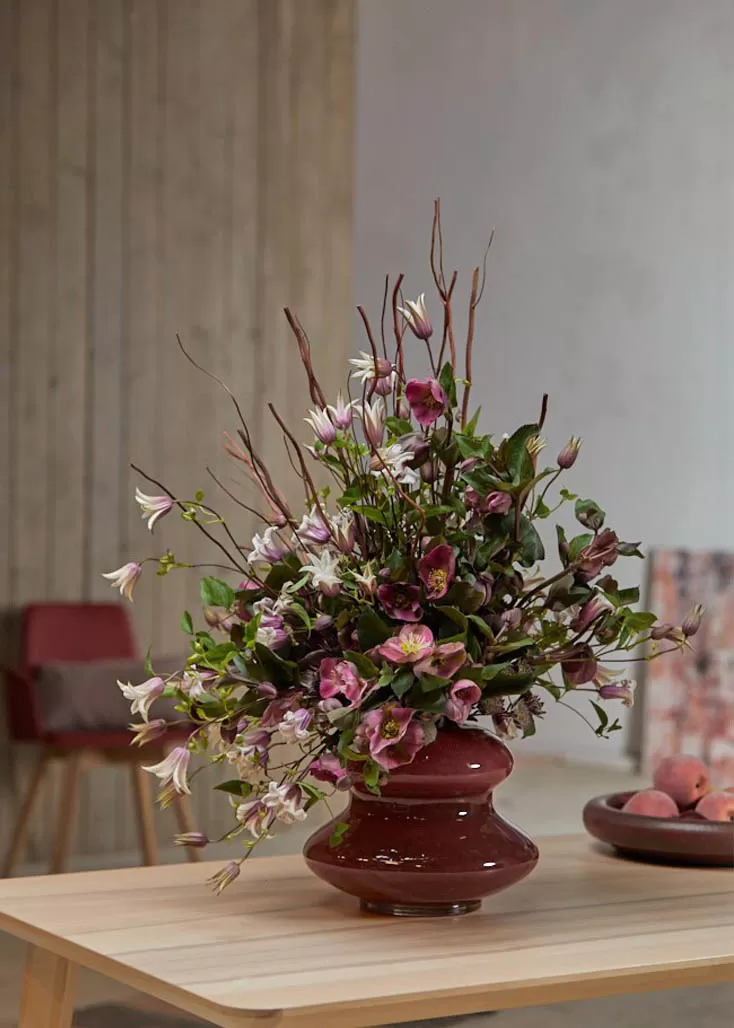 "The novelty 'Sevilla' is a wonderful addition to the clematis range. I am especially fascinated by the inside-out effect. From the outside burgundy, it shines inside pure white with beautiful colour transitions at the tips and in the depths. This gives it a certain botanical allure and it could even be a wild form that has just been discovered. It is remarkable what modern breeding can produce in terms of beauty."- Klaus Wagener, Germany
Photography: BLOOMs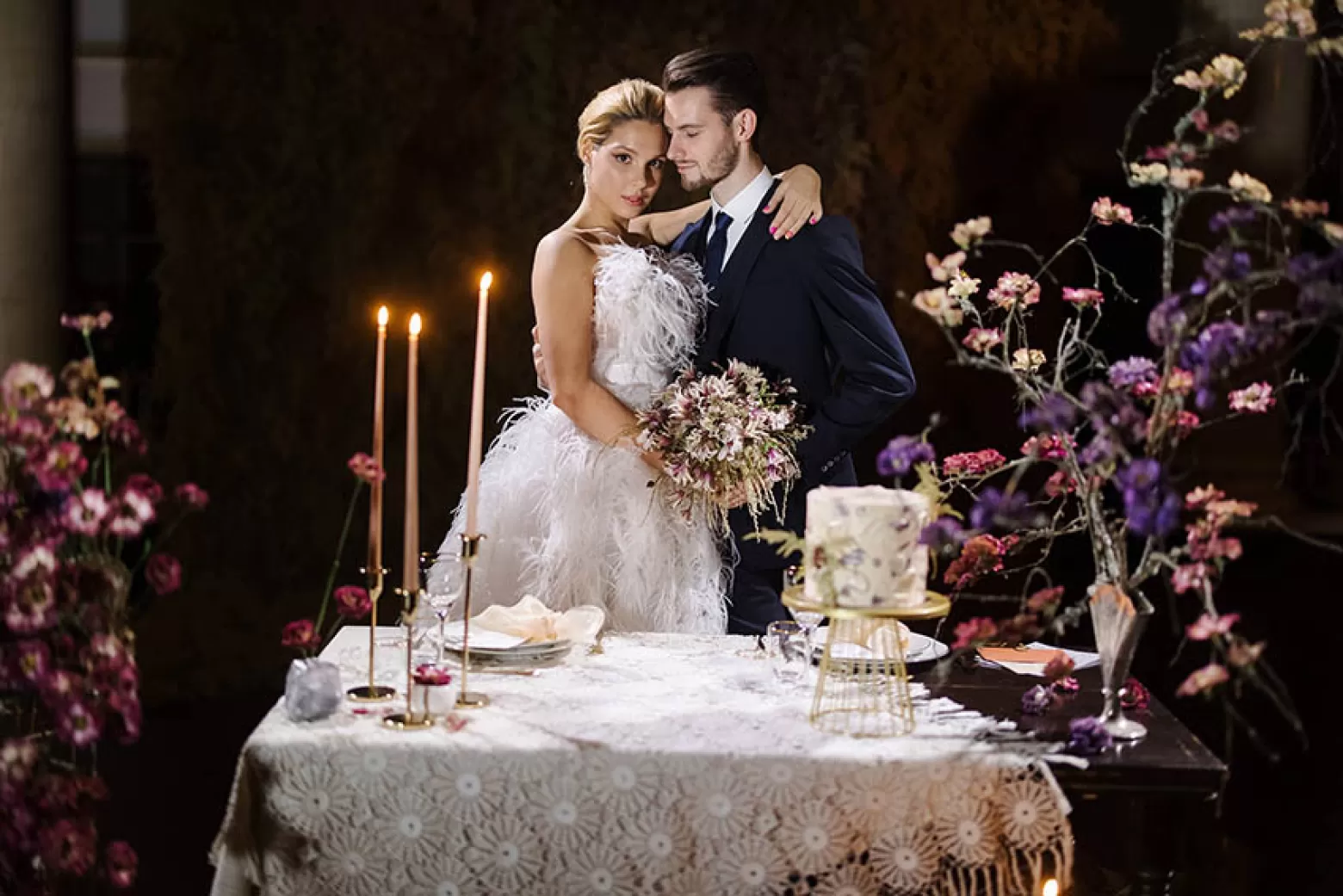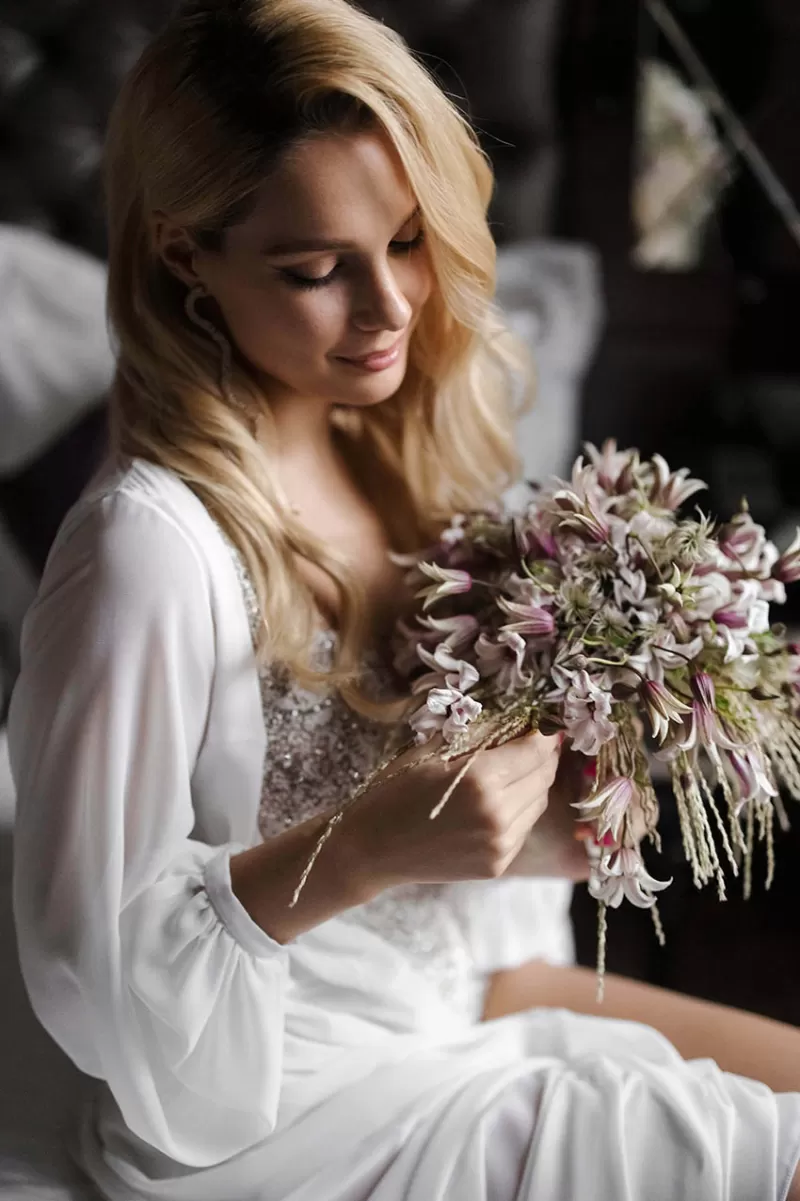 "I am in love with Clematis, as you know. And now I can't decide whether my favourite is the white Vienna or the new Sevilla! She is so beautiful..." - Dmitry Turcan, Russia. 
Dmitry about the bridal bouquet: "This is a mono bouquet made of the new Clematis variety - Amazing® Sevilla. It was not yet officially introduced at the time of the photoshoot. I combined it with the Clematis seed pod (Kibo) and Miscanthus White Cloud." More about this shoot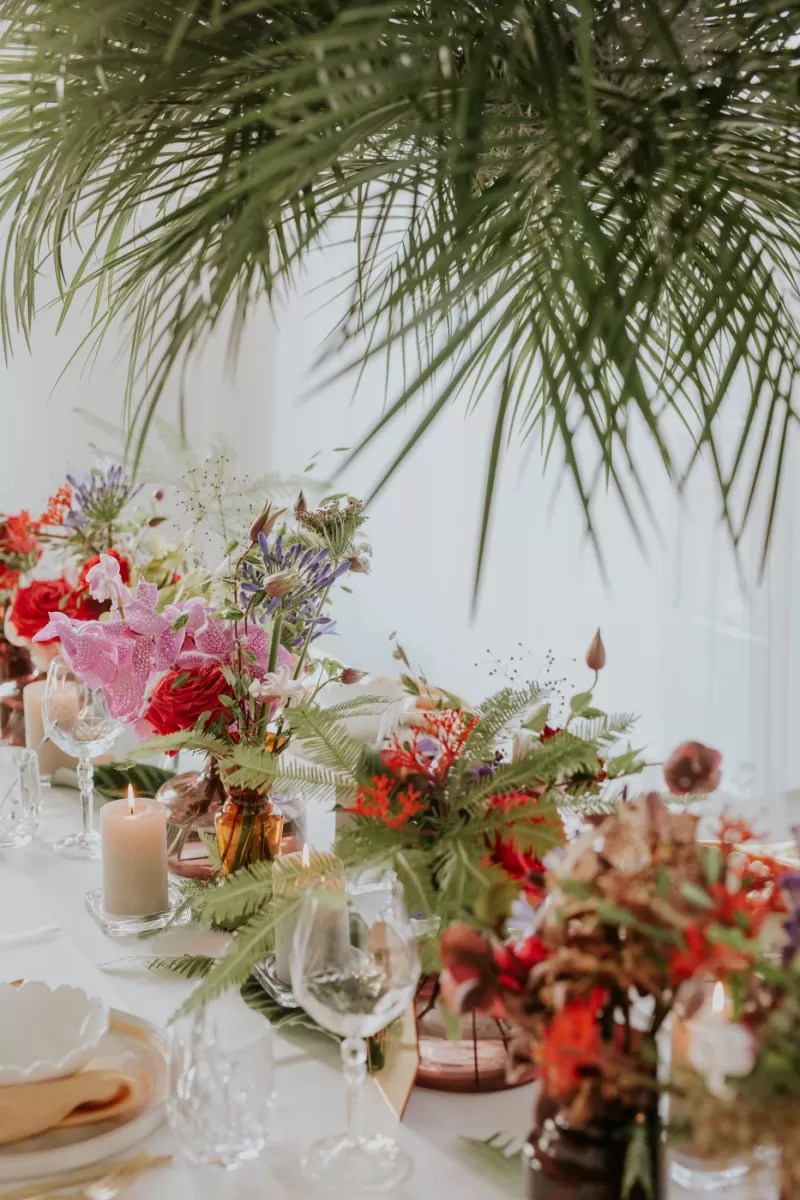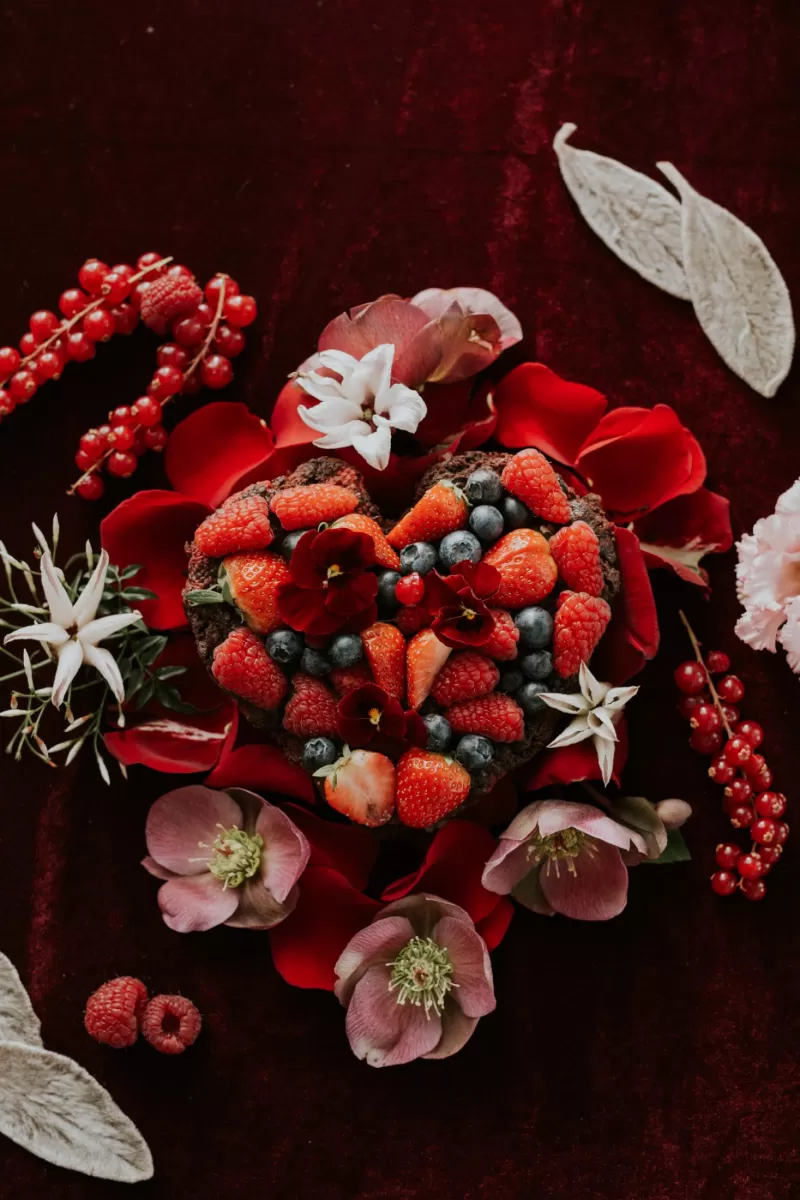 "I can't wait to use Sevilla for bridal work! She has a long vase life and the way she blooms is just magical" - Pascal de Laat, The House of Artz, The Netherlands