I
n the world of flowers, a gentle change is taking place. Not all changes are permanent, some are returning (like wedding and event work - which we have had to miss recently). But the palette is changing, and the question arises: is the flower business still as strong as pre-Corona? In some countries, domestic consumption has actually increased, due to the simple explanation that people are spending more time at home. Furthermore, we see that highly qualified, artistic florists, are increasingly distinguishing themselves from the traditional flower stalls. Concepts with 'a bit of everything' are fading. More 'workroom' concepts are emerging. At the same time, it is a challenge to keep shops at prime locations in the city. This Trend Top 10 has been designed for florists but is also interesting for buyers and distributors. An interplay with trends from the interior field, looking at colours, textures, images, shapes and craftsmanship. It is not a must, but I see the special, extraordinary flowers as being eminently suitable for artistic flower design. These very delicate and graceful flowers are most beautiful in the hands of professionals. CREATE AND ENJOY, GREGOR LERSCH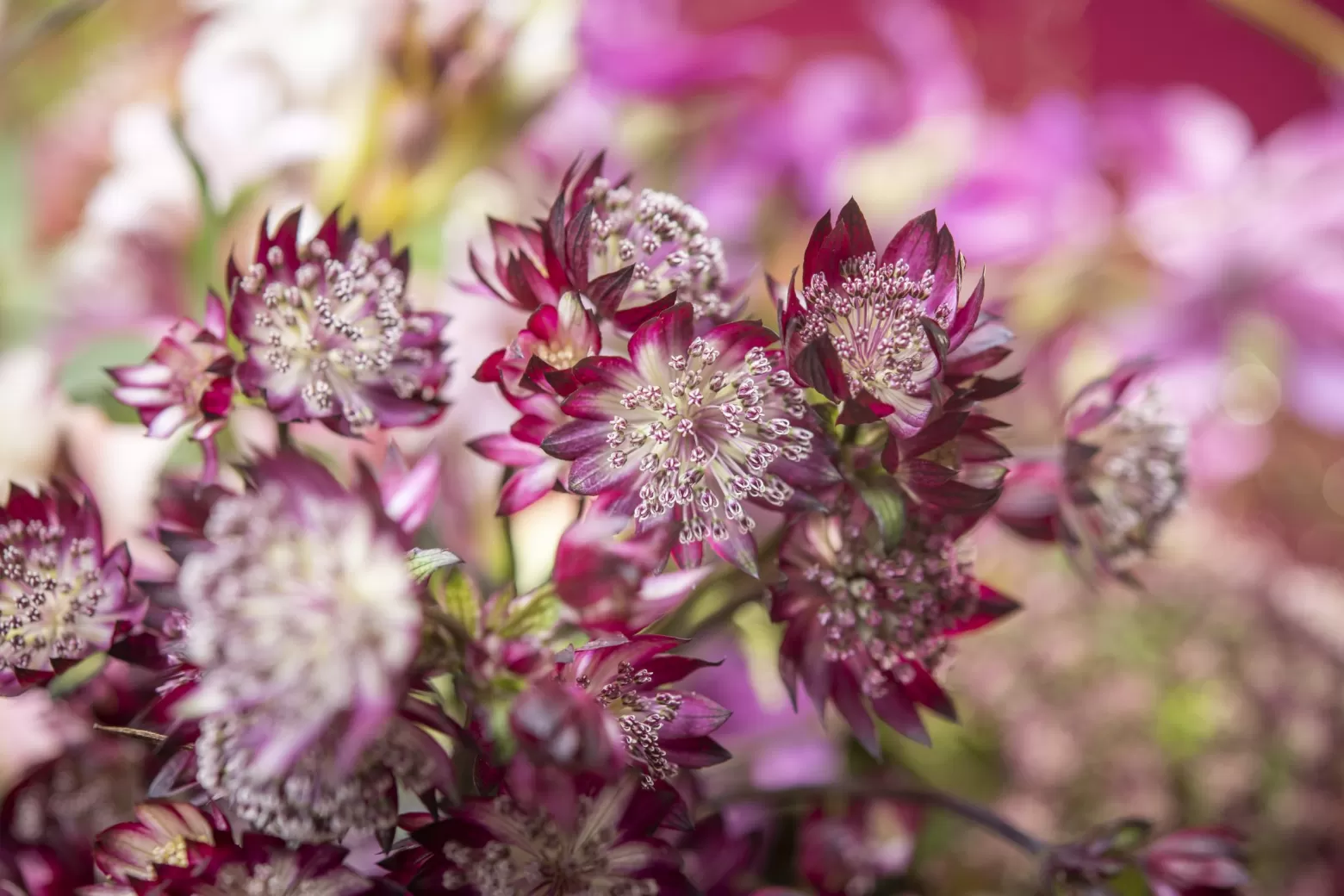 Top 10 Floral trends 2022:
1. Wild love
2. Bouquet goes interior
3. The art of organic floristry
4. Flowers arranged around themselves
5. Blooming everywhere
6. Room-changing beauties
7. Fresh vs. dried
8. Straw
9. Bundled power
10. A game of colours
 
1. Wild love
Bouquets with a natural spontaneous appeal.
The bouquet seems almost self-made, but on closer inspection, it has a high level of sophistication. A spontaneous whole, which some might see as 'unfinished', but the expression is very natural, organic, and lasting. The creator feels nothing for conventions, rules and does not allow himself to be limited. Wild vines flatter themselves between groups of blossoms and grasses. Even a piece of a loose branch can hold the searching eye for a moment. Little flowers flow and dance. The handle of the bouquet disappears under the falling lines and vines. To create this, you need high discipline, to let the many graceful flowers and delicate stems reach the water source without stress.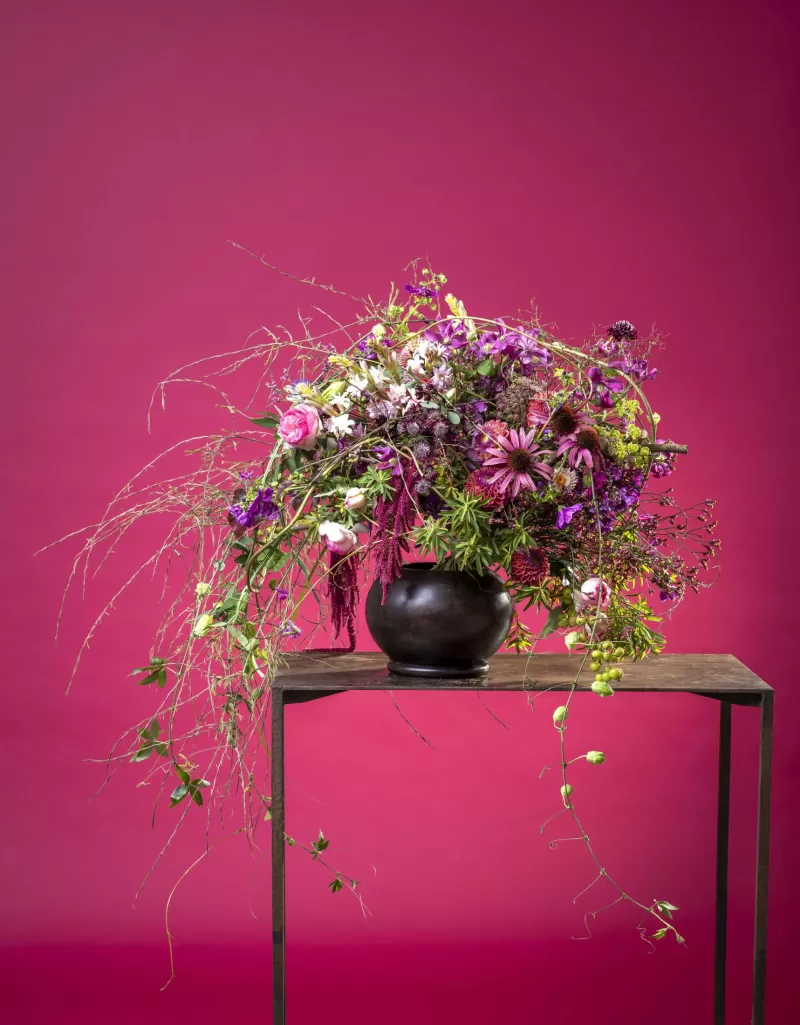 "The soul explodes in the enthusiasm for summer flowers."
The 'wild love' bouquet does not scream out 'you must be mine'…no, it comes with a certain opulence. It does not reach to the heart but to the soul. Standing in glass or ceramic, in metal or hard wood. This bouquet goes from hand to hand and must be able to speak. 
There are summer beauties available all year round to make this bouquet, but don't forget to look for some wild addition from nature around you. These little extras may give a whimsical touch. 
About the design
The base is a horizontally held, green lichen-covered branch, drilled on a willow stick and pushed into this wooden pure organic base. On this wooden base are some leafless hop vines, also as a technical medium, to hold the flowers. The bouquet has no wires. The flowers flow inside, going up and down, forwards, and backwards. The shape ends in an oval.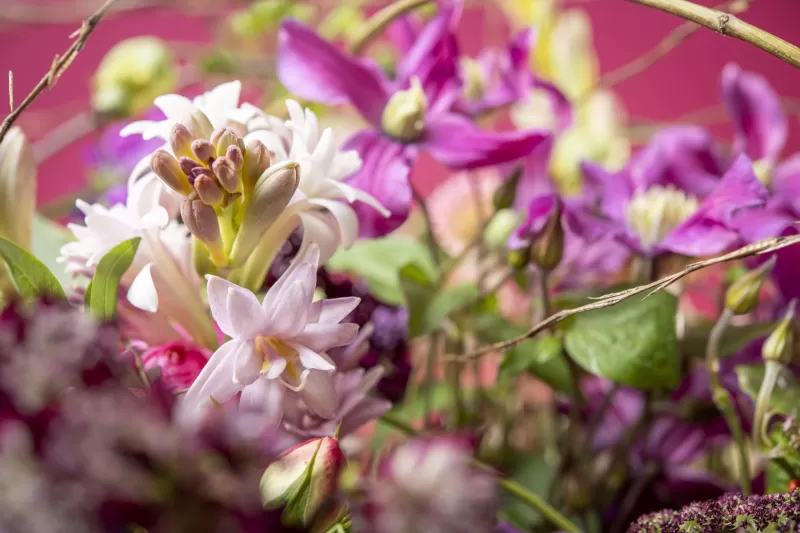 2. Bouquet goes interior
Temporary interior elements.
The opposite of the hand-tied bouquet is this one, the one that sets the mood in a room. There are many possible forms; the interior bouquet is more stylized and follows the parameters of the environment. A bouquet such as this shows itself in its totality: the stems are clearly visible as well. This trend is marked by the harmony between bouquet and water supply. The container is often a flat plate with a lower water level, if the thirstiness of the flowers allows it. Some 'swimming' leaves or petals can be added to the water. 
Almost all flower styles and positions are possible: standing at the edge of a table, flowing downwards, erect with a few vines, armed with grasses or flowering tendrils to the floor, upright, horizontal as table decoration, restrained lushly or even cool and modern. Grasses, leaves and vines are useful in this trend. 
"When someone enters the room they feel the attraction, the special sight of an uncommon design."
'Bouquet goes interior' is a challenge, a reason to keep practicing and studying. This trend requires knowledge of botany: which flowers are suitable - looking at shape and character, creating enough diversity, etc. It is part of our identity as 'people of the green professions'. It is becoming more and more important to know the names and uniqueness of our floral friends.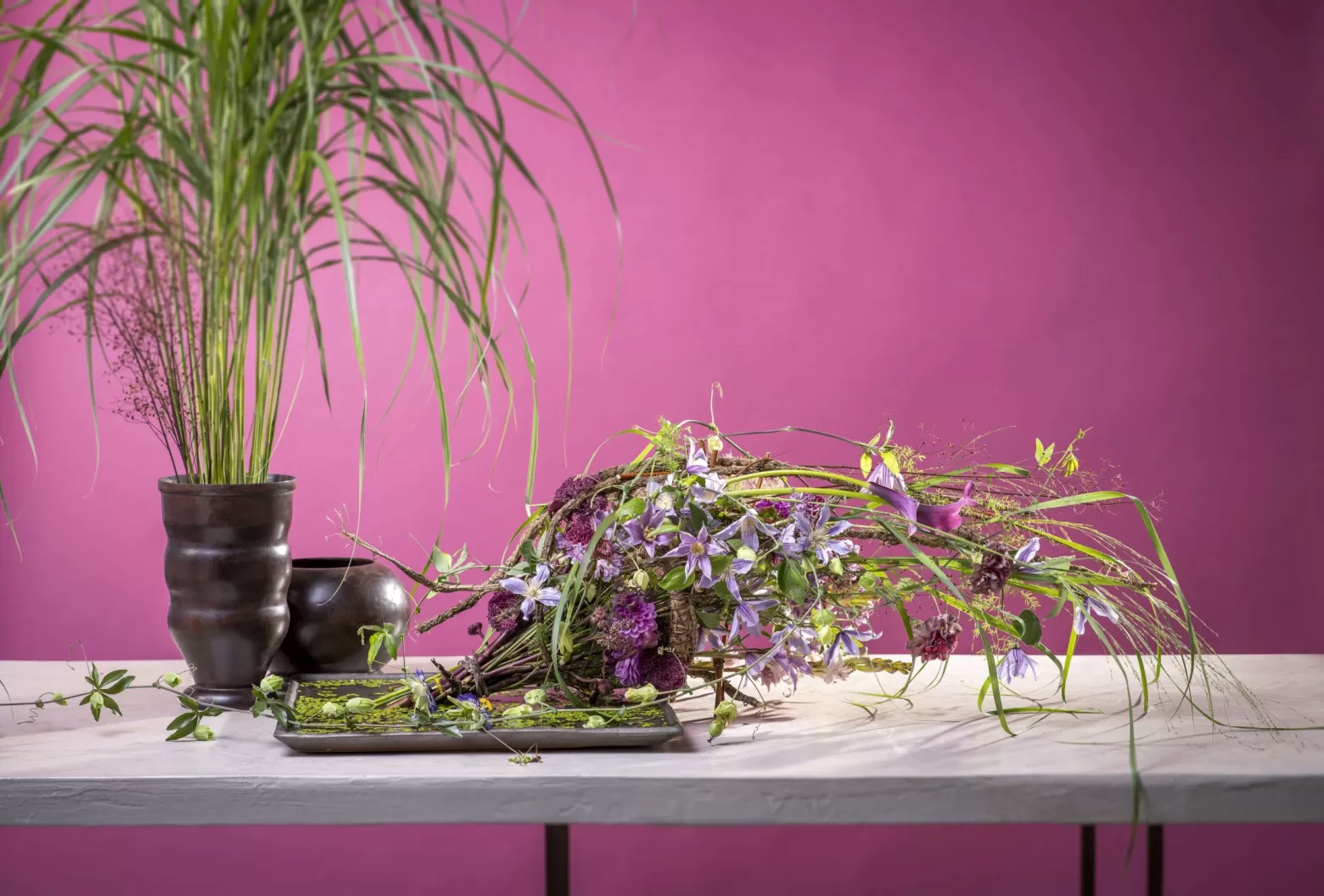 About the design
A stretched table decoration in the shape of a drop: long and pointed. The structure is made of willow twigs, covered with Clematis bark and wrapped in durable wax cord. The Clematis and Scabiosa in the foreground dominate. The binding ends in a point in such a way that only the slanting cut stems are under the water level. This technique is not suitable for all types of flowers; you really have to be skilled at it to be able to work in this way. The binding point is clearly not a spiral, which is unusual. This style of bouquet - free-standing, lying or leaning - is not made for handing out as a gift, but really for interior decoration.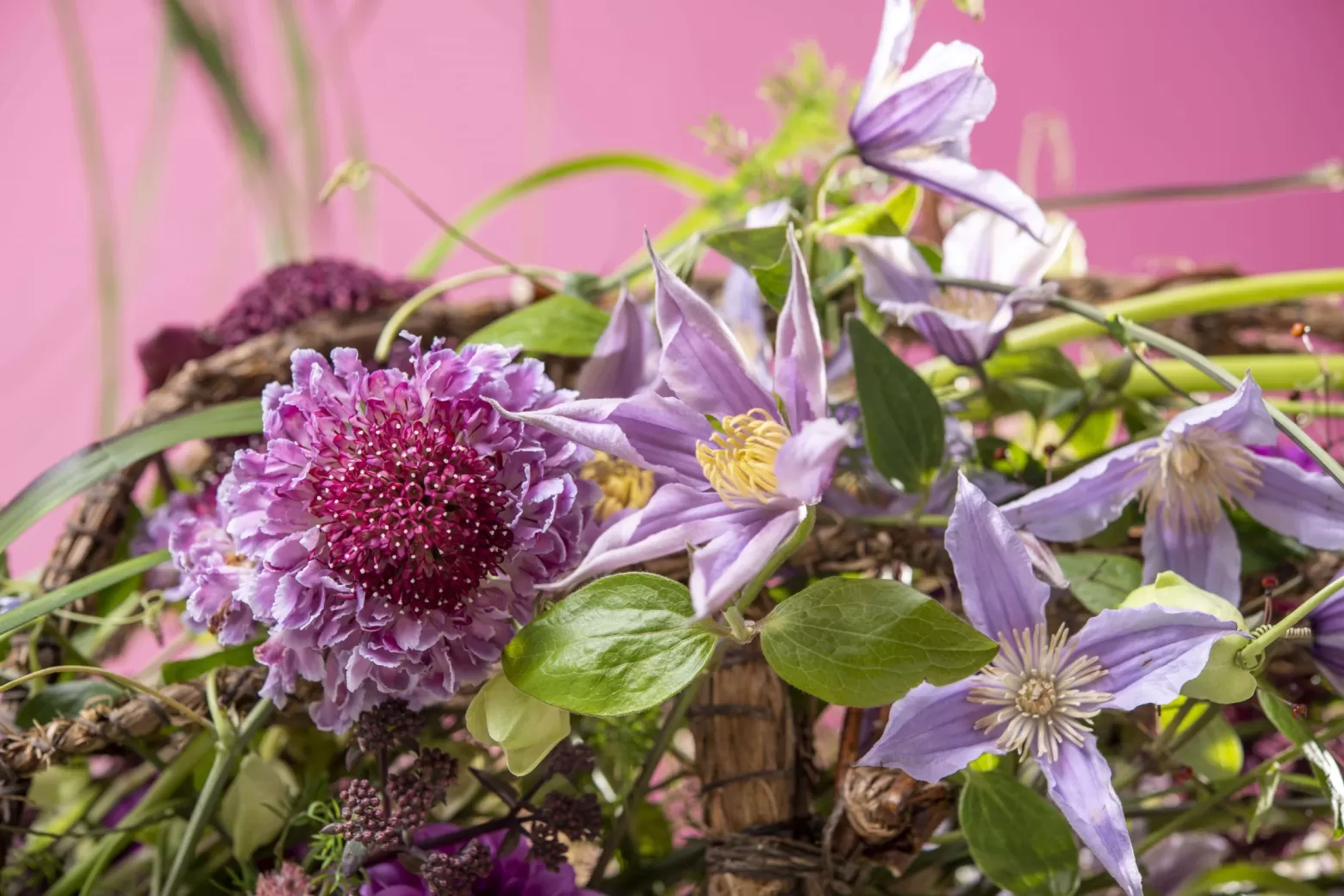 3. The art of organic floristry
Floral compositions of the sustainable kind.
The works in the floral scene are becoming more and more sustainable. Where previously artificial decorative items were chosen (which will still be in a landfill in another 100 years), our trade is now starting to feel the responsibility for nature and climate. The choice of natural colour and shape elements is so enormous that it is no longer necessary to reach for something artificial. 

Works are becoming 100% sustainable and compostable. This really doesn't have to come at the expense of creativity. Although it does sound a little funny when we say that with this trend 'florists design for the trash can'. The flowers used in this context have innocent 'garden faces'. Small, nodding their heads, building communities or looking proudly ahead, seeking attention. The structures are made of pure plant material, standing in water.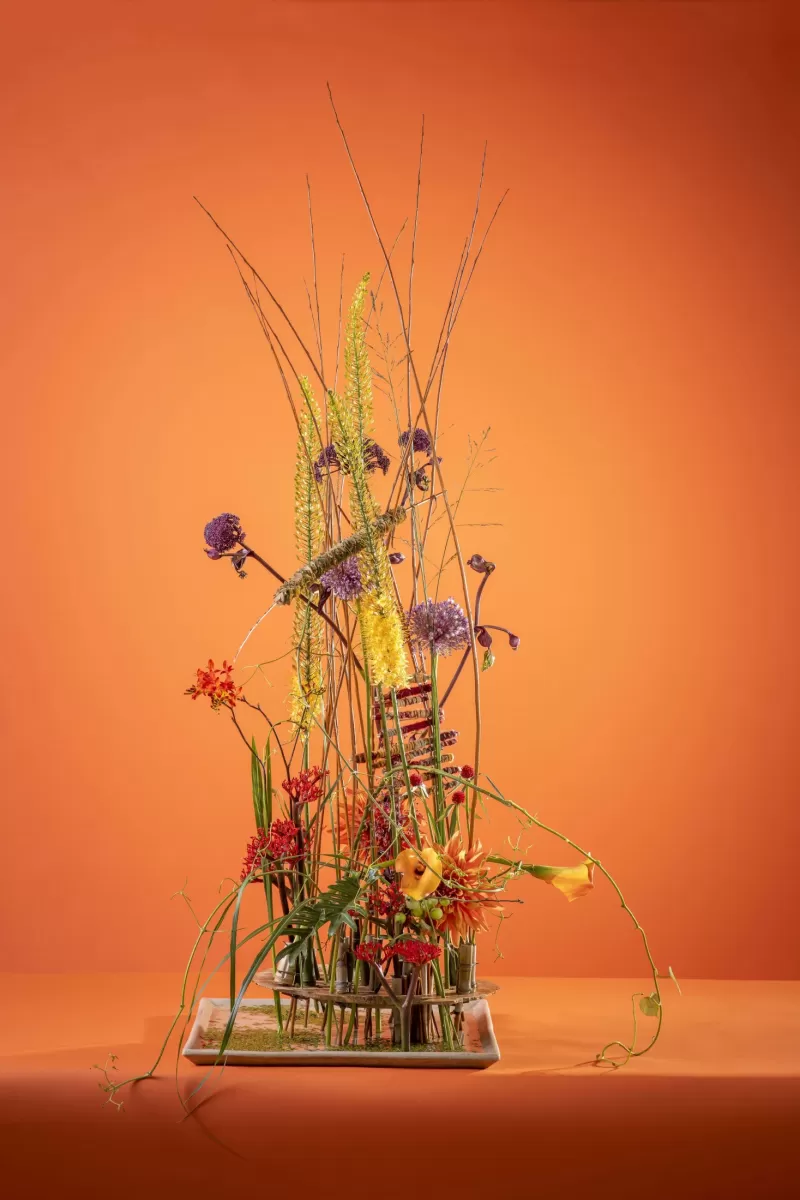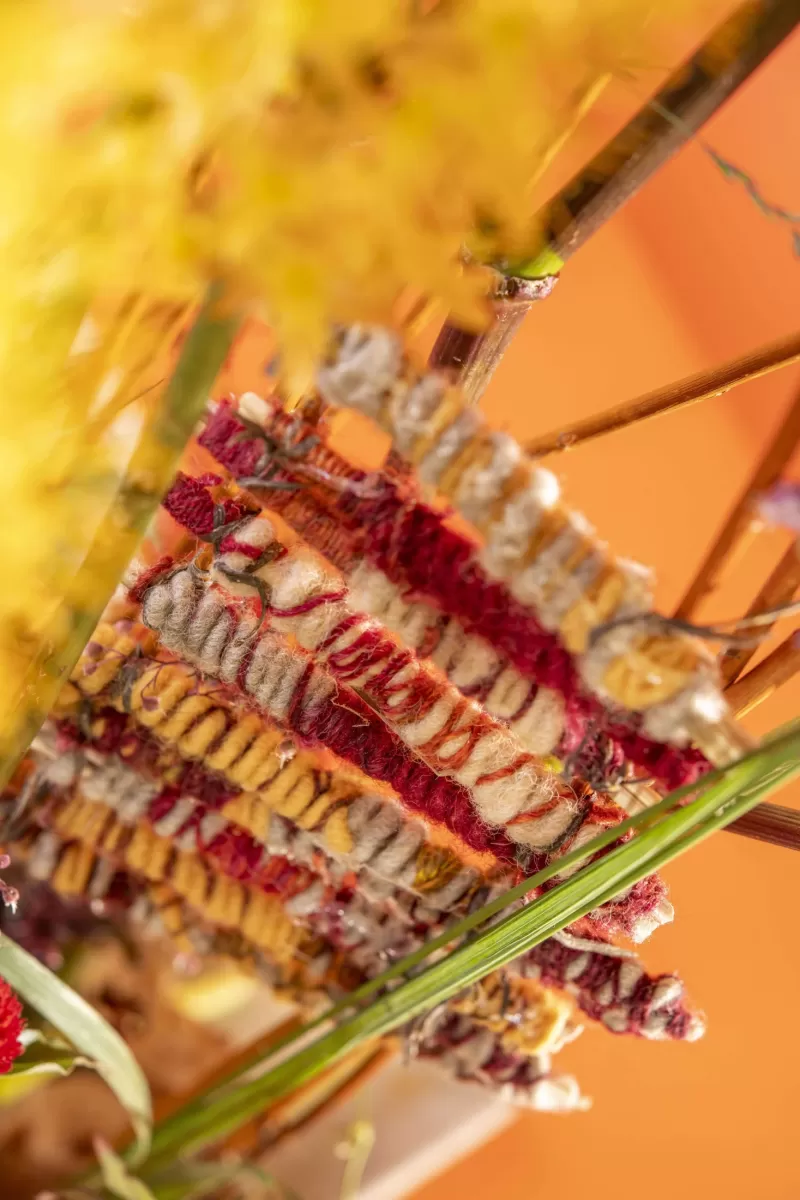 No glue, paint, wires or plastic... the key is creativity. Because of this, the chance for innovation is high, works in this trend are often surprising. The pieces can be classical, decorative, but also modern and very asymmetrical. Think also of mono; in form or monochromatic shades. 
About the design
In this organic work, the flowers are placed through drilled holes in a disc. The disc stands on long willow poles, which have a bound cross under the wooden base. It is fastened with a wax cord. There are also a few tubes of bamboo placed on the disc, tied to the willow sticks. Flowers can be placed in the basin in which the work is placed. The less sensitive flowers can be put in the tubes. The Jatropha flowers, for example, keep very well there. There are straight upright flowers like the Eremurus and the taller Alliums, the vine of a Kiwi plant and Crocosmias. 
 
4. Flowers arranged around themselves
Arranging blossoms in vases together.
This trend is very strong. We have seen it for some years, often born to save costs on table arrangements. At times it seemed shabby rather than beautiful, but the trend has now blossomed. The 'budvases', as they are called in America, are ready to become a real trend. Place a bunch of them on a plate, a mirror, a metal base, a table runner... It has an opulent charm. The vases are very refined and often made of colourful glass or ceramics. The flowers in the vases reach out to their neighbours in adjacent vases, creating sophisticated combinations of shapes, colours and textures. The scenes become richer and richer and what flowers are better for this than the smaller species and the varieties that can be taken apart - like the Eryngium. Clematis with their nodding flowers and shapely grasses like Chasmanthium create a binding effect. The small vase decorations can be adjusted, mixed, transported and distributed with ease.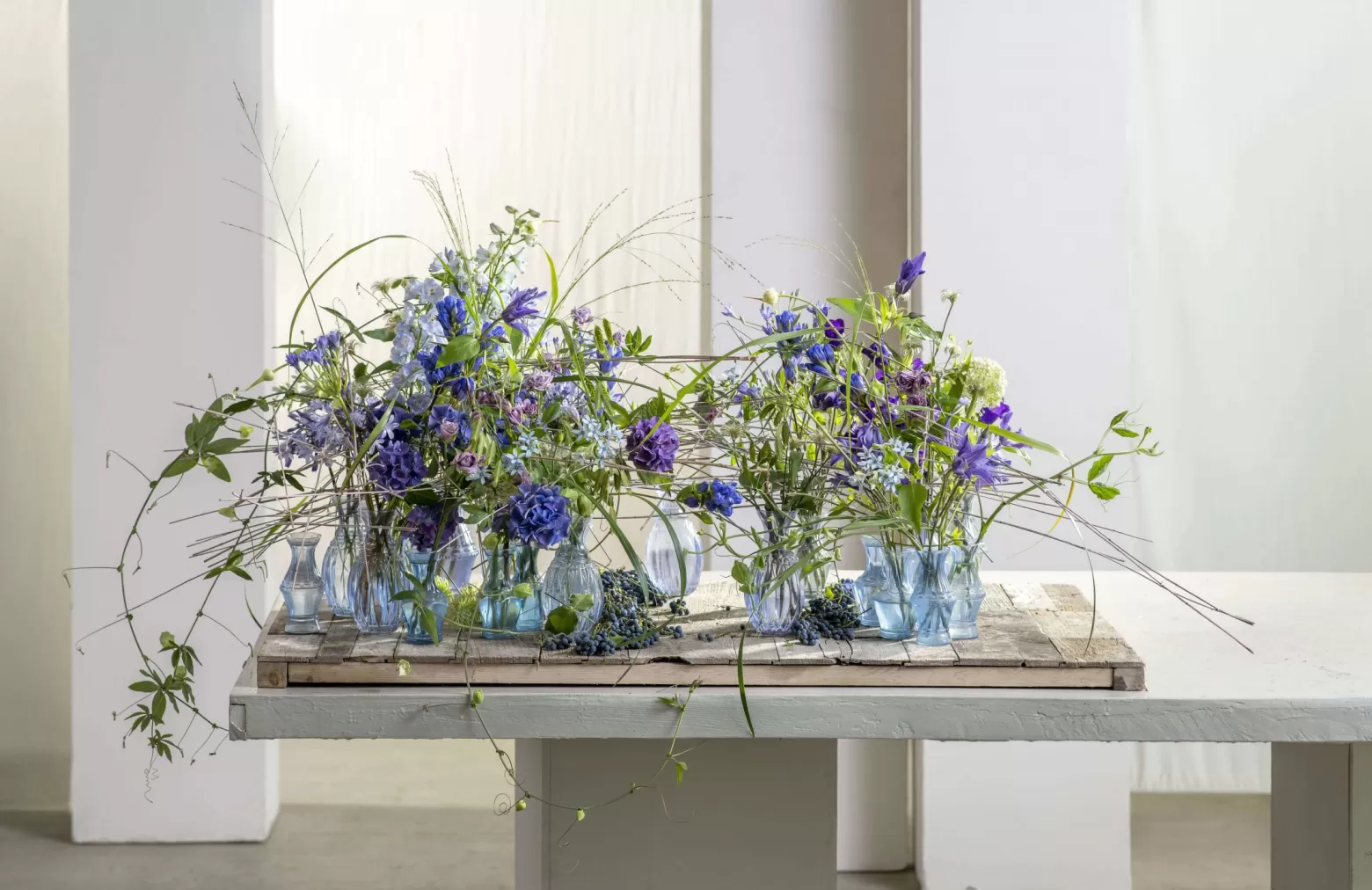 The vases often consist of mixed collections, table pieces full of memories.
 
Sometimes different in height, shape, colour, pattern and more. These differences are also reflected in the flowers: think of a combination with Craspedia, Gloriosa and Jatropha for variation in shape, colour and character.

It seems easier than it is. There are many rules, and possibilities, ways to do it and 'never do it like that'. It takes a caring, light, refined hand of the designer to make the spectacle come to life. Playful? Yes, certainly. But with consequences and limits. Make groups of circles, rows of squares or ovals. Rhythmic like a dance, compact like a cube. With small eruptions and fine tendrils to connect. 
About the design
The arrangement is placed in many blueish, simple glass vases filled with water. There is a larger group on the left, and a smaller one on the right. A structure is made from chalk sticks, tied together with white wax rope. Blue flowers, and a little purple: Agapanthus, Delphinium, Clematis, Oxypetalum, blue Hydrangeas, Gentiana plena and Passiflora.
 
5. Blooming everywhere
Flowers in unusual places.
This trend is based on fun. A light arrangement on a chamber lamp, a design on a slab of wood on the wall - with water in a hidden container-, or a work on a wardrobe rack - perhaps as a shoulder pad, chic and fashionable, natural, and filled in groups with summer garden flowers and other interesting plant materials. It doesn't have to be big; it can also be in smaller formats: for example, free-hanging mini-curtains or designs in droplet form hanging from the ceiling. Think also of smaller pieces in miniature form to surprise dear people in special places. On the desk in an office, on a bathroom sink and even on the dashboard of a car. The central figure in this trend is the flower, not the framing elements. This is where the emotional message is strongest. 

The advantage of flowers in special places is the attention they attract.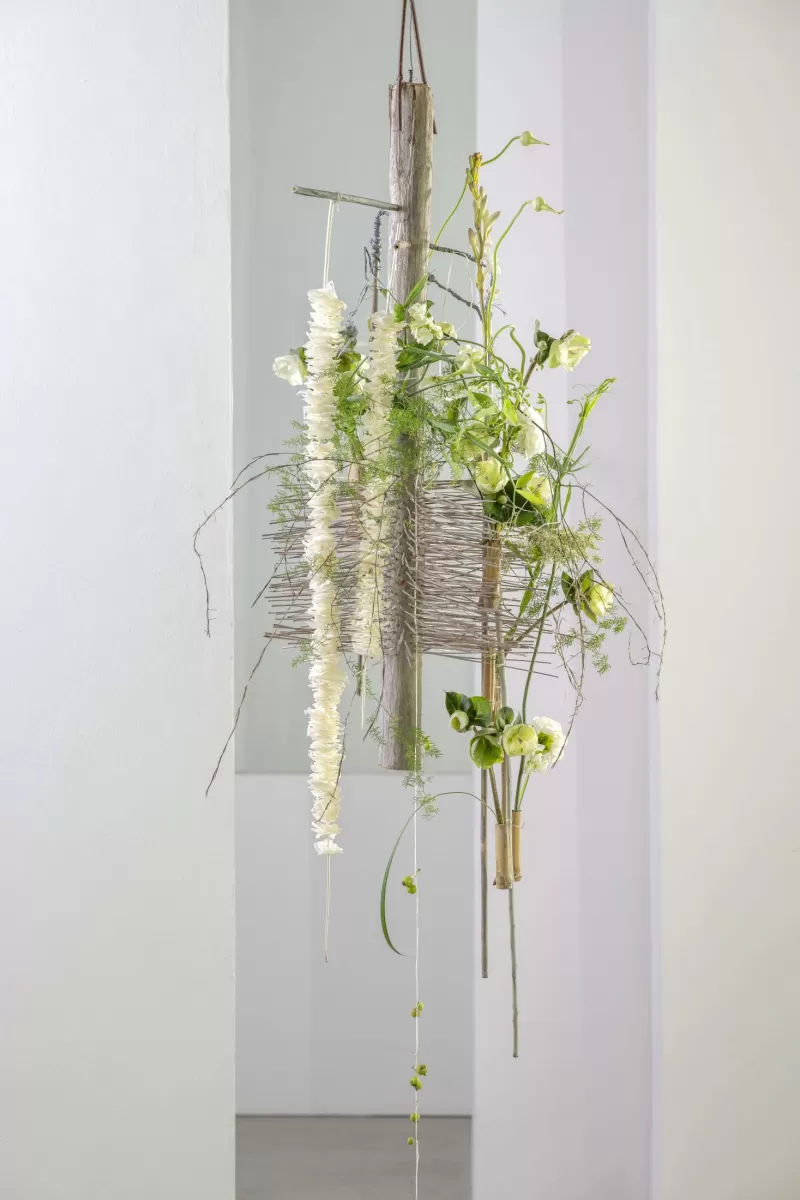 It is surprising, unexpected. Ideas abound, but technical sophistication is key to discreetly providing clean water.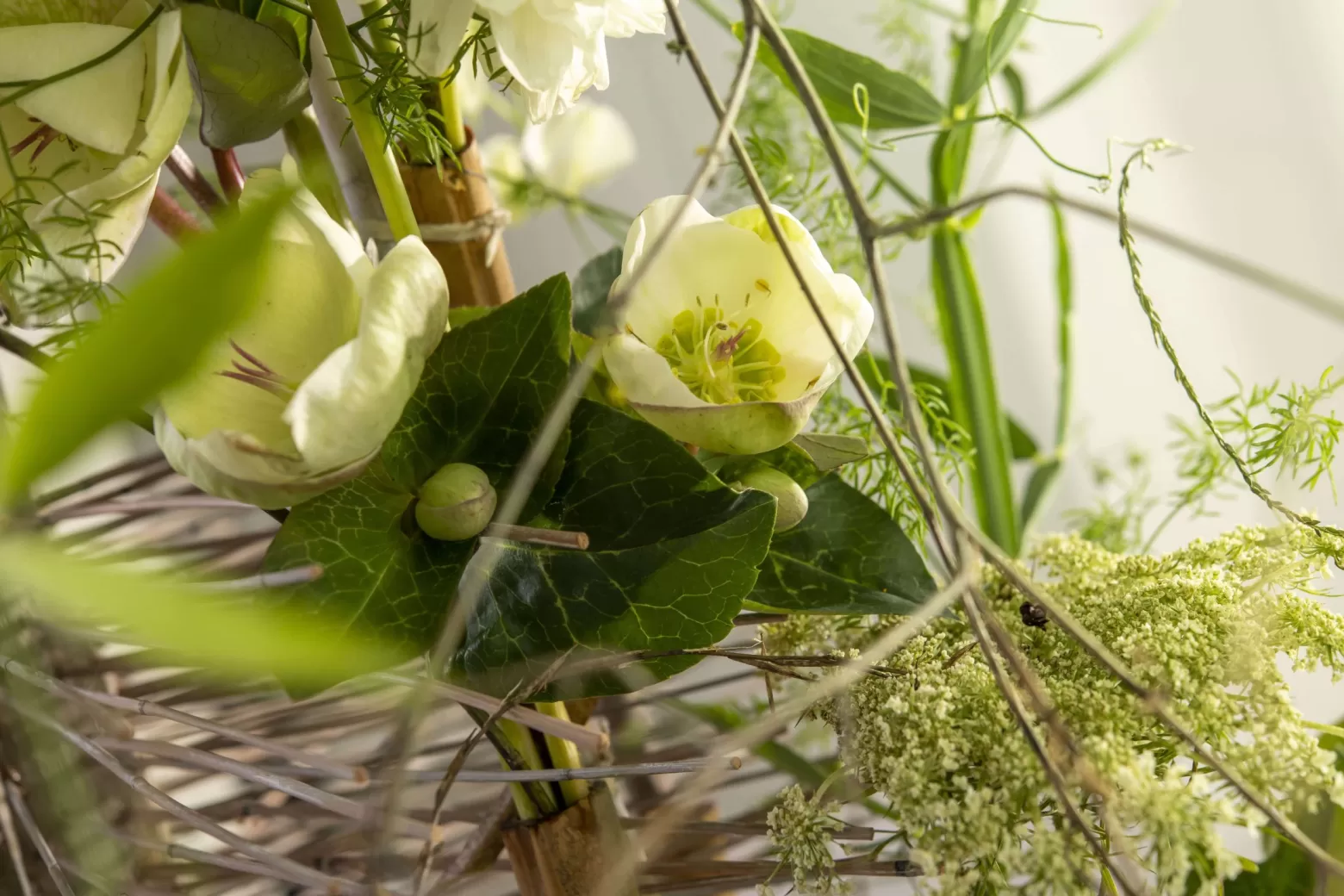 About the design
This white-in-white situation, with Helleborus blooms as focal point, is reminiscent of winter. Using a base like a lantern, which can be tied to the ceiling, a lamp or even a stand, you create the feeling that flowers fit in any place. This work has no wires but uses a fence post with drilled holes and inserted sticks. This creates a very punchy 'inside' with a quiet outline, since all the sticks have the same length. On the right side of the sticks are bamboo tubes attached, using white raffia. Make sure that the Helleborus does not have too large leaves, preferably a little less. A single Polianthes feels good in the vicinity of its African friends. A wax cord with small Malus floribundus in green hangs down all the way, to create lightness and it helps to stretch the form.
6. Room-changing beauties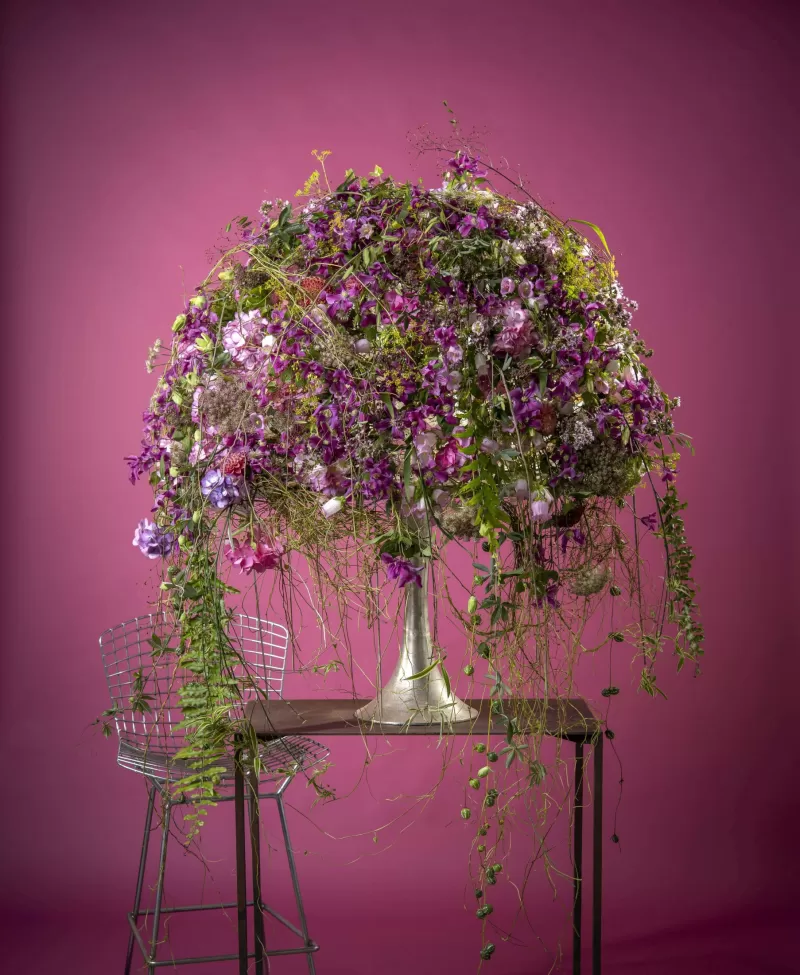 Large room decorations with flowers.
Over the past two years, people have missed out on a lot. Weddings, big events…. Things are coming back, sure, but in what form? And for which budget? 'Modesty' can be a result of the current spirit of the times. Not in terms of aesthetics and quality, but in the overall look of the flowers. Garden style flowers: graceful, tender, deeper into botany. Interesting greens find their way back into the designs. An absolute strong trend is that of sustainability, and in this context especially not to tamper with nature. Reduce the amount of non-organic decorations at weddings and events. We see that many look for sustainable, natural alternatives.
People like to be carried away, to feel as if they are in another world. And flowers can do exactly that!

We know all about arches, gates, and flower walls. These require a different technical procedure and interpretation, using fewer very expensive flowers and more green forms. More and more, summer flowers are becoming the stars of the wholesale market. It is impossible to imagine florists without them in their order lists. We are seeing a revival of romantic new and existing flowers. There is also a desire to feel for the more modest originality of a country past, while the presentation methods can still be modern and innovative. The array of room decorations is very variable, yet far from minimalistic. On the web we see little innovation, we tend to see pictures from the grand old days (up to 2 years ago). What is coming up is more sensitive, durable and polished.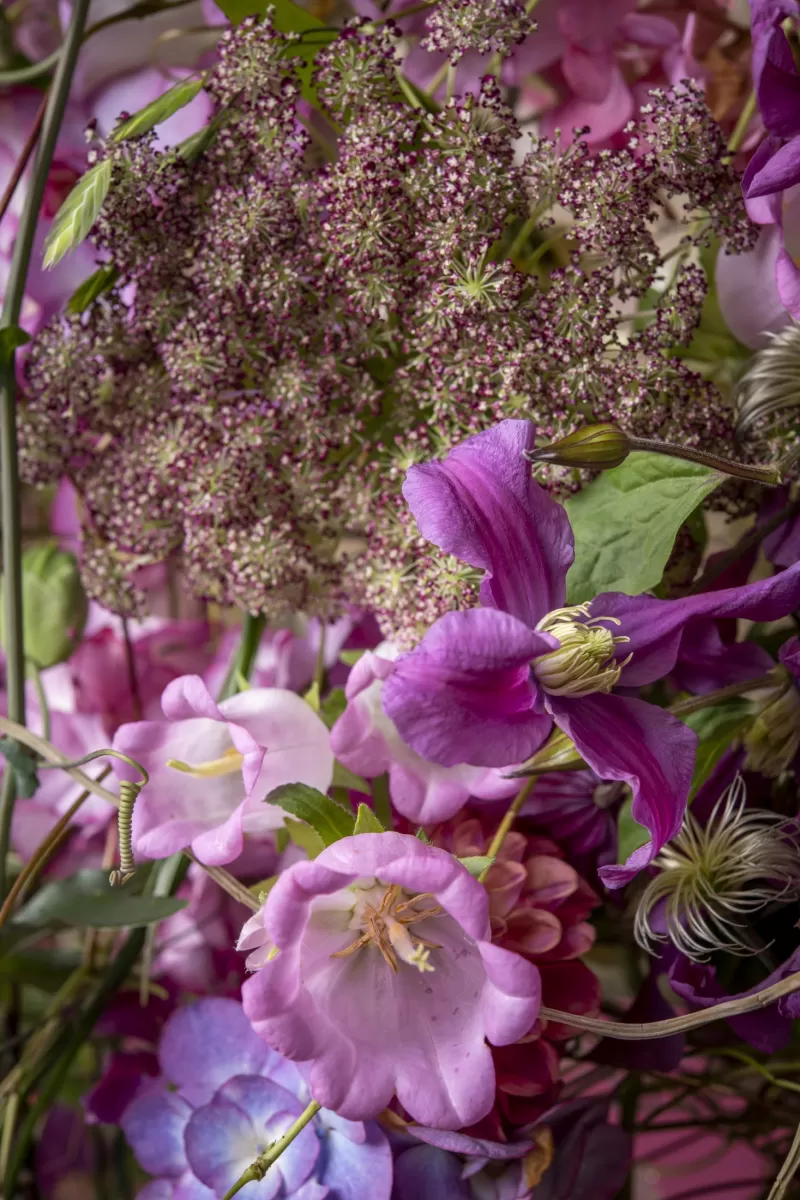 About the design
The large aluminum cup with a 'helmet' of thin iron rods, covered with galvanised chicken wire. Plastic Anthurium tubes, a remnant of the cut flower transport system, fit perfectly in the holes. Ideal and durable to put delicate cut flowers like Clematis, Talinum and Chasmanthium in here. At times, the flowers are grouped together, at other times, standing alone or flowing between all the light of the elegant flowers. This kind of arrangement is possible in many interesting forms. Feathery or short-textured, symmetrical or asymmetrical or even transparently lit with front and backlight.
7. Fresh vs dried
Mix it up.
Dried flowers are one of the big trends at the moment, but a flirtation with their lively friends from the flower fields makes the trend feel deeper.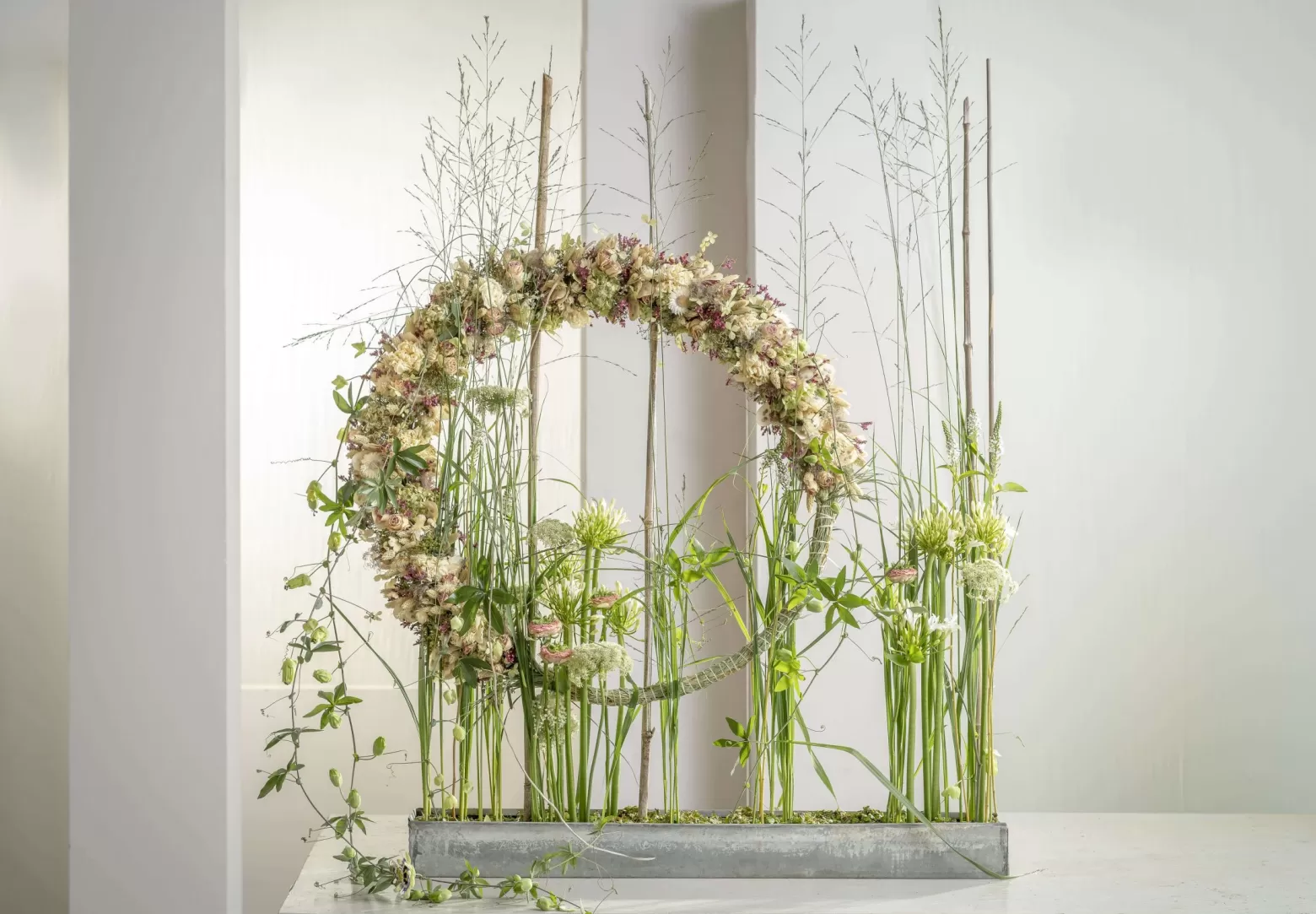 In the past, it was sometimes considered a faux-pas, a style break, to mix fresh flowers with dry flowers. With influences from vintage, boho and the garden style, we see more and more flowers in different stages of bloom. Dried flowers remain trendy but mixed with fresh cut flowers it adds a romantic charm. Polianthes with meadow grasses, Statice and Scabiosa, for example. In between dried Hydrangeas, grasses and maybe some Helichrysum or pink Rodathe. Lovers of this movement prefer to let it shrink and dry, as a reminder of the last summer.
 
Dried flowers absorb colour, fresh flowers add colour.
You will see wreaths for walls and doors, where only 2/3 of the ring is covered. Bouquets, flower filled sacks.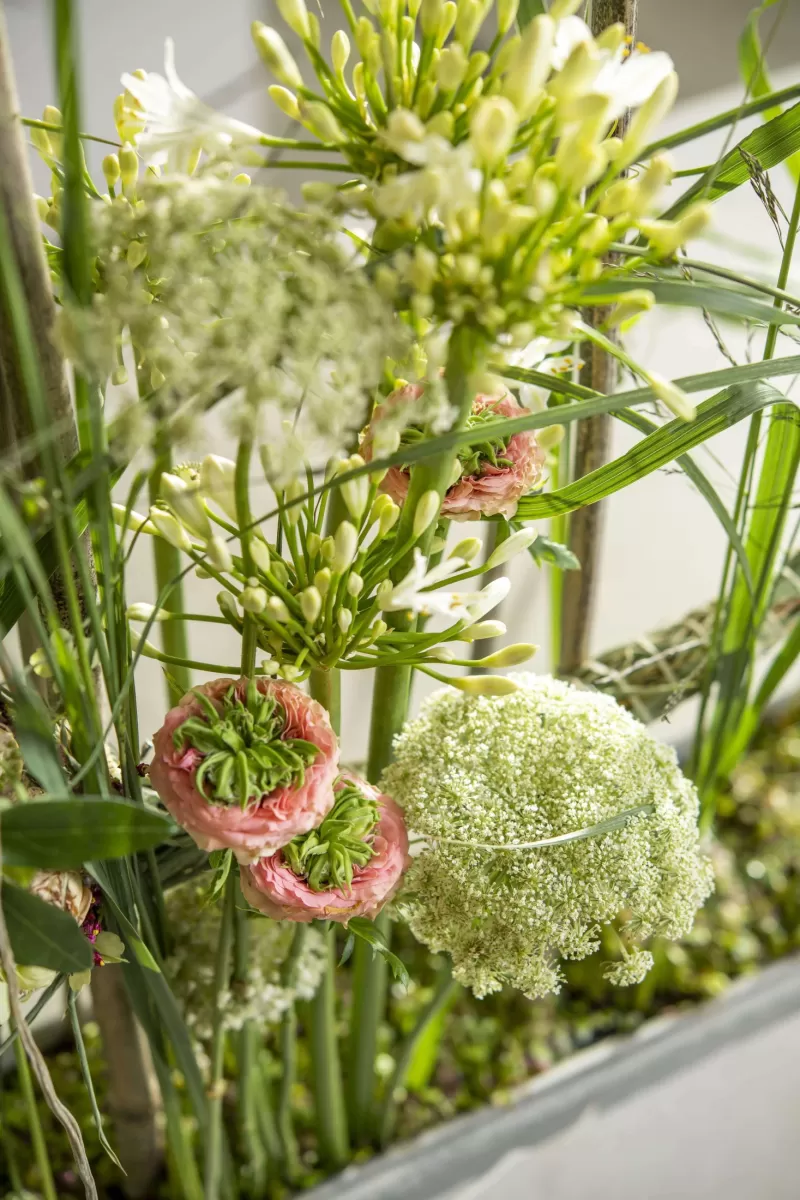 But why not combine them with fresh flowers, so as not to linger in the past? This look can be changed daily. You can use fresh flowers dry, or place a hidden small tube with water and a rubber cap, with Campanula for example. 
About the design
In a long, weather-beaten looking, zinc container filled with Agrowool as an arranging aid, a 50cm wide wreath is made from various dry materials such as Lunaria, Helychrysum, Peonies, Cotinus and Hydrangea. All tied with organic rope. The ring inside is made of willow and wrapped with bamboo leaves. Standing on sticks, floating over the base in an asymmetrical position. The wreath is covered with flowers in the ratio 3 to 8 (3 empty, 8 covered). The grasses and flowers, such as Agapanthus and Panicum, are quite upright in parallel and give a fresh contrast to the wreath.
8. Straw
A trend with tribal origins, the boho style, from nomadic peoples who lived in very rural areas. Everything they owned was highly transportable, light and mostly organic. Natural-based materials play a major role. Not only weddings and events, but also fashion and decor seem to be more and more plant based. The mass rise of Pampas and Miscanthus grasses is the result of a longing, the desire for freedom in city life.

They remind us of the nomads, with their tents and animals, who go wherever they want.

The straw trend is big in floral design and floristry. The work here is simply made from grass from a meadow, wrapped in organic wax cord and standing upright in u-shapes. Flower designers should embrace these beautiful raw materials like straws, grasses, and fibres. It evokes creativity and inventiveness. The summery Marginpar flowers have the grace and character to fit perfectly into the nomadic world. Houses and businesses are just waiting for input from the floral scene.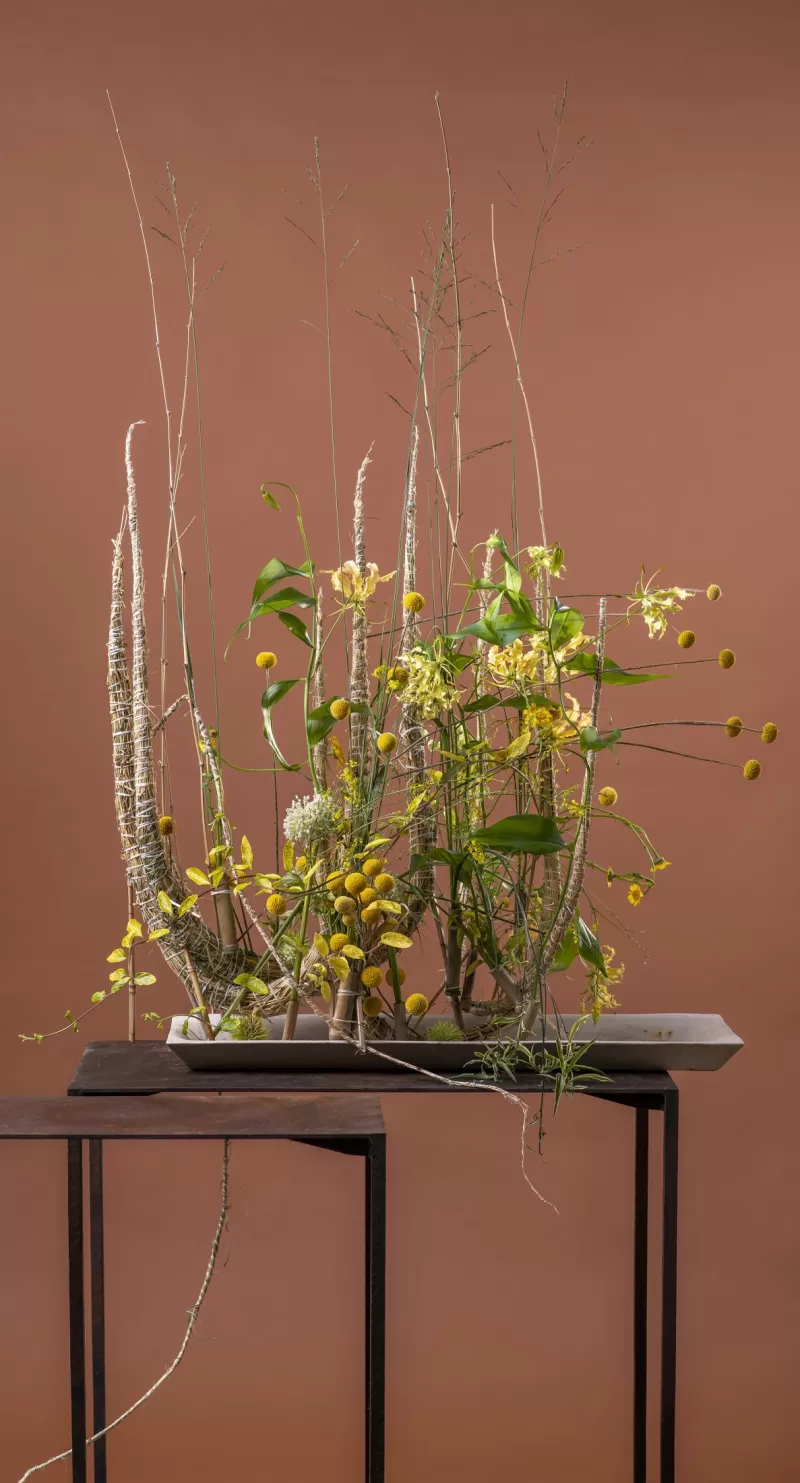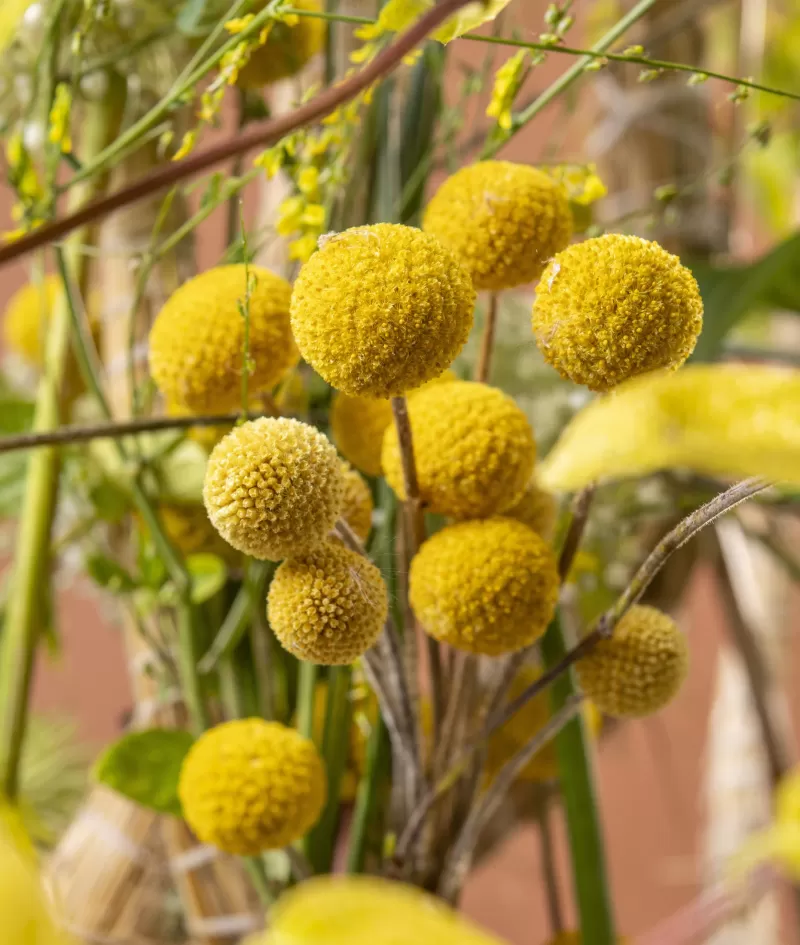 About the design
U-shapes of straw are wrapped with wax cords and attached to each other. The Craspedias are pushed into the dry grass. The fresh flowers like Gloriosa are placed in bamboo tubes, wrapped with wax on the inside so that they hold water. The structure is very stable, made of very hard thin bamboo sticks, standing upright on a ceramic dish. Here in combination with the very important long lasting Craspedias. The Gloriosa is the'dancer' in the arrangement. Some yellowish small flowering herbs create an interesting elegance. Two very thin grass garlands provide more movement.
 
9. Bundled power
Topiary shape art.
The topiary is a festive cut form made from plants or cut flowers. Custom-made, created for an event, a space, an occasion, a person. It is a very special form in many periods of history. In flowers, horticulture and landscape architecture. 

How much fun is it to create interesting shapes from summer flowers? Some flower shapes are ideal for symmetrical decorative classical arrangements, for the more architectural positions and presentations. But there is much more to this subject.

Compact shapes in a slightly asymmetrical form, movements that break out of the dense mass...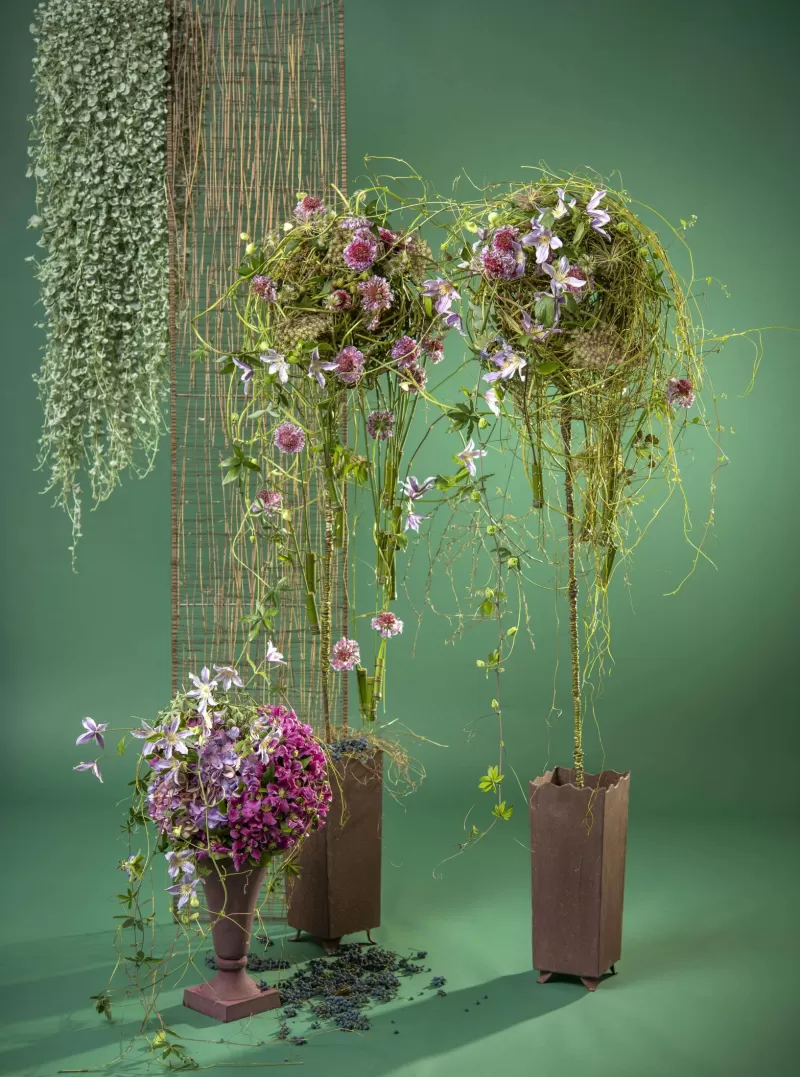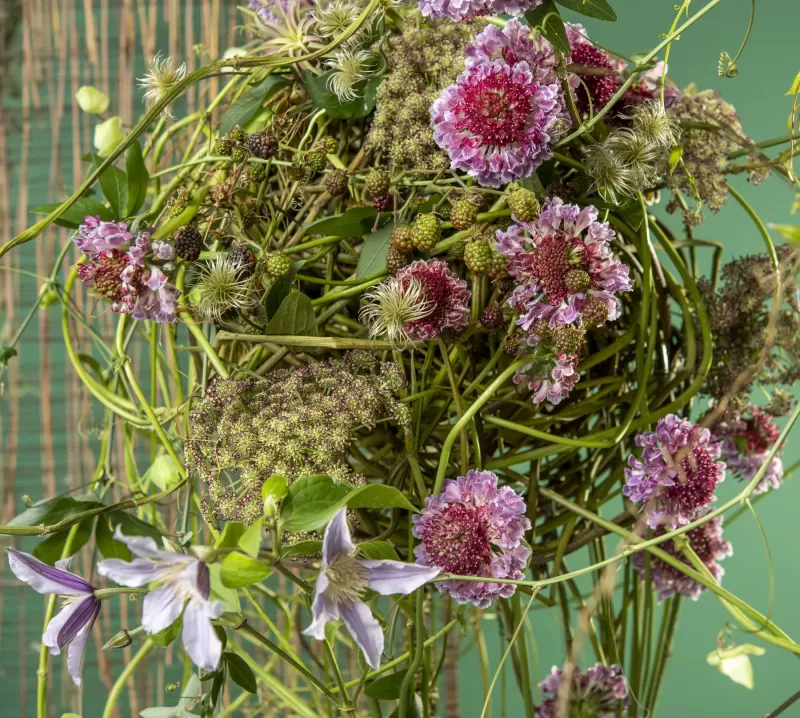 Modern ideas of a topiary are seen in 2022. Not too big, too lush, too rich in flowers. Even a shaped bouquet, in a vase, can be so interesting with enough creativity. A bundle of flower shapes on long straight stems can be an excellent topiary. The landmark of a good topiary is the intention of a cut or shaped contour. Even small works can have this. Do not focus on flowers only, grasses, greens, vines and dry material are also very suitable. Try drying fresh material yourself, the bundled effect can be very interesting.
About the design
Two spears on a stick are formed from hop vines. The bamboo tubes have lateral arms and are pushed into the vines, filled with water. There are thinner bamboo sticks with smaller ones attached, waxed from the inside, which hang down to allow the flowers and grasses to dance. Another shorter topiary is placed on an iron cup, dyed a faint purple. A ball of Agrowool holds all the petite flowers such as Clematis, Eryngium and Hydrangeas. Topiary is a very traditional theme, but there is an opportunity here to make a more modern adaptation.
10. A game of colours
Playing with blossoms and stems.
Warm floral colours; rusty, orange, and red meet the richness of gold. A trend that we will also see in some interiors. In flower design, this trend involves slightly diagonal or overlapping positions in vases or containers of the 'noble' variety. Flowers that belong to this warm trend are the Dahlia, Jatropha, Crocosmia, orange Gloriosa and Hypericum. 

Focal point shifts are interesting for creating asymmetry.

The flowers are not arranged radially or vertically. They overlap and shift their focal point diagonally. The shifted focal point of a flower arrangement can be so different, next to, on top of or even below the table edge on which the arrangement stands. Design qualities are needed here, to make the flowers find a perfect home.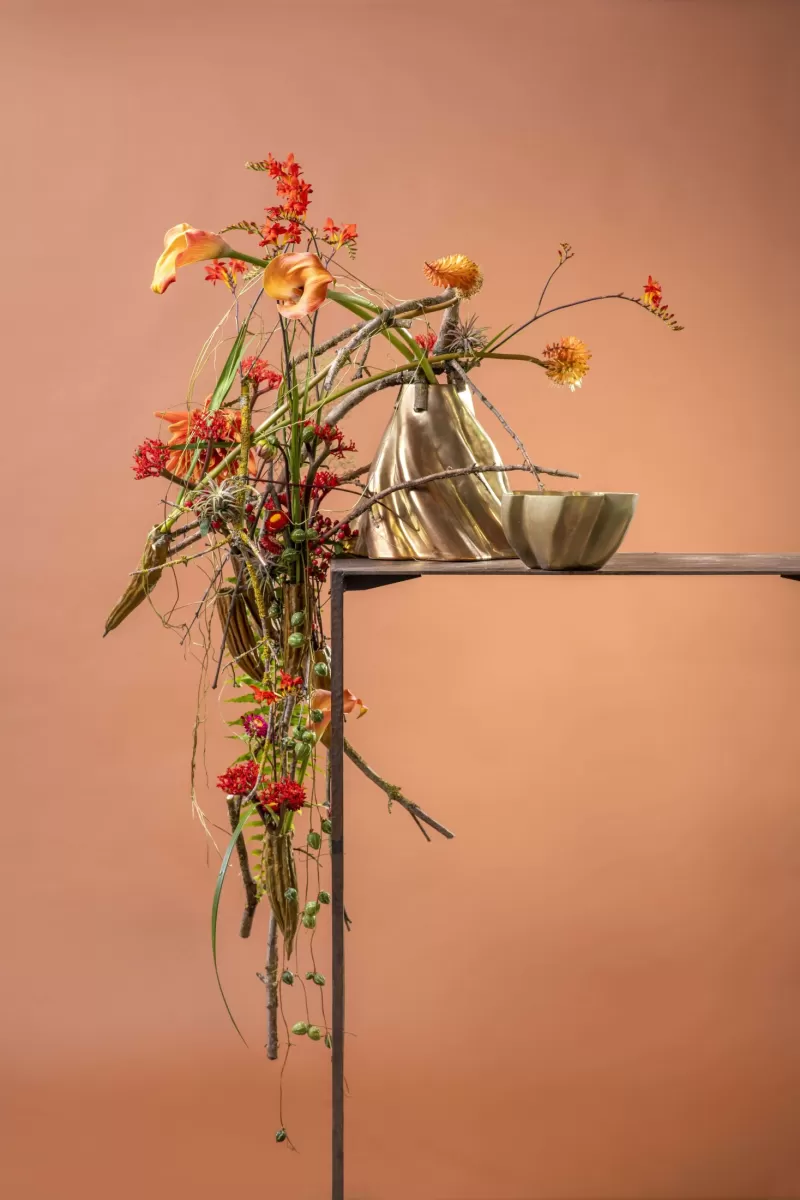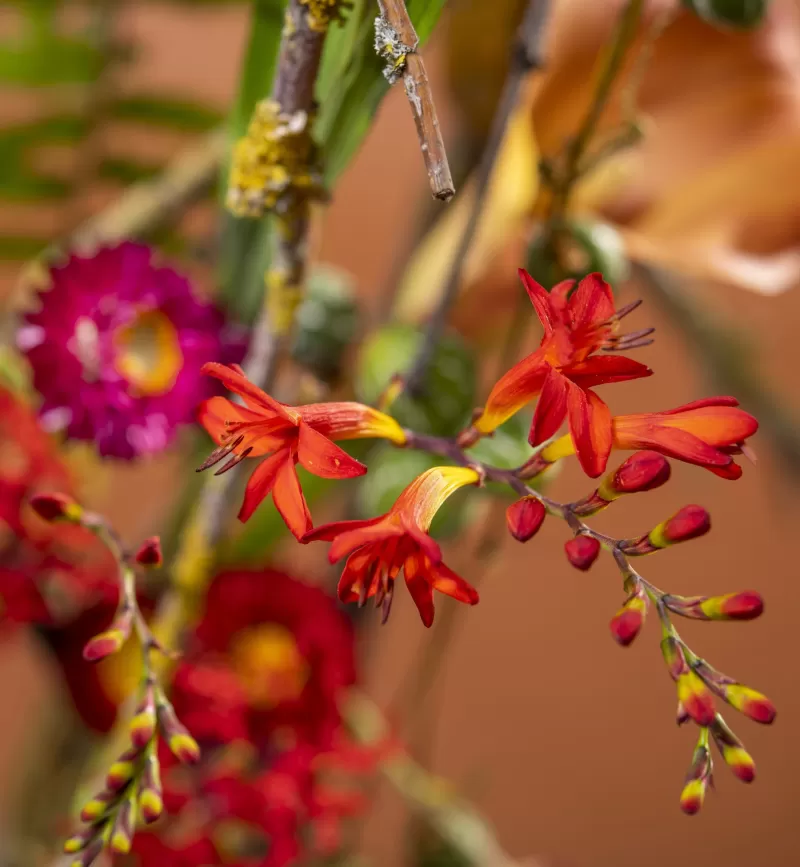 Some of the trends for 2022 are more spontaneous, wilder even, so natural, but this one is more stylized, placed, made to look at the details. A new look is emerging. Not just full of flowers, but looking at the whole floral fabric and its details.
About the design
The focal area stands sideways from the position the arrangement is standing on. To create this, you need floral technique skills to play with weight and balance. A new chance to learn how to work asymmetrically.
 
About Gregor Lersch
Lersch (1949) grew up among flowers. He studied at the master school in Bonn, became a florist and took part in various competitions. After winning the 1978 European Cup in Rome, Italy, he soon concluded that sharing knowledge was the only way to go on. He started teaching floral design. Nationally at first, but soon interest from abroad followed. He now travels the world reaching out to students and florists on all continents. Lersch: 'It is my greatest motivation to make people feel that designing with flowers is the most normal thing in the world.' 

Besides being a floral designer and teacher, Lersch is also the author of several books on floral design. www.gregorlersch.de
 
Photography by pjk-atelier